Beat the chill with Korean hot springs
Jan 15, 2013
As winter enters its coldest month and a cold wave comes over the whole country, Korean people seek winter retreats to beat the chill and stay healthy. One surefire way is to visit one of the hundreds of
hot springs
across the nation.
According to the Korea Hot Spring Association, water heated deep within the earth's crust is what creates a hot spring, the ones in Korea normally reaching at least 25 degrees Celsius. This article pays attention to five hot springs-clustered areas.
[Host city of 2013 Korea Hot springs Festival: Asan]

Asan City of
Chungcheongnam-do
(South Chungcheong Province) has been one of the most-visited spots for hot springs. In this region, there are three historic facilities that continue to attract visitors.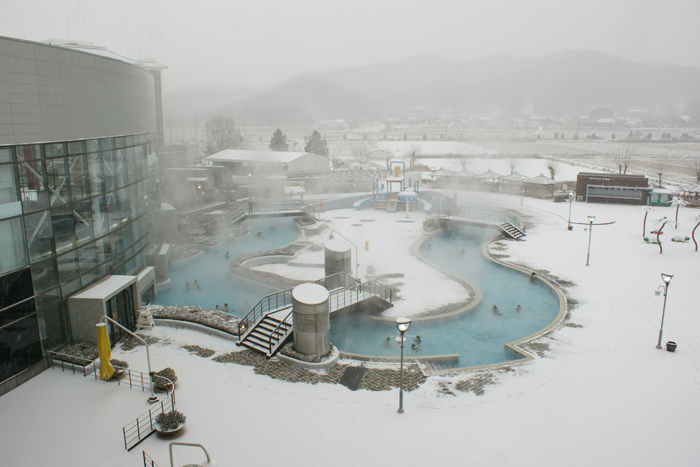 Onyang Oncheon
(hot spring), one of Korea's oldest hot springs, was said to have been frequented by
Joseon
kings, who were said to have built a palace in the area and submerged themselves in the waters for therapy while carrying out official duties. The alkalescence waters of
Onyang Oncheon
, which top 58 degrees Celsius, are well-known for beautifying skin and effective for treating neuralgia and vascular sclerosis.
Just soaking in the hot water is highly relaxing and effective for treating fatigue, but
Dogo Oncheon
offers even more. Dogo, also known for the medicinal effects of its waters, was developed as a hot spring around 200 years ago. The sulfur-infused water is highly favored by women since it has been known to dissolve dead skin cells and translate it into soft and glowing skin.
Paradise Spa Dogo
is the most-visited hot spring in the region, surrounded by a number of accommodation facilities along with diverse things to enjoy such as water theme parks, a horse-riding track, and botanical gardens in the neighborhood.

Asan area is also surrounded by a number of gigantic spa facilities such as
Asan Oncheontang
and
Asan Spavis
which is large enough to accommodate around 3,000 people at once. Visitors to Asan's spas take advantage of more than 20 types of health-enhancing waters.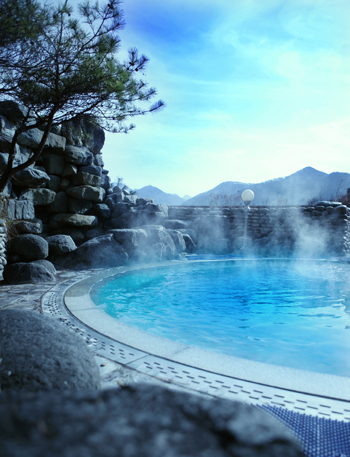 [Keep your youth at Suanbo]
Suanbo Oncheon
in Chungju has been characterized by naturalism as the hot spring is formed by water naturally coming out from 250 meters underground. The waters, rich in minerals such as calcium, sodium, fluorine, and magnesium, are recommended for those looking for improving their blood circulation and soothing neuralgia and stomach pains away. In the region,
Suanbo Park Hotel
,
Suanbo Hi-Spa
, and Nakanjung are worth a visit.
[Connect with nature at Seoraksan]
Cheoksan Oncheon
in Sokcho, Gangwon-do (Gangwon Province), closely located to the
Seoraksan Mountains
, makes good venues for those looking for hideaways to unplug and connect with nature.
"The Cheoksan water began to attract visitors since its effectiveness for treating skin and eye infections and wounds began being widely talked about among the locals,"
Sokcho City
explained.
The footbath facility found along the waking trail in
Cheoksan Oncheon Village
is especially popular with newcomers. The water managed by the local inhabitants is all free for anyone to use.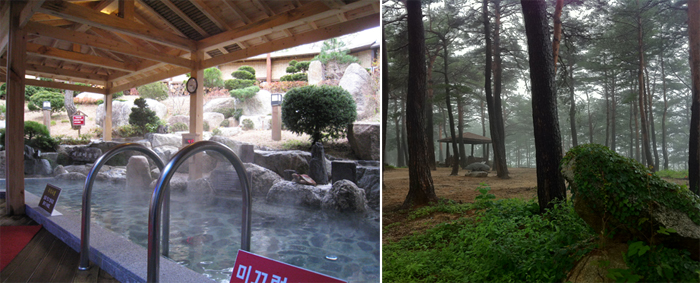 Modern facilities including
Seorak Waterpia
and Pine Resorts in the neighborhood provide a diverse selection of choices.
[In search of a closer spot]

Hwaseong in
Gyeonggi-do
(Gyeonggi Province) has several spa facilities clustered together. It is well-loved by Seoulites for its geographical vicinity. Yulam Park is famous for its charcoal pit and Baranspavis is popular for its salt springs. Miracle Water World is especially loved by visitors coming with family who can exclusively use the spa and camping facilities.
[Sulfur hot springs: Bugok]

According to website of
Bugok Oncheon
, the Bugok hot springs in Changnyeong County, Gyeongsangnam-do (South Gyeongsang Province) has been proven effective against free oxygen radicals and slows down the human aging process, nine times as effective as tap water.
The most well-known spot is
Bugok Hawaii
which is equipped with an assortment of facilities including an open-air bath alongside a valley, cave hot springs, an Oriental medicinal sauna, and much more. The outdoor spring in Bugok Spadium also provides visitors with an unparalleled opportunity to enjoy the landscape of
Deokamsan
while relaxing in the waters.
By Lee Seung-ah, Korea.net
slee27@korea.kr
Featured Topics
http://www.korea.net/NewsFocus/Travel/view?articleId=104774
URL Copy
Department Global Communication and Contents Division, Contact Us