HK uncovers Seoul's hidden delights
Feb 13, 2013
Hong Kong is swiftly catching up on Seoul's new travel trends. The January 25th edition of Hong Kong's U Magazine introduced Seoul's up-and-coming travel spots, which have only recently been getting attention among Korean people themselves.
The feature story which concerns unusual and unique eateries and places in Seoul and the surrounding area highlights
Haewoojae
, the toilet theme park museum in northern Suwon. Opened in October 2010, the toilet-shaped museum Haewoojae displays toilet culture dating back to
Joseon
(1392-1910) and even Baekjae (18 B.C.- 660 A.D.) and Silla (676- 935).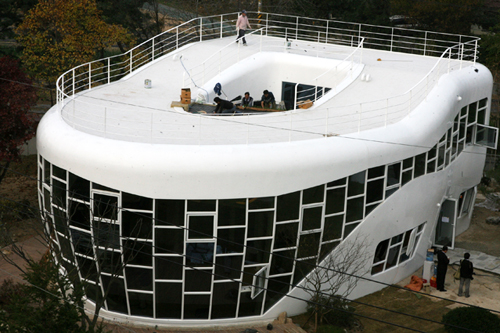 On November 9, 2012, the BBC covered Haewoojae, describing displays of "Roman style loos, European-style bedpans, and ancient Korean flush toilets, as well as fun facts about human waste and a sculpture garden dedicated to squatting figures."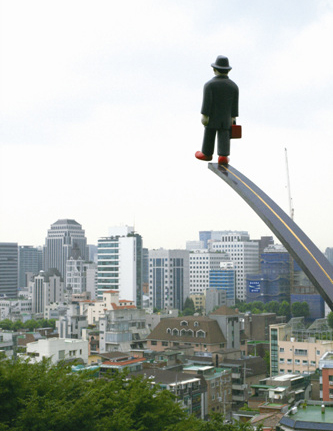 The Hong Kong travel magazine also introduces Ewha Mural Village where the artistic spirit dwells. It describes the alleys and random corners of the neighborhood that are decorated with time-honored mural paintings and art pieces, and some artistic cafes that are worth visiting. Not only artists, but an increasing number of locals as well as foreign visitors -- often with cameras in tow -- visit this area to get a firsthand experience.
As well, the magazine looks at a restaurant that causes Koreans in their 40s to 50s to get lost in memories. "SeoSeo Galbi," literally meaning having barbeque while you are standing, is portrayed as a place that is reminiscent of the old days after the
Korean War
when everybody was living in scarcity. Its original location found in Yeonnam-dong, the restaurant is far from ordinary Korean restaurants that are highly associated with "generous." It does not provide what is presumed "essential." There are no chairs, no side dishes, not even rice that is usually taken for granted in Korean restaurants. Despite its stinginess, the entrance is always crowded with people lined up to grab a seat.
Other tourist spots featured in the magazine included dessert cafes themed on healthy foods which boast sushi topped with herbs and vegetables as main entrees, accommodations with stunning designs and modern facilities, and also beautiful cafes decked out with a wide collection of handmade miniature collectibles and cute figurines.
By Lee Seung-ah
slee27@korea.kr
Featured Topics
http://www.korea.net/NewsFocus/Travel/view?articleId=105493
URL Copy
Department Global Communication and Contents Division, Contact Us