Korea welcomes spring with food festivals
Mar 22, 2013
Fresh green sprouts appearing on branches which have long endured the biting cold, have announced the arrival of spring. And seasonal delicacies exude spring scents all across Korea.
With cold winter out and warm spring in, it's time to venture outside and take a trip to any of the numerous spring food festivals taking place all throughout the nation.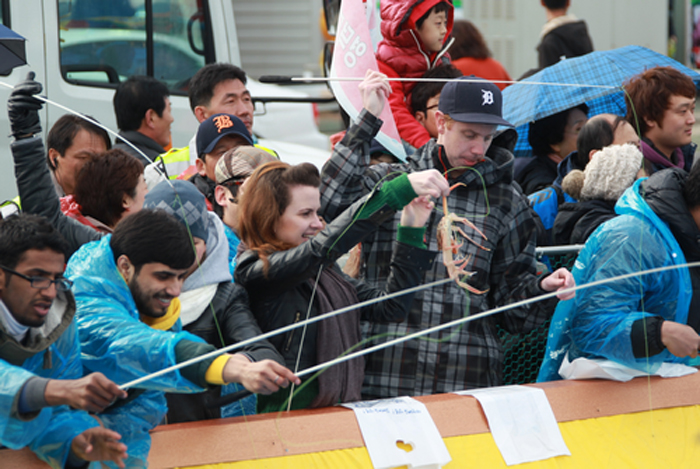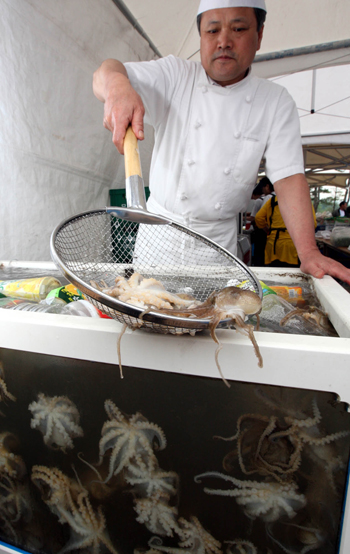 The 16th Yeongdeok Snow Crab Festival
will take place at Gangguhang Port in Yeongdeok, Gyeongsangbuk-do (North Gyeongsang Province) from March 28 to April 1. March is the best time to eat Yeongdeok snow crabs, or king crabs. Visitors can taste the highest-quality Yeongdeok snow crabs and other fresh seafood during the five-day festival. There will also be other events throughout the festival: a Yeongdeok snow crab cooking contest, crab fishing, and local cultural performances.
There is another festival appealing to two senses -- visual and tactile -- where you can feel the beauty of red camellia flowers in bloom and taste webfoot octopus in season at the same time.
The 14th Camellia Octopus Festival
is set to be held from March 30 to April 12 at the camellia forest in Maryang-ri, Seocheon County, Chungcheongnam-do (South Chungcheong Province). The 14-day festival pairs scarlet camellias with webfoot octopus freshly caught from the nearby sea. A food court is set aside at the venue, where participants can taste a variety of foods made with webfoot octopus, while the other side offers regional specialty products sold at a low price.
Before that, there will be another webfoot octopus festival near Muchangpo Beach based in Boryeong, Chungcheongnam-do. Running from March 23 to April 14, the festival features various kinds of freshly caught seafood, as well as webfoot octopus, including urechis unicinctus (also known as gaebul in Korean), clams, and flounders. There are also other events set to take place during the festival such as a special demonstration of preparing webfoot octopus dishes through frying, seasoning, sashimi, grilling, and shabu-shabu. Visitors can also get good bargains on regional specialty seafood and agricultural products as well.
Further down eastward in Nonsan, the 2013 Nonsan Strawberry Festival will be held from April 3 to 7. Nonsan strawberries are well-known to be sweet and rich in vitamin C. Children with family support can pick strawberries and even use them to make diverse dishes such as cakes and jams. The five-day festival also features various hands-on events including pounding steamed rice with strawberries into cake, making and tasting strawberry bibimbap, and strawberry hwachae (traditional punch). (
http://www.nsfestival.co.kr/
) (Korean available)
Jeju Island, one of Korea's most-visited destinations, will welcome spring with its own spring food festivals.
There will be a great opportunity to taste Jeju gosari (bracken fern) with great quality at the 19th Mt. Halla Gosari Tour Festival running from April 19 to 28. The ten-day festival will give visitors an opportunity to feel the delicate flavor of gosari on the tip of their tongues.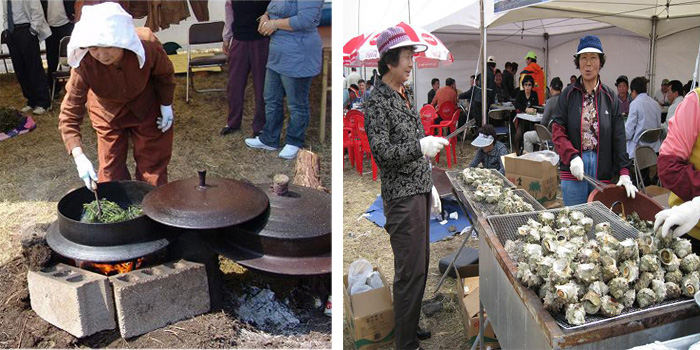 Woo-do Island, a must-visit place for Jeju tourists, also holds a spring food festival titled the Woo-do Island Conch Festival from April 19 to 21. The festival will offer fresh seafood including conch, sea cucumber, and sea squirt bearing the freshness of Jeju's clean blue sea.
For more information about spring food festivals and other spring events across Korea, call Korea Travel Phone (82-2-1330) with language services in Korean, English, Japanese, and Chinese available around the clock.
By Sohn Ji-ae
jiae5853@korea.kr
Department Global Communication and Contents Division , Contact Us