Revival of Korean palaces
Apr 16, 2013
Access to Changdeokgung's Injeongjeon Hall has been limited, but starting this month it's open to the public.
Known for its masterful architectural beauty,
the palace of Changdeokgung
has been designated as National Treasure No. 225, and was also inscribed as a UNESCO World Heritage Site in 1997. Injeongjeon Hall was where major state affairs were discussed between the king and ministers during the
Joseon Dynasty (1392-1910)
.
According to the
Cultural Heritage Administration
(CHA), the event "was designed to provide a more lively experience of the palace at its real setting."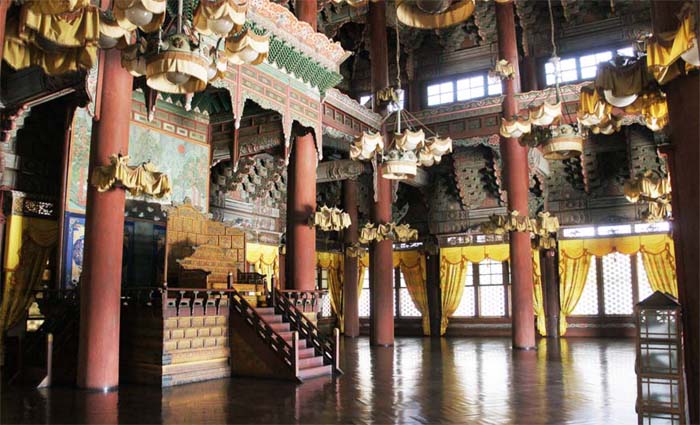 Visitors to Changdeokgung are led by a tour guide to visit the time-honored facilities including the king's chair and an old lamp, all set in a room luxuriously decorated with a golden curtain. The guided tour is given only four times a day.
Period: April 13 - October 31
Days: Thursday, Friday, Saturday
Time: 11:00, 11:30, 14:00, 14:30 (each session takes about 20 minutes)

Changdeokgung is not alone in creating a cultural program at the backdrop of the royal residence. With a recent upsurge of interest in traditional aspects of Korean culture, the palaces are coming up with more and more creative and colorful events to provide a fresh experience for tourists.
Every weekend for the whole month of April, the palace of Changgyeonggung offers a performance that gives a look into the daily life of the palace during the Joseon Dynasty. After receiving rave reviews last year, CHA decided to hold the event on a permanent basis. Making a brief stop at a few pavilions for performances that last about three to five minutes each, tourists are given a chance to build up a picture of the life of the royal people back then.
Dates: April 13, 14, 20, 21, 27, 28
Time: 13:30, 14:30 (each session lasts about an hour)

(Read related Korea.net article:
http://www.korea.net/NewsFocus/Culture/view?articleId=104089
)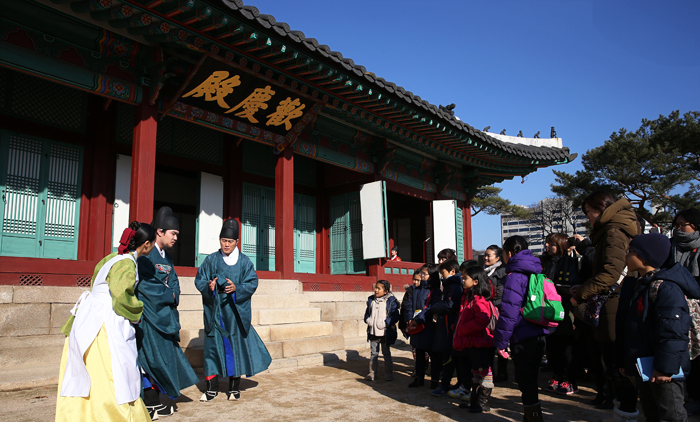 CHA is also opening up three pavilions for private functions. The three venues are
Gyeongbokgung
's Hamhwadang and Jipgyeongdang, where the king used to welcome foreign envoys and Gajeongdang, a place where the king and queen rested and spent their leisure time.
"Restoring the original functions without damaging the historic value of the facilities would better suit the goal of healthier preservation," said the CHA.
Only finger food, coffee, and tea are allowed to be served at the historic sites in order to minimize possible damage. Reservations can be made at the website for customer support service (
www.e-minwon.go.kr
). More information about use can be found at the
CHA
.
By Lee Seung-ah
slee27@korea.kr
Featured Topics
http://www.korea.net/NewsFocus/Travel/view?articleId=107099
URL Copy
Department Global Communication and Contents Division, Contact Us