Soak in spring flowers in full bloom
Apr 19, 2013
Spring is in full swing in Korea. Yellow forsythias, pink azaleas, cornelian cherries, peonies, and cherry blossoms in full bloom are blanketing every corner of Seoul. Fresh sprouts on the branches of gingko trees lining the streets add green to the city's color palette.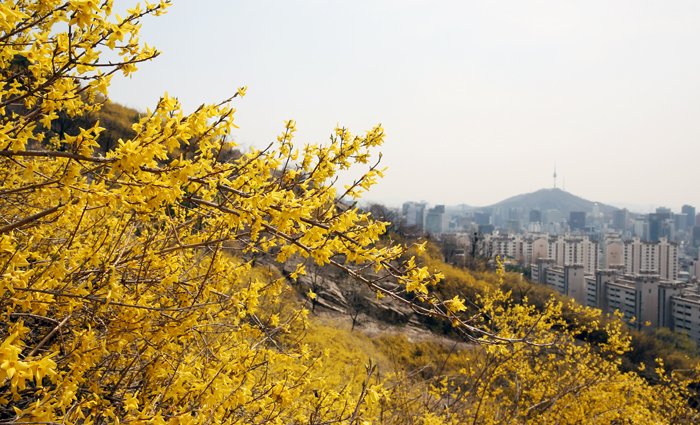 Events both big and small welcoming spring are taking place in many places throughout the city. Among those, Yeouido is becoming a must-visit destination for tourists with the 9th Han River Yeouido Spring Flower Festival under way.
Other spring flower festivals continue in other places, drawing tourists both international and domestic as well.
A park near Inwangsan (Mt. Inwang), in Muak-dong, central Seoul, was jam-packed with sightseers on April 13. The Muak-dong Forsythia Festival allowed visitors to bask in the abundance of full-blown yellow forsythias.
"We visited here to do some volunteer work and didn't imagine these kind of beautiful flowers could be found here in Seoul," said several students from Gwangyang High School. "Inwangsan beautifully colored by yellow flowers is surely a 'don't-want-to-miss spot.'" Mountain climbers stopped to snap photographs of azaleas dotted all the way up the hills.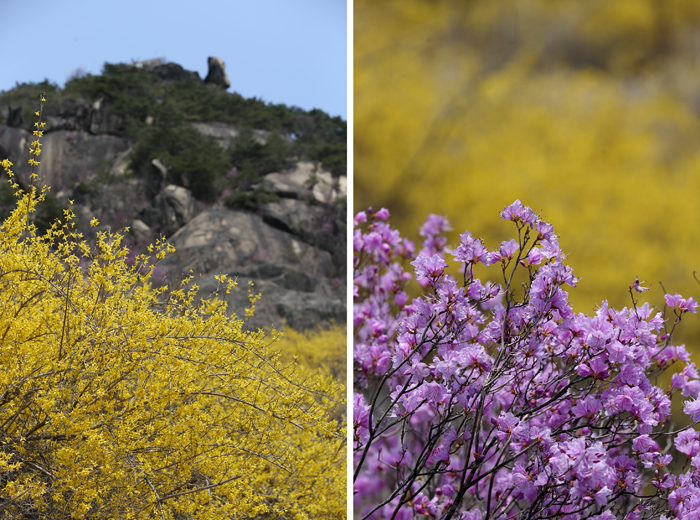 According to the Meteorological Administration, the cherry blossoms started blooming on April 15, five days behind the previous year, and are expected to be at full bloom between April 21 and 22. Meanwhile, Seoul Metro unveiled "Tips for Spring Break by Subway," introducing excellent springtime getaways conveniently located in the vicinity of subway stations, including spring flower festivals held in Yeouido and Seoul National Cemetery.
There seem to be no better means than subways allowing people to get to their destinations easily and fast, without being stuck in traffic, especially during the spring when many people venture outside to enjoy the warm and festive mood of the season.
All you have to do is get on and off the subway and get ready to indulge in a striking view of cherry blossoms in bloom. Subway Line 2 brings you to the Han River Yeouido Spring Flower Festival near Dangsan Station, which runs from April 12 to 18, while Subway Line 4 takes you to a flower event taking place from April 15 to 27 at Seoul National Cemetery near Dongjak Station. The Mt. Gwanak Azalea Festival on May 11 and 12 is also easily reachable by subway since the venue is located near the entrance to Seoul National University Station.
"You can leisurely enjoy cherry blossoms in pink above your head down the Han River while overlooking an amazing view of the river, when you use the so-called Cloud Bridge linking Dangsan Station, Subway Line 2 to the Han River Park," explained an official from Seoul Metro.
The Seoul Subway Corporation also offers information on the names and exits of nearby stations to help citizens and tourists easily find Seoul's hot spots for spring flower viewing. It also designated several popular destinations as "places worth a visit for soaking in the beautiful spring flowers," including Namsan Park off exit 3 of Hoehyeon Station and Dream Forest off exit 1 of Miasamgeori Station, Subway Line 4, Seoul Forest off exit 8 of Ttukseom Station, Subway Line 2, and Samcheong Park off exit 2 of Anguk Station, Subway Line 3.
Seoul City announced that it will keep buses running until 1:20 a.m. at the Yeouido bus stop between April 19 and 20 when the largest crowd is expected to flock to the Han River Yeouido Flower Festival.
By Jeon Han
hanjeon@korea.kr
Featured Topics
http://www.korea.net/NewsFocus/Travel/view?articleId=107261
URL Copy
Department Global Communication and Contents Division, Contact Us