Winter wonderland at Taebaeksan Mountain
Jan 25, 2012

Travelers looking for a taste of winter splendor in Korea need look no further than Gangwon-do (Gangwon Province), home to record snowfalls and the much-anticipated annual Taebaek Snow Festival.

Some of the peninsula's most beautiful snowy scenery can be found at Taebaeksan Mountain and surrounding Taebaek City, with high humidity and strong winds over the Baekdudaegan Mountain Range making for months of heavy snow.


The 2012 Taebaek Snow Festival, titled "Snow, Love, and Joy," will run from January 27 to February 5 at Taebaeksan Provincial Park, with expanded programs and a wider array of snow sculptures compared to previous years. The giant sculptures towering over Danggol Square will include representations of a Russian palace, guardian deities of the zodiac, a pumpkin carriage, and dinosaurs.


The park's lots will be converted into a character zone housing 3D figurines of famous film characters, including Jaws, King Kong, and Spiderman, and a cartoon zone bedecked with snow sculptures depicting scenes from Pororo, Robot Taekwon V, Galaxy Express 999, and Dooly the Little Dinosaur. Families with children can explore the interactive zones and enjoy hours of fun at the nearby 30-meter snow-tubing course.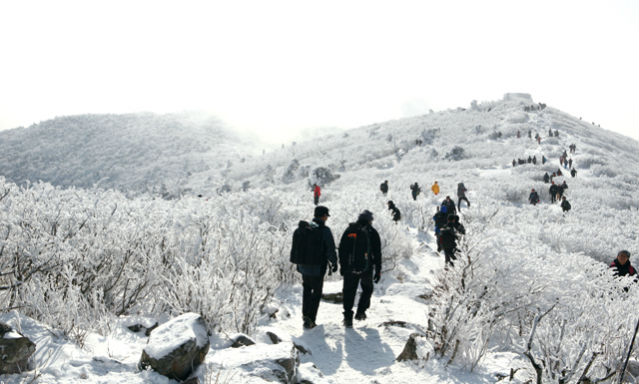 For some warm tea in an unexpected setting, visitors can head for Dangun Shrine, where an igloo made entirely of snow will be opened as a café. With a menu of hot drinks and furniture fashioned from ice, the café will offer customers a unique blend of the toasty and the chilly.
Adventurous families willing to brave the long lines will want to go for a Siberian husky sled ride, one of the most popular activities at the festival. Other activities offered during the festival include traditional sleds, candle-making, performances by festival characters, and open talent shows.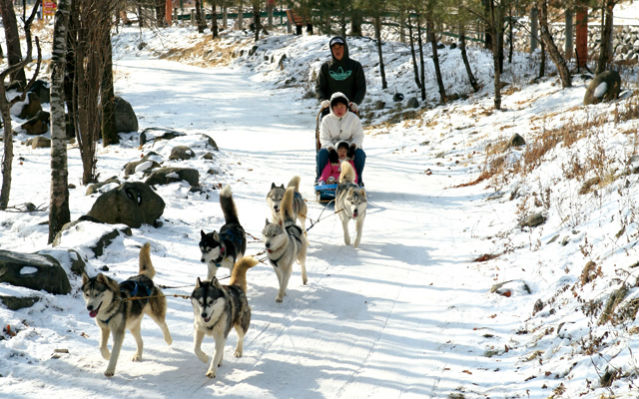 The sight of hungry visitors huddled around smoky grills, waiting for plates of grilled kimchi and samkyupsal, has become a representative scene at the Taebaek Snow Festival, and this year will likely be no different. Various booths will also sell fresh roasted sweet potatoes and rounded rice cakes, as well as traditional snacks such as jwipo, or pressed fish jerky, and jjondeugi, which is a chewy licorice-type snack made of boiled sweet potato.
The undisputed highlight of the festival, not to be missed, is the hike up Taebaeksan Mountain. Steady winds leave a thick blanket of powdery white over the trail all throughout winter, and the well-maintained path can be followed with minimal rigor to the mountain's peak. The views from atop Taebaeksan Mountain are much fabled as the stuff of fairytales, with frost-flecked yew trees lining the pure white of the sloping hills like delicate embroidery.
Visitors will find that the hike to the peak takes less than an hour from the entrance of the park's parking lot, and if planned right, they can also catch stunning views of the sunrise over the East Sea and the Baekdudaegan Mountain Range panorama.

Festival activities will also extend to Hambaeksan Mountain, another of Taebaek City's central mountains, where a ski resort, golf course, and condominium complex have been in operation since 2008. Even beginners can try their hand at the 3.2-kilometer ski course from the top of Hambaeksan to the ski lodge base. A 160-meter sledding course has been constructed nearby and will be the site for a massive snowball fight scheduled for 7 pm on January 27 to mark the start of the festival.

Visitors can also enjoy the evening atmosphere by Hwangji Pond in the Taebaek city center, where a light festival has been underway since late December, bringing together luminaries and snow sculptures.

In recent months, the silvery winter landscape of Taebaeksan Mountain has caught the attention of foreign media outlets. French national television network M6 filmed the area on January 15 and 16 to be featured on the show Peking Express, and a Dutch broadcasting station will arrive on February 2 to capture its own footage.

CNNgo, the Internet travel guide operated by CNN, also selected Taebaeksan Mountain as one of 50 beautiful places to visit in Korea.

Adapted from Weekly Gonggam Magazine
Translated by Kwon Jungyun
Korea.net Staff Writer
Department Global Communication and Contents Division, Contact Us