Travel green in Korea
Apr 13, 2012
With spring upon us, one great way to get the best out of this blooming season is to take a biking or a walking tour alongside the river to enjoy the gentle breeze blowing whimsically from the water.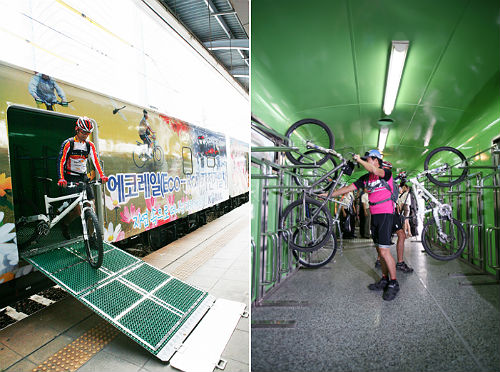 In light of the ever-growing popularity of green travel while staying healthy and environmentally friendly, Korail Tourism Development resumes the second season of the Green Bike Train package tour this Saturday.
Since last autumn, Korail Tourism Development has offered a wide variety of biking tours under the auspices of the Ministry of Culture, Sports and Tourism and the Korea Tourism Organization (KTO). The Green Bike Tour was first launched in September 2011, allowing cyclists to carry bikes on board trains connecting Seoul and Okcheon, a county in Chungcheongbuk-do (North Chungcheong Province) situated southeast of Daejeon.
The 2011 presidential-award-winning initiative introduces bike racks aboard reserved cars to partner destinations across Korea. The Green Bike Train service has expanded green travel options on select trains to Iksan, Dalseong, Sangju, Miryang, Naju, and Gumi, making cycling holidays easy and convenient while also reviving local economies.
Starting on April 14, bikers may enjoy one of Korea's most popular bike trails in Okcheon, embellished with cherry blossoms in full bloom and the magnificent vistas over the Geum River. Visitors are also invited to explore the cultural side through visiting a poetry theme park marking the birthplace of Korea's modern poet Jeong Ji-yong, author of "Nostalgia." The Green Bike Train departing from Seoul Station make stops at Yeongdeungpo, Suwon, Pyeongtaek, and Cheonan stations ahead of its arrival in Okcheon.

In 2012, the Green Bike Train will run 15 times throughout the fall, providing an environmentally sustainable tourism experience along the way and introducing cycling destinations such as the riverside of the Namhangang in Yangpyeong. You can choose among different courses at reasonable prices starting from 49,000 won. For more information, visit the
official website

Also available are the guided Garamgil (literally meaning river road) Walking Tours, where you can explore the many nooks and crannies of relatively unknown paths near the Han, Nakdong, Geum and Yeongsan rivers.
The four-time one-day tour co-organized by the culture ministry and the KTO, offers participants a chance to discover not only natural scenic beauty but also diverse aspects of the culture effloresced along the river of traditionally an agricultural country. You can also meet Korean authors who are set to narrate stories about the area. Participation fees range from 15,000 to 40,000 won.
For more information, please visit the
official website
(Korean only)
By Hwang Dana
Korea.net Staff Writer
Department Global Communication and Contents Division, Contact Us