Unique places to stay 3: traditional
Apr 13, 2012
If you're looking for a unique place to stay in Korea, the Korea Tourism Organization (KTO) has released a new publication rounding up Korea's most unique hotels, resorts, spas, and guest houses.

The booklet features 50 accommodations across Korea, divided into five chapters: "Unique Designs Featuring Special Themes," "When Comfort Meets Convenience," "Discovering Korea's Traditional Culture," "Beautiful Places with Picturesque Views," and "Luxury Resorts." The spotlighted lodgings are selected based on accessibility, environment, nearby tourist attractions, facilities, and uniqueness.

The third chapter spotlights 14 traditional lodgings located throughout the country. Painstaking efforts have been made to preserve all of these traditional buildings, called Hanok. They can be found in Seoul, as well as various corners of the country known for their traditional culture including Gyeongju, Gimhae, Andong, and Jeonju. Most of them offer their own cultural experience programs, allowing guests to immerse themselves in traditional Korean culture.

"There is something decidedly Korean about every inch of a traditional Hanok home," says the KTO book. "You'll appreciate the beauty and style of these Hanok homes with every one of your senses."

A Hanok is typically a collection of various buildings, laid out according to natural principles including the landscape and climate. A Hanok is ideally built with a mountain in back and a river in front, a design principle called baesanimsu. The buildings are placed around a madang, or courtyard, which served as a common area for a variety of events.

Joseon culture is reflected directly in the architecture of the Hanok, with separate buildings and rooms dedicated to men or to women. Men had the sarangchae, a type of den used as a reception area or study room, and women's domain was anchae, the inner section of the house consisting of the kitchen, master bedroom, and other rooms. Most Hanok also have their own ancestral shrine, called a sadang.

The design of the Hanok is especially notable for its heating and cooling systems. Under the floor is the ondol, a stone slab heated by a wood-burning furnace to help the residents through Korea's chilly winters. In the summer, they could gather in the daecheong, a wooden-floored hall that let the cool air in and kept sunlight out.

Four of the selected guesthouses are located in Jongno-gu, the downtown district of Seoul. All four are located in Bukchon Hanok Village, a 600-year-old village nestled between Gyeongbokgung, Changdeokgung, and Jongmyo Royal Shrine.

Rakkojae doubles as a cultural center and a hostel. The 130-year-old building began operation as a hostel in 2003 after restorations by Chung Young-jin, a carpenter whose skill earned him the designation of human cultural asset. It is notable for its bamboo trees, and the jade floor of the anbang (interior room). Visitors are given the opportunity to learn more about traditional Korean culture through participating in tea ceremonies and learning how to make kimchi.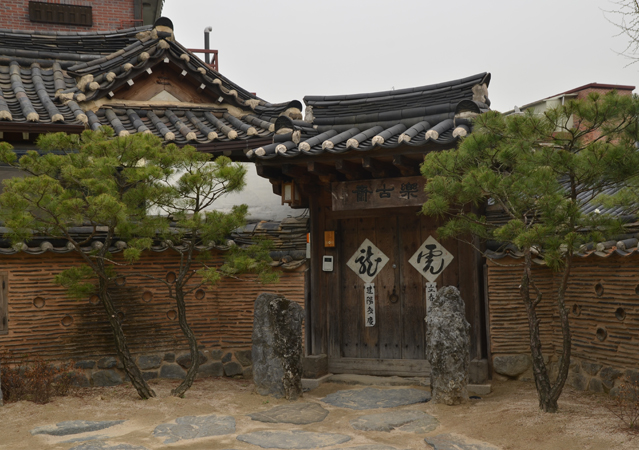 Anguk Guesthouse is an affordable alternative, offering low prices and a sunny atmosphere. The madang offers a flower garden and a pond, the perfect place for visitors to gather. The guesthouse is also related to Anguk Culture House, offering cooking lessons and the chance to try on Hanbok, a traditional Korean outfit.

Kundaemunjip is another featured guesthouse found in Bukchon Hanok Village. Its name meaning "big gate home," this Hanok keeps out all the noises and bustle of the big city. Dating back to 1937, it is known for its larger-than-average madang, Also, rather than offering an outdoor deck, this Hanok features a distinct floor-to-ceiling window instead. Activities offered include knot-tying and traditional games.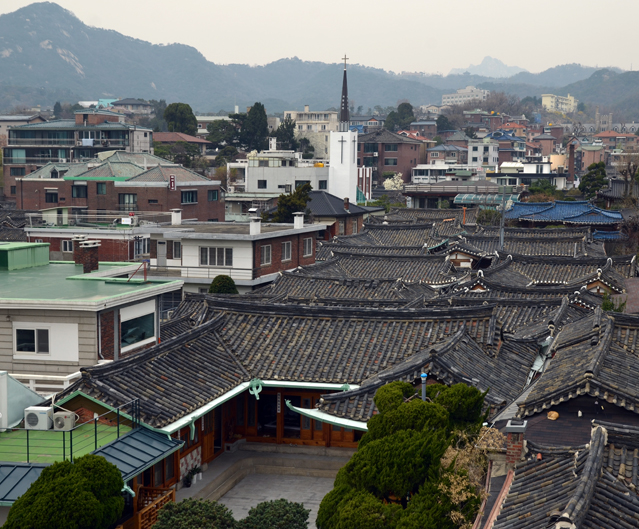 Many of the Hanok accommodations listed are the former homes of powerful aristocrats and politicians, but Chiwoonjung has a more contemporary legacy: it is the former home of President Lee Myung-bak! Chiwoonjung is located up on a hill, giving a beautiful view of the rooftops of Bukchon Hanok Village. This boutique hotel was actually created through major renovations on existing Hanok, transforming the old buildings into something new. Culture programs offered here include cooking classes, tea ceremonies, and pansori performances.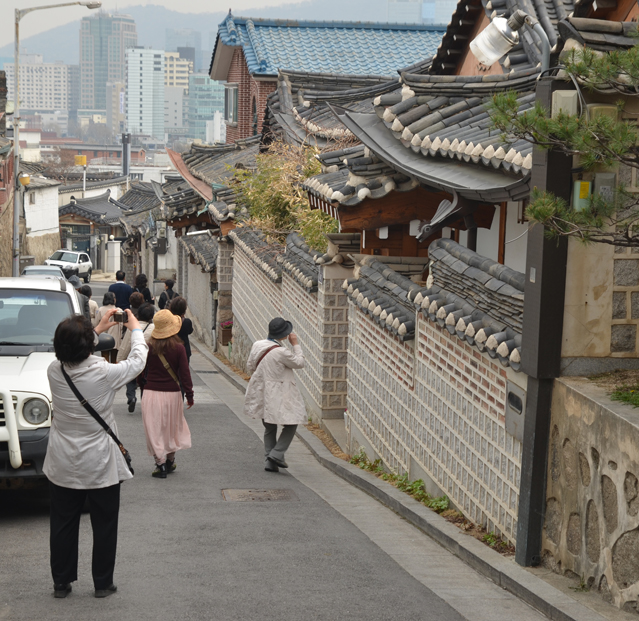 Royal Residence was originally located in Seoul, but it's been relocated to Yeoncheon County just outside the capital in Gyeonggi-do (Gyeonggi Province). Although once a home for the royal family, it is not much different from other Hanok, with simple interiors and very little furniture. The oldest pine trees on the property are as old as 500, and paths behind the house take visitors through an oak tree forest. There is also a restaurant that serves health food prepared with medicinal herbs harvested from the yard.

Gyeongju is known as a tourist destination rich in cultural history, having served as the capital of the Silla Kingdom (57 BC - 935 AD). Ragung, meaning "Silla palace," is located inside Shilla Millennium Park. It provides the modern amenities of a luxury hotel while still keeping the traditional experience intact. It also offers an outdoor spa with water supplied by a hot spring 600 meters underground. The comfort of this Hanok cannot be beat.

North of Gyeongju is Andong, often considered the traditional cultural capital of Korea. Andong Hahoe Folk Village is a UNESCO World Heritage site that is still entirely populated, unlike most other folk villages across Korea.

The largest Hanok of Hahoe Folk Village is Bukchondaek, an aristocratic building that looks the same as it did in 1862. The rooms of Bukchondaek are separated by doors, and once the doors are opened it becomes one big space that can be used for larger events.

Across the Nakdong River from Hahoe Village, one can find Ogyeonjeongsa House, a Hanok remarkable for its simplistic beauty. Situated on a cliff, it is accessible only by water, making it the most remote, tranquil accommodation found anywhere in Korea. Originally built in 1586, it was intended more as a place for study and meetings than a residence. It sat empty for many years before being restored to accommodate guests.

East of Andong and Hahoe Folk Village, visitors can stay in Jirye Art Village, an art colony with 350 years of history. It became Korea's first officially designated art village in 1989, and a variety of writers, painters, composers, and artists have come here seeking inspiration from the traditional setting. Visitors are welcome to book long-term stays, and artists receive a special discount.

In Gyeongsangnam-do (South Gyeongsang Province), Arumjigi Hamyang Hanok offers a traditional experience with a particularly special modern convenience. Unlike most other Hanok, where the washroom is located in an outbuilding, this traditional building has been refitted with modern facilities, allowing guests access without having to put on shoes and go outside. The Hanok can accommodate up to a dozen people, and it also rents out during the daytime for seminars or other events.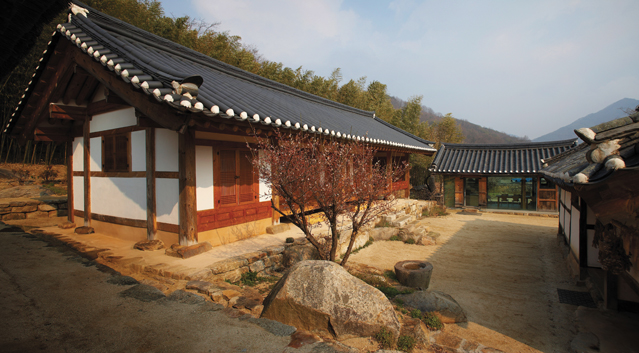 The city of Gimhae, also located in Gyeongsangnam-do adjacent to Busan, is another city with a rich traditional heritage, having been the center of the Gaya Confederacy (42 - 562 AD), and offers its own unique culture. Visitors here can stay in Gimhae Hanok Experience Hall, also known as Gayawon, operated by the Gimhae Cultural Foundation. It offers programs such as Hanji (traditional Korean paper) art, crafts, music, etiquette classes, and staged weddings.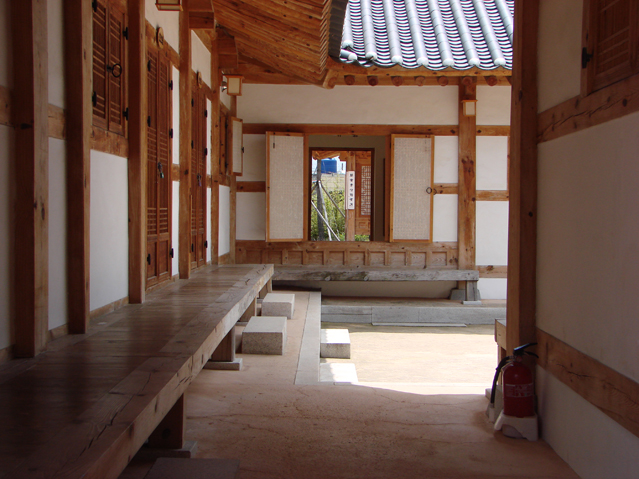 On the other side of Jirisan, the mountain on the border between the Gyeongsang and Jeolla regions, visitors can see Jeonju, another Korean city renowned for its traditional culture. Jeonju Hanok Village is a new hotel combining traditional style with modern facilities. One of its most unforgettable features is the classical-style ceiling of the lobby. It is also located near a traditional Hanok village, also called Jeonju Hanok Village.

Hakindang is found in Jeonju's Hanok village, a building reminiscent of traditional palace architecture which is typical for the lifestyle of the nobility of the Joseon Dynasty. The main building has a two-story ceiling. Each room here also has its own washroom, breaking from the Korean tradition of placing the washroom far from the living quarters.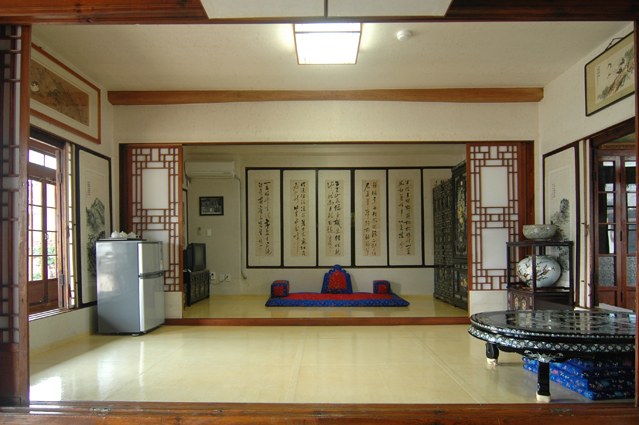 Last, Seongyojang in the coastal city of Gangneung, Gangwon-do (Gangwon Province) is considered by many the most beautiful house in Korea. It was built in 1703, and was home to the same family for ten generations, who took meticulous care of it for three centuries. Especially known for the Yeolhwadang, a beautifully decorated part of the building for receiving guests, it has been used as the set for many Korean TV shows over the years.

Korea's Most Unique Accommodations is distributed by the KTO's overseas offices. It is also available for online reading. You can open it in your browser from the KTO's webpage.

By Jon Dunbar
Korea.net Editor
Department Global Communication and Contents Division, Contact Us