Korea, Germany boost economic ties
Jan 11, 2017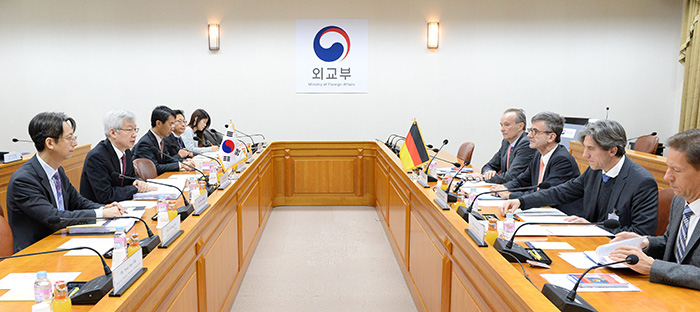 Government officials from Korea and Germany gathered in Seoul at the 30th Korea-Germany Joint Economic Committee to strengthen economic cooperation between the two countries.
Attendees at the meeting included Deputy Foreign Minister for Economic Affairs Lee Taeho and Germany's Director-General for External Economic Policy Eckhard Franz, among others. They talked about ways to expand trade and investment between the two nations, and how to push cooperation on various industries. The meeting was held at the Government Complex-Seoul on Jan. 10.
Both the Korean government's "Manufacturing Innovation 3.0" set of policies and the German government's "Industry 4.0" goals put an emphasis on the fusion of manufacturing and high tech, and both government delegations agreed to enhance partnerships in the manufacturing industry, especially in convergence areas such as IT and the auto industry.
The two governments pledged to continue the faithful implementation of previously signed MOUs covering industrial research and mutual support for small- and medium-sized companies.
The German representatives spoke about Germany's industrial training systems that have helped keep down youth unemployment, and their Korean counterparts asked for more spaces for Korean students at educational institutions in Germany.
The two parties talked about their experiences concerning new, renewable energy policies, and promised to form partnerships to tackle the results of climate change.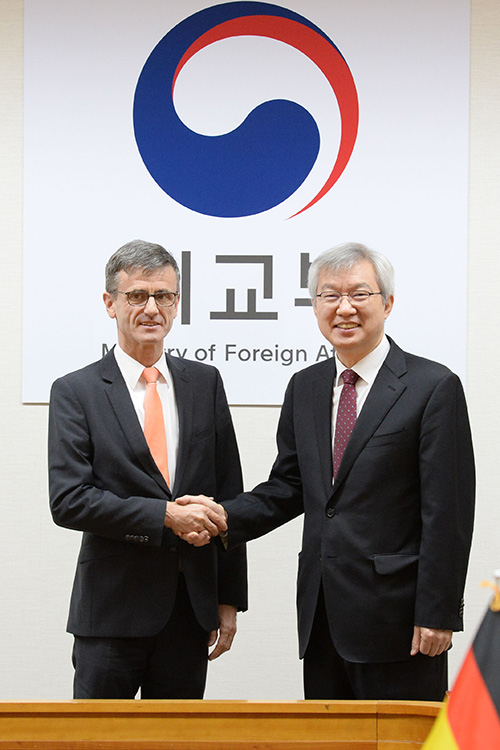 Regarding the 2017 G20 summit that will be held in Hamburg, Germany, in July, the two governments recognized the necessity for mutual assistance among G20 members to work on global issues like accelerating free trade, taking actions against protectionism and tightening financial safety nets.
The Korean representatives praised Germany for hosting the first G20 Digital Ministers Meeting, which deals with establishing infrastructure to expand the benefits of a digital economy, digital education to close the information gap, and the standardization of international rules for digitalization in the manufacturing industry. Participants also agreed to generate joint business opportunities in IT.
The two governments expressed concern over growing tendencies toward protectionism, too. They promised to closely cooperate on the sustenance and progress of a global free trade system through the G20, the World Trade Organization (WTO), at Asia-Pacific Economic Cooperation (APEC) meetings and at the Asia-Europe Meeting (ASEM).
The Korea-Germany Joint Economic Committee was first hosted in 1965 in Seoul to discuss economic cooperation between the two countries. In 2015, total trade between the two was worth around USD 27 billion.
By Kim Young Shin
Korea.net Staff Writer
Photos: The Ministry of Foreign Affairs
ysk1111@korea.kr
Department Global Communication and Contents Division, Contact Us