Dream high 01
Synopsis
# Episode 1
Not very long ago, Go Hyemi (Suji) was a princess in a rich family. She was not only a beautiful girl, but also an outstanding singer. She dreamed of becoming a famous classical musician like world-famous soprano Jo Sumi. But Hyemi had to give up her dream because her father, Go Byeogjik (Bak Hyeokgwon)'s company went bankrupt. To steer clear of the loan sharks, he has been on the run. Ma Dusik (An Gilgang), a loan shark, tells Hyemi that she's on the hook for her father's debt, which is one hundred million won. Jin Guk (Taecyeon) picked up Hyemi's purse by chance and follows her. When Hyemi is threatened by Dusik, Jin Guk helps her.

However, Dusik has done some research on Hyemi and sees that she's a talented singer headed to Julliard Music School in New York. He forced Hyemi to enter Kirin Art High School, which is famous for grooming the next generation of pop stars, to pay off her father's debt. If Hyemi becomes a famous singer, she could earn and pay back the money a lot sooner. She hates attending Kirin school, but she has no other choice but to go. Now that Hyemi has decided to become a pop star to pay off her father's debt and start studying to be a soprano.
Drama script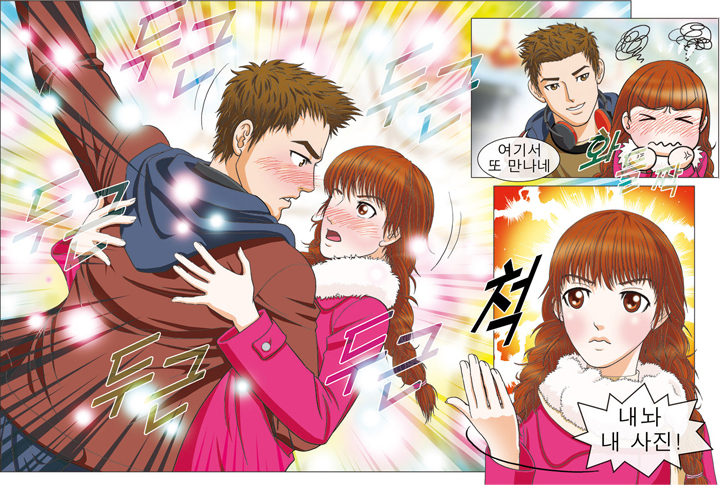 | | |
| --- | --- |
| 진국 : | 여기서 또 만나네. |
| | We meet again. |
| | 야, 너 혹시 나 기억 안 나냐? |
| | Oh, don't you remember me? |
| | 옛날에 요구르트... |
| | The other day...Yogurt... |
| 혜미 : | 내놔. |
| | Hand it over |
| 진국 : | 뭘? |
| | What? |
| 혜미 : | 내 사진. 내 지갑에서 훔쳐간 사진 내놓으라고 |
| | My picture. The picture that was stolen from my wallet. Give it back to me. |
| 진국 : | 야, 고맙다는 얘기가 먼저 아니냐? 지금 내가 너 구해 준 거거든. |
| | Shouldn't you be saying "thank you" first? I just saved your life. |
| 혜미 : | 구해 준 걸로 치자면 나도 너 지금 구했어. 그걸로 퉁쳐. 내 사진이니까 내놔. |
| | If you're talking about what happened earlier. I saved you just then as well. Let's just call it even. First return my picture. |
| 진국 : | 그만 하자. |
| | Let's stop here. |
| 혜미 : | 변태! |
| | Pervert! |
| 진국 : | 뭐? |
| | What? |
| | |
| | |
| | |
Vocabulary
혹시
by any chance

기억나다
to remember

훔쳐 가다
to steal away, or to run away with

구하다
to save or rescue

내놓다
to put out, to take out
'내놔' is the commanding form of '내놓다(put out)',
'hand me' or 'give me'.


퉁치다
Let's just call it even.
'퉁치다' is a kind of slang expression which means '
just forget about it' or 'you don't owe me anything'.
You may hear '쌤쌤이다' which means the same thing.


변태
pervert
Originally, '변태' means a person who has a sexual desire
or action that most
Grammar
만나네
- 네 exclamatory ending
'-네' is used to express surprise, a sudden realization,
interest, delight, and confirmation.
예) 한국 드라마가 참 재미있네. Oh, Korean dramas are
quite interesting.

구해 주다
-아/어 주다 does for the benefit of
'-아/어 주다' is used when the speaker or the subject of
the sentence performs an action for the benefit
of someone else.
예) 아이들에게 과자를 사 주었습니다. I bought some
cookies for the children.


고맙다는 얘기가 먼저 아니냐?
부정의문문 Negative questions
-아니야?(=-아냐?)
This negative question serves to convey one's
understanding or opinion to the listener. In spoken Korea
n, you can express your opinion in a stronger manner or
express it in a gentler way by euphemism,
through negative questions.
예) 이거 한국의 김치 아냐? = 이거 한국의 김치인 것 같다.
ex) Isn't this Korean Kimchi? = I guess it is Korean Kimchi.
Date

Sep 2013
Department Global Communication and Contents Division, Contact Us