All the happy and nervous people while waiting for the induction ceremony to be started. Reporters who presenting resolutions, holding exhibition, and welcoming the First Lady during the ceremony posed together with Korea.net's staff Hahm Hee-eun in front of the Korea.net's mini exhibition. (Photo: Majid Mushtaq).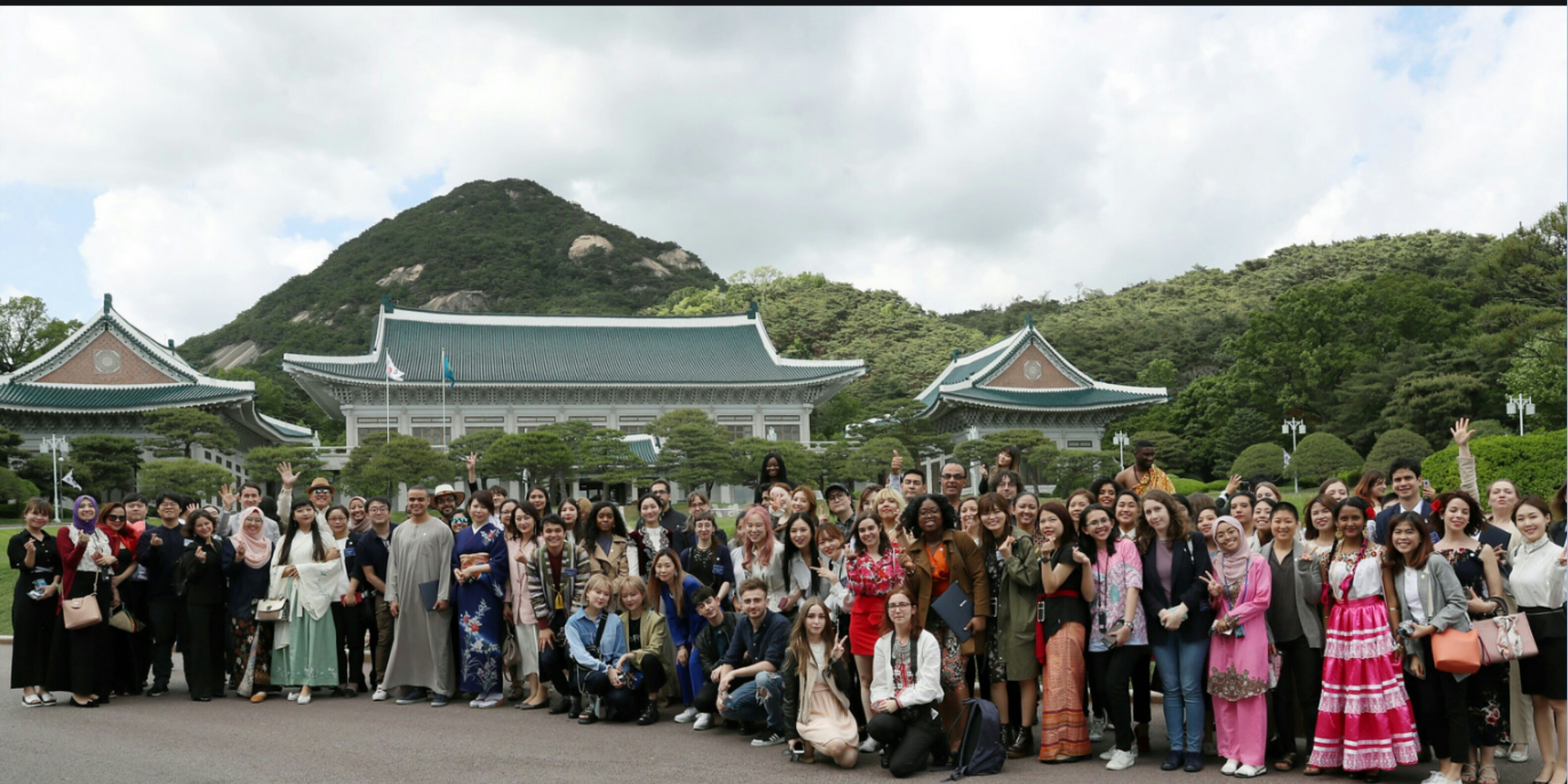 99 Honorary Reporters from 32 countries posed together in front of the main building of the Blue House after the Induction Ceremony on May 20, 2019. (Photo: Korea.Net)

It was all started with a dream. I want to be a writer!
This was one of my lucid dreams when I was in elementary school. This profession came to my mind right after I got a perfect score for my writing essay in my final test. Though my dream was keep changing from time to time, more than a decade later the word 'writer' came again in my mind. I created a blog in 2011 and joined a writing competition in 2014.
My first encounter with Korea.net was in November 2015, when Korea Tourism Organization (KTO) invited me to Korea to join their 4 days 3 nights invitation trip. I met Korea.net staffs, Hana Lee and Jeon Han during our rail biking trip in Gangchon. They were there to cover about our visit in Korea. Later on, I knew more about the website and its honorary reporters program through Vera Lee, my KTO trip's travel mate from Singapore. She was appointed as a honorary reporters that year. Not only me, the other trip participants from Southeast Asia were also interested to join this program. To be a honorary reporter was one of our new year resolutions that year.
As someone who live in a non-English speaking country, writing in English wasn't a piece of cake for me as I only learned English through formal education. To pursue my dream, I tried everything I could to improve my English skill in one year. I started a new habit to read more articles, books, magazines in English, including articles written by honorary reporters. I also enrolled to English course program that year and surprisingly, I managed to complete three levels in a year, one level more than the normal study plan of the program. At the end of 2016, I submitted my application for honorary reporters and I got accepted. Here my journey begins.
I wasn't really active during my first year. I wrote only one article at the beginning. It was an article that I always wanted to write about so it wasn't hard for me to write it. But later on, I couldn't really find time to write because I was busy with my new fulltime job that I just started on the same time when I joined the honorary reporter.
A year later, I managed to write more frequently. This time, I learned from my mistake last year. I realized I need to be more creative in managing my daily routines so I could include writing time on it. I found a way to write in daily basis. I changed my writing media from laptop to smartphone. By drafting my article on my phone, I could write whenever I've time and inspirations for it. I wrote mostly during my commute time and whenever I went to eat out alone at a restaurant - this was a perfect solution for spending time when waiting for the food to be served. In my second year, I wrote my first collaboration article with fellow reporter from Indonesia. I also began to attend more Korean events in my town as I started to join Korean culture and language classes at the Korean Cultural Center (KCC) in Jakarta. At the end of my second year, in April 2019, I've finally visited Korea.net's new office at the downtown Seoul and met Korea.net's super friendly and energetic staffs there.
In May 2019, Korea.net welcomed their new reporters. For me, it was my third year joining the program. Starting from this year, I began to use my pen name, Jeanne O for my article. This year the induction ceremony was held not only in Korea but also in several KCCs abroad including in Indonesia. For the first time ever we got to know and meet each other in person through this event.
The induction ceremony in Korea also held in the same month. As usual, all honorary reporters were welcome to join the induction ceremony in Korea. However, this year the ceremony was a special one. It was held at the Blue House (Cheongwadae). After missing the induction ceremony in 2017 and 2018, this time I got to attend this very special one and meet honorary reporters from all around the world. For us who attended the ceremony on May 20, 2019, that day would be last forever on our memory because we met South Korean First Lady, Kim Jung-sook that day. It was a surprise for us as we've just informed about Her presence a few hours before the ceremony. For me and two other reporters, Victoria Shangina from Russia and Carlos Alberto Delfin from Mexico that day even more special because we got an opportunity to presenting our work in front of the First Lady. I was totally excited that day but also so nervous, as it was my first time doing a presentation in English. I still remembered clearly how nervous we were when we saw Her arrived at the Yeongbin-gwan, the State Reception Guest House of the Blue House. After the ceremony, we also had a tour around the Blue House and brought home a special souvenir, a watch with President Moon's signature and Presidential logo on it. It was the same watch that given to the famous group BTS.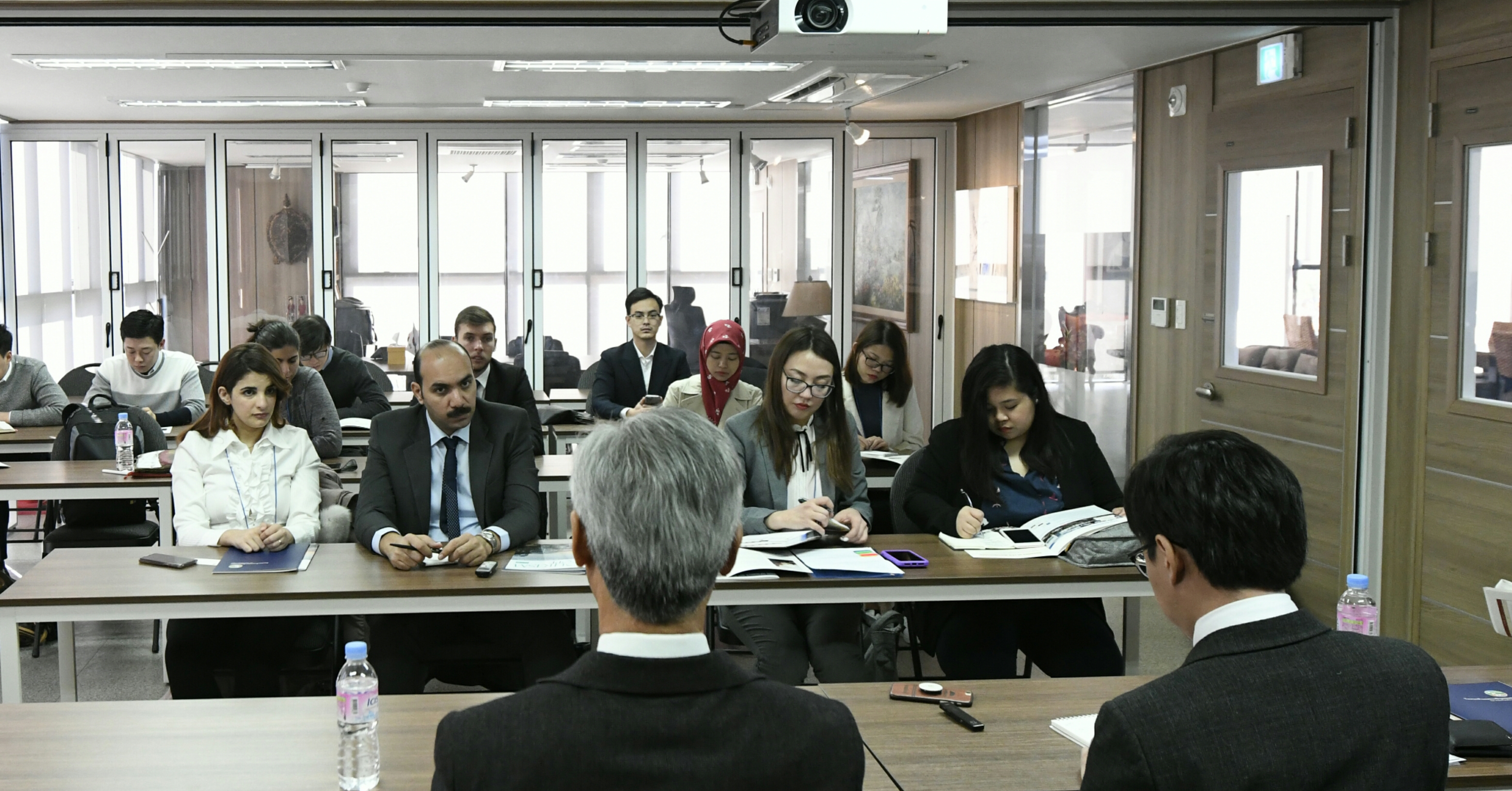 Participants of the 2019 KOCIS Invitational Program of Honorary Reporters in Busan in the middle of their interview session with the Director of the Tourism Promotion Organization (TPO) as a part of the invitational program itinerary. (Photo: Park Jung-keun).

Later on in 2019, I got to had another once in a lifetime experience with Korea.net. This time, I got an opportunity to attend the 2019 ASEAN-Republic of Korea Commemorative Summit in Busan where I saw President Moon Jae-in up close and joined the invitational trip held by KOCIS in Busan. Through this trip, I met fellow reporters who work as professional journalist, saw how they worked, traveled together to various interesting places in Busan and created great memories with them and the team who accompany us during the trip. At the end of this year, together with my fellow reporter Magdalena Krisnawati, I got a special opportunity to conduct an interview with installation artist, Kang Eun-hye who came to Jakarta to install her work at the South Korean Embassy in Jakarta. During the year of 2019, I got to produce more articles than previous years thanks to the motivation that I got from our coordinator and thanks to KOCIS and KCC in Indonesia for the opportunity to attend various Korean events in Jakarta and also in Korea.
For the past 3 years, honorary reporters program has making my life become more meaningful and helping me to pursue my dream to be a full-time writer. This program has been motivating me to learn English and Korean language more diligently. It also has filling my life with great experiences through various opportunities that it's offered. Through this program, I met talented people from all around the world. We might come from different background but we all share the same goal to show our Korea to the world through our contents.
Thank you for 3 incredible years Korea.net!