Bong Joon Ho at the Oscars After receiving his Awards.
By Honorary Reporters Adekoya Oluwaseye Kehinde and Adekoya Oluwaseyi Taiwo from Nigeria.
It is no news that the South Korean Movie "Parasite" has bagged home four (4) awards at the Just concluded 92nd Oscars Awards on Sunday, 9th February, 2020.
Parasite, directed by Bong Joon Ho, made history at the Oscars, as the first non-English Language film to win the best picture award which is Hollywood's biggest prize of all. He became the very first Asian Film maker to receive all four awards for a single movie.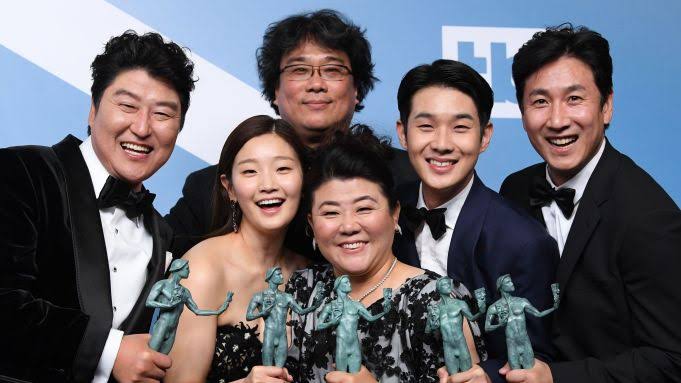 The South Korean born Movie Director, Bong Joon Ho has also directed a number of other movies such as "Barking Dogs Never Bite" which was released in the year 2000, Memories of Murder (2003), Okja (2017) and a host of others .
The movie "Parasite" is known as one of the greatest South Korean movies ever made as it made it to the Oscars for best international feature, and became the first Asian film to scoop "Best Original Screenplay".
The film was first premiered at the 2019 Cannes Film Festival on May 21st, 2019.It was later released in South Korea on May 30th, 2019 by CJ Entertainment. This made it the first ever Korean film to win the Palme d'Or Awards.
It became the first ever South Korean film to receive Academy Award nominations, as well as the first non-English language film to win Best Picture. Also, at the 77th Golden Globe Awards, it won the award for Best Foreign Language Film.
This has made history as even those Who had not seen the movie prior to the awards; this also includes people Who have never watched a Korean movie, are on the move to go see the much talked about movie.
In all, four (4) awards which comprises of Best Picture, Best Director, Best Original Screenplay, 2019 and Best International Feature Film were all won by the globally recognized movie.