Gov't plans smart, eco-friendly cities
Jul 17, 2018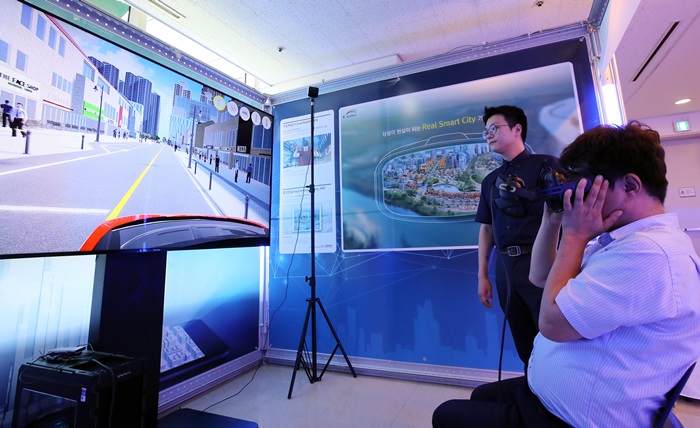 By
Kim Eun-young
and
Kim Young Shin
John Doe, a resident of the "smart city" of Sejong City, commutes to work in an autonomous car. Thanks to new AI systems that analyze traffic and navigate through the fastest route possible, his trip is stress-free and relaxing. As he arrives at work, a drone delivers a few books and some tomatoes that were grown at a "smart farm" and which were bought with his Sejong Coin digital currency.
Jane Doe, living in the "smart city" of Busan, paid almost nothing for her electricity bill last month, despite the freezing weather, thanks to eco-friendly energy sources. Also, she no longer buys drinking water because she can drink purified, clean tap water straight from the city water supply system.
These are two of the Moon Jae-in administration's blue prints for "smart cities," urban areas that enhance major government services in the city with state-of-the-art IT.
The Presidential Committee on the Fourth Industrial Revolution and the Ministry of Land, Infrastructure and Transport on July 16 announced plans for pilot projects that will build new "smart city" developments in the cities of Sejong City and Busan by 2021.
According to the plan, a 2.74-square-kilometer development in Sejong City's block No. 5-1, a little smaller than the size of Yeouido island in Seoul, will become a car-sharing zone. Inside that zone, residents will commute using shared self-driving cars or on bicycles. They will also make payments using digital currencies that make use of blockchain technologies. Finally, the new development will also feature drones and robots that will deliver parcels and even offer first aid.
Busan's new Eco-Delta City, a 2.19-square-kilometer development, will become an eco-friendly neighborhood that uses water from the Nakdonggang River and the Pyeonggangcheon Stream for energy and for drinking. The water will be used to generate hydrothermal energy, which will help residents save on their electricity bills, and the neighborhood will have water treatment facilities that are adapted to high-rise buildings and their water supply needs.
"We aim to boost the quality of life for the citizens by applying cutting-edge technology to the urban landscape," said the Ministry of Land, Infrastructure and Transport. "We will successfully launch such 'smart cities' and share our experiences operating them with the global community."
Detailed action plans for the pilot projects will be established by December after getting feedback from the public and private entities.
eykim86@korea.kr
Department Global Communication and Contents Division, Contact Us