Alcohol in Korean life [6]
Jan 15, 2014
This is the sixth part in our series, "Alcohol in Korean life." Click here to see previous posts.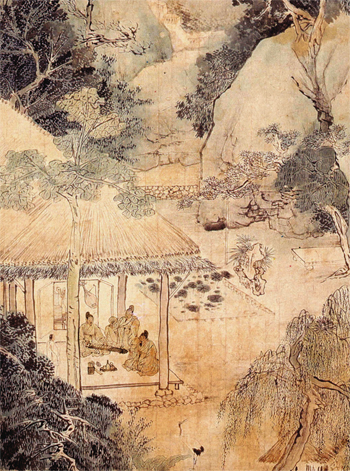 Sul in art and customs Artists
The Korean people's love for drinking being punctuated by singing and dancing has deep roots, reaching back to the nation's earliest beginnings. People would drink, sing and dance at harvest ceremonies in the ancient chiefdoms that occupied the Korean Peninsula, Manchuria and parts of China. When people were elated under the influence of alcohol, the originally religious atmosphere gave way to artistry, as embodied in poems, songs and dances. Since ancient times, drink-induced exhilaration is very much in evidence in art. Many artists were inspired by drunken delight and a love of drinking was depicted in many poems and pictures that form part of the artistic legacy.
The writer Lee Gyu-bo (1168–1241) from the Goryeo Dynasty (918-1392) never composed poems without alcohol. He reported in his
"Dongguk isangguk jip,"
the "Anthology of Writings by Mr. Lee in the East Country," that, "Enough drinking would lift the spirits and relieve the body to induce singing and dancing… the singing and dancing are directed by alcohol." In his "
Guk seonsaeng jeon
," the "Story on Mr. Nuruk," he personified liquor.
A talent for writing poems was considered a fundamental qualification for scholars during the Joseon Dynasty (1392-1910). It was natural for them to compose literary works while enjoying a drink: scholars would write poems under the influence of alcohol at composition contests or while away from worldly life, sitting amid nature.
Yun Seon-do (1587–1671) and Jeong Cheol (1536–1593) were two great rival poets from Joseon times, and both loved to drink. Yun Seon-do described the romance of drinking in nature in his "
Sanjungsingok
," or "Serial Poets from the Heart of Mountains," when he said, "Sitting alone in nature and looking away at a mountain with a drink in hand… the joyfulness is much bigger than meeting with a lover… crying or saying, whatever it is, all brings about delight."
Jeong Cheol composed a poem regretting his excessive drinking, but never abandoned his love of alcohol. He wrote in his "
Jangjinju
," or "Offering of Drinks," which was widely popular with alcohol lovers, "Have one more drink and one more drink… counting the number of drinks by cutting flower petals, drink to the utmost… when the body dies, it will be carried away, covered with a straw mat and tied tight to the carrier… when whirlwinds blow, to whom could drinks be offered?"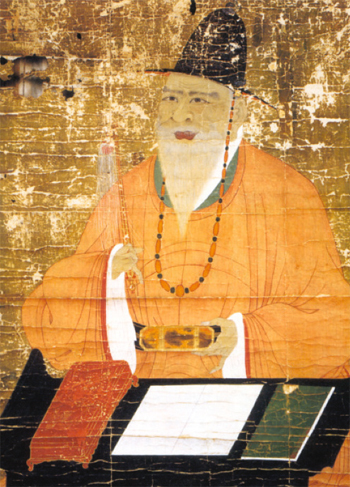 Kim Byeong-yeon (1807–1863), a wandering poet popularly known as Kim Satgat, named after the traditional bamboo hat he always wore, spent his whole life wandering around the countryside. He composed poems satirizing the upper class and writing on the joys and sorrows of the commoners. He expressed the emotions of the poor traveler who had to satisfy his hunger with a cup of liquor in his poem "In a Tavern": "Walking a long distance depending only on a stick… seven coins in the pocket are rather too many… determined to keep them deep in the pocket… but there is no other choice when encountering drinks at a tavern at sunset."
The literary official Lee Hyeon-bo (1467–1555) from the mid- Joseon period depicted a carefree and exciting atmosphere while enjoying alcohol on a floating boat when he said, "Dizzily singing and swiftly dancing by themselves… who asked them to do so?... who is the ruler and who are the subjects?... the son-in-law dances with the father-in-law, and servants exchange liquor cups."
Some famous painters were addressed by nicknames meaning "booze lover." Kim Hong-do (1745–?), the most famous artist of the Joseon Dynasty, was called
Chwihwasa
, "the drunken painter." Under the influence of alcohol, he created a masterpiece drawn in one stroke, titled "
Jijang gimado
," "Riding on Horseback". In the empty space on the canvas he wrote, "A person who would sleep even when falling into a well while riding on horseback and drunk."
Kim Myeong-guk (1600–?), renowned for the "
Dalmado
," or "Bodhidharma" picture, was called
Chwiong
, the "Drunken Elder."
Jang Seung-eop (1843–1897), a famous artist from the late Joseon period, was called
Chwihwaseon
, meaning the "Drunken Deity." He drew paintings only when he was excited under the influence of drink. A free-spirited man, he ran away from the royal palace and its rules several times while painting for the king.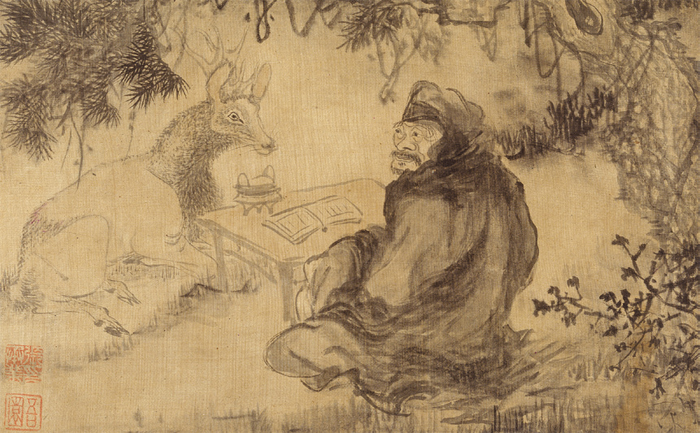 Besides these luminaries, there are further examples of intellectuals who are famously recalled in anecdotes related to drinking. During the reign of King Seongjong (r. 1469–1497), the literary official Sin Yong-gae (1463–1519) shared drinks with chrysanthemum flowers placed in front of him. The literary official Son Sun-hyo (1427–1497), known as a man of integrity and an alcohol lover, on the king's order wrote an official letter to be sent to China in a fluent and flowery style, even in a drunken state. The king offered him a silver cup and said, "Only one cup of alcohol per day." Receiving the one small cup, however, Son hammered it thin into a large bowl and had, as the king ordered, just one bowl of strong liquor a day.
People have long enjoyed drinking and quite naturally sublimated drunken joy into artistry.
Paintings
Many of the genre paintings from the Joseon Dynasty feature diverse types of people drinking at a variety of occasions: decorous scholars enjoying leisure and the tasteful life, commoners in humorous situations, and festival scenes. These paintings speak volumes about who mingled with whom and how they enjoyed their drink, and at what occasions. The ancestors enjoyed drinking sometimes in a noisy and lively atmosphere, and sometimes secluded in nature and appreciating the surrounding environment.
The painting "
Jumak
," or "Tavern," in the permanent collection at the National Museum of Korea, by Kim Hong-do, depicts a
jumak
, a pub or inn frequented by commoners. At the entrance was pasted a sign with the Chinese character 酒,or
ju
, meaning "liquor," or else there was a hanging paper lamp.
Jumak
were located at traffic hubs, selling alcoholic beverages and rice, and providing lodging. They served as a place of entertainment and a place for the exchange of information.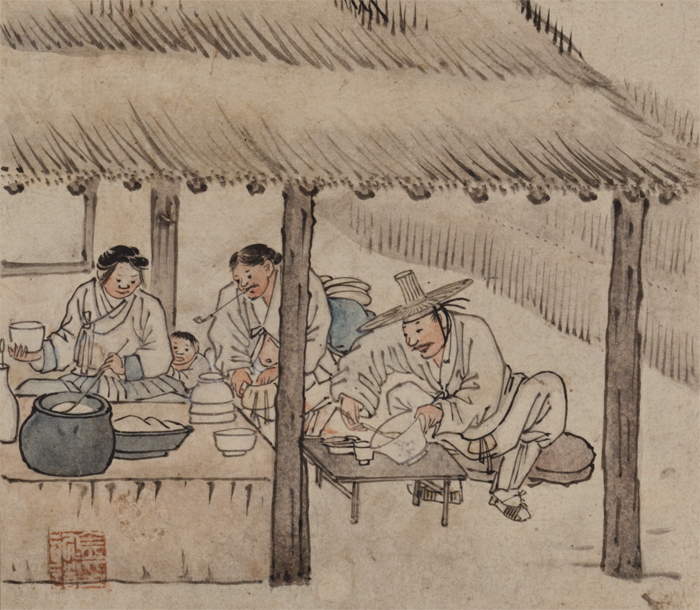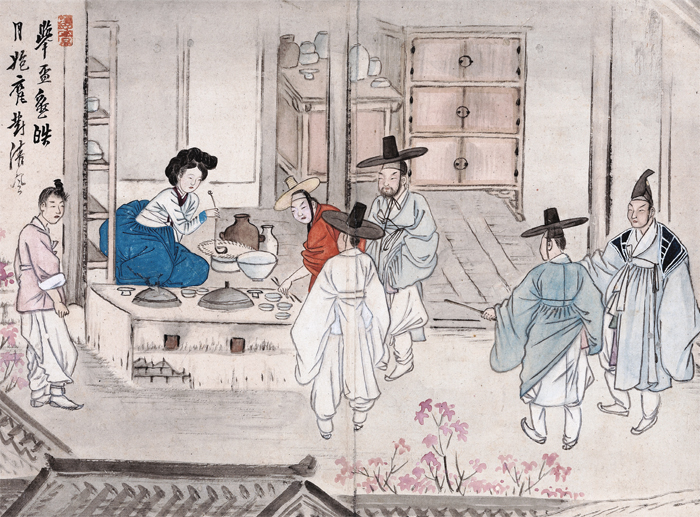 The picture "
Jusageobae
," or "Holding a Drinking Party," is part of the permanent collection at the Gansong Art Museum. Painted by Sin Yun-bok (1758–?), it describes a
seonsuljip
, a standing pub. Customers remain standing, giving their orders to the barmaid. The young hatless boy shown on the left is a servant working at the pub. The cost of side dishes was included in the price of the liquor, and customers received one serving per cup of liquor they ordered. When a customer asked for a drink, the bartender scooped the liquor from a jar into the customer's cup and the boy served a side dish, keeping count on the number of cups the customer consumed.
"
Saekjuga
," or "Shady Lady Bar," is part of the collection at the Hamburg Museum of Anthropology and was painted by Kim Jun-geun. It shows a
saekjuga
, a drinking house, where women served the customers. Unlike
gisaeng
who entertained customers with noble songs and poetry, the women at a
saekjuga
curried favor with them with more earthly songs. The entrance to such an establishment was marked with a
yongsu
, or a cylindrical sifter for filtering liquor, covered with a hat, hanging next to a lamp.
The "
Daekwaedo
," or "Picture of Great Pleasure," sits in the permanent collection at the Seoul National University Museum. Painted by Yu Suk (1827–1873), shows a liquor peddler on the sidelines of a martial arts performance. Liquor peddlers sought crowded places to sell their beverages.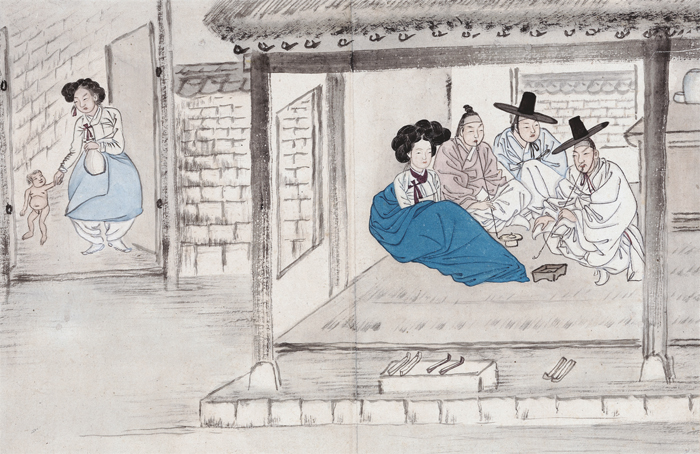 "
Hongnudaeju
," or, "Waiting for Liquor at a Bar," is in the Gansong Art Museum and was painted by Sin Yun-bok. He shows a
gibang
, the highest-class drinking house during the Joseon Dynasty, where trained entertainers, or
gisaeng
, sang and danced to please the upper class customers. At a
gibang
, strangers sat together to share one
gisaeng
, as in this picture where three customers are flocking around one lady. When a customer asked the
gisaeng
to sing, he had to secure agreement from those who sat with him.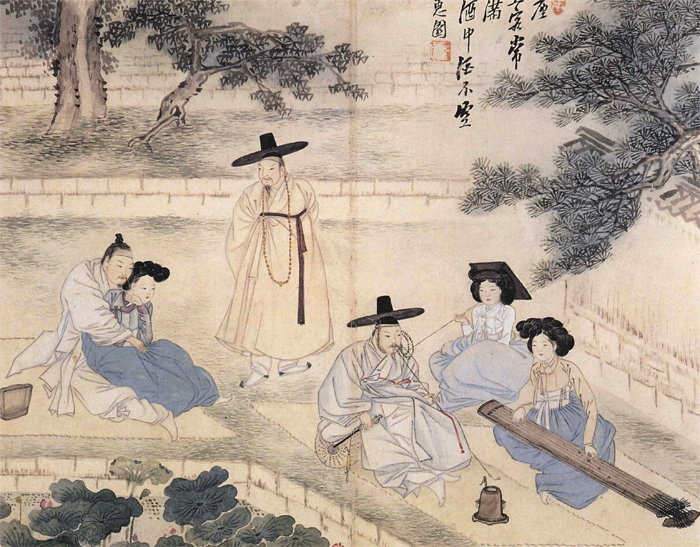 Scholars used to invite
gisaeng
home for a drinking party rather than be seen visiting a
gibang
. The "
Cheonggeumsangryeon
," or "Listening to a Zither and Enjoying Lotuses," is in the Gansong Art Museum. Painted by Sin Yun-bok, it depicts scholars being entertained by
gisaeng
, enjoying the sounds of a
gayageum
, a 12-string zither, all while viewing lotus flowers. The inscription on the upper part of the picture reads, "Nothing to worry about with guests full on the floor and liquor full in the jar."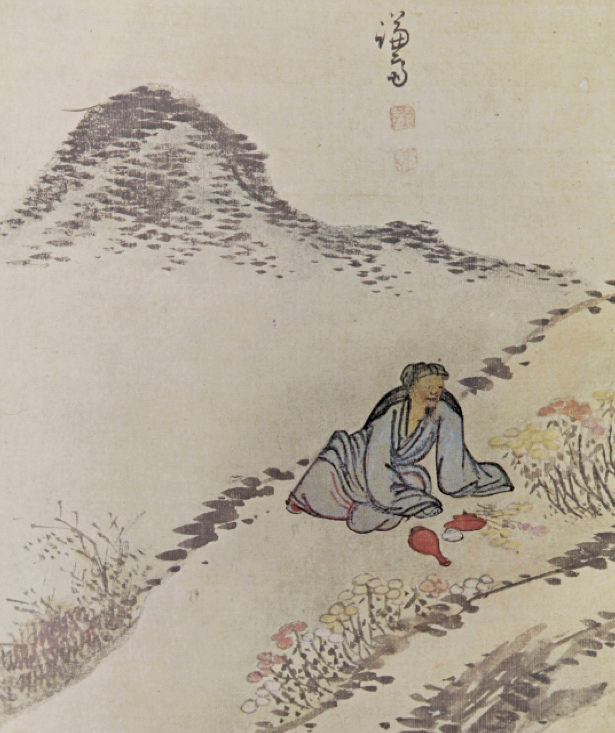 Scholars valued a tasteful life, enjoying drinking in the company of nature. "Drunken under Flowers" is part of the collection at the Korea University Museum. Painted by Jeong Seon (1676–1759), it features an old man sitting alone sleepily on a hill in early spring. Liquor bottles are scattered around the man, indicating that he is drunk.
Scholars would hold an
ahoe
, a gathering of writers to compose poems together, and recorded the occasion by painting pictures. Kim Hong-do hosted an
ahoe
by inviting guests to his house and memorialized the gathering by painting "
Danwondo
," the "Picture by Danwon," now part of a personal collection.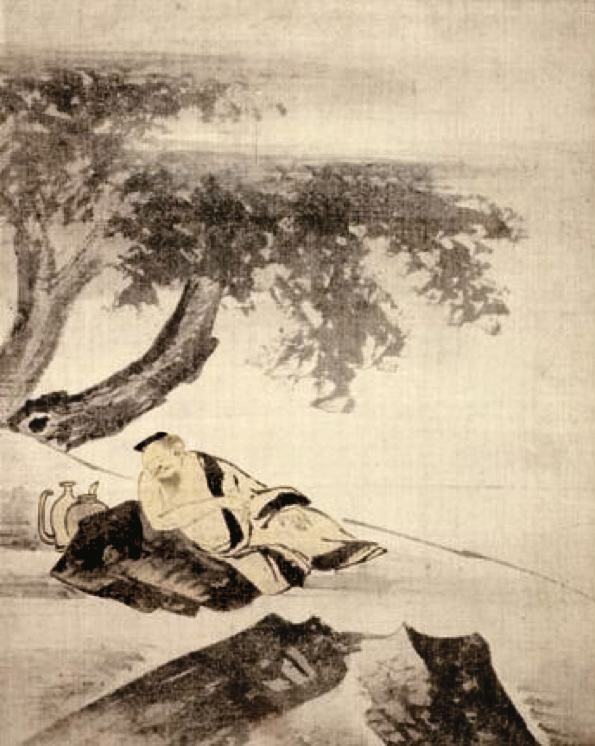 "
Suhachwimyeondo
," or "Drunken Sleep under a Tree," is in the Korea University Museum collection and was painted by Yi Gyeong-yun (1545–1611). It shows a scholar falling asleep while leisurely drinking his liquor in the shade of a tree, a contented smile on his face.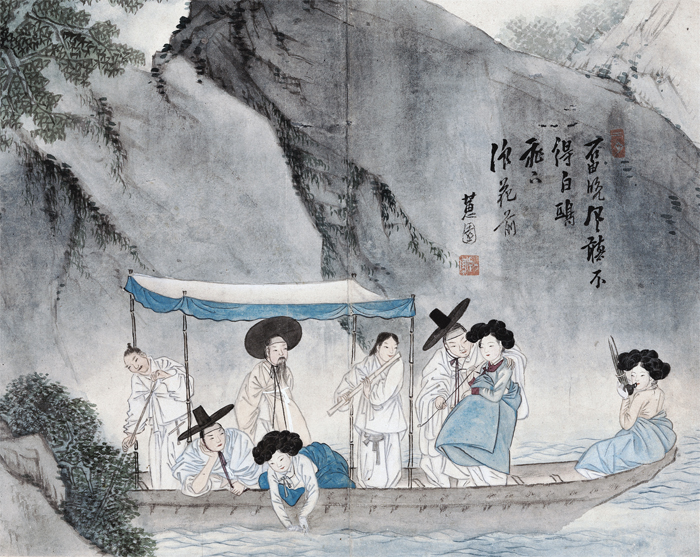 "Boating on a Clear River," or "
Juyucheonggang
," is in the Gansong Art Museum. Painted by Sin Yun-bok, it shows scholars enjoying music and the company of women on a leisurely boat ride. On the left side of the picture is an inscription: "The sounds of the
piri
, [a double-reeded bamboo flute] flew away with the wind, and white seagulls are flying in with the waves." The picture exudes a leisurely and convivial ambience: a woman bends over the side of the boat to touch the flowing water as a man caresses her with his eyes; another man and a woman share a tobacco pipe, the man's arm around her shoulder; and, their host watching indulgently, perhaps conjuring up poetic thoughts.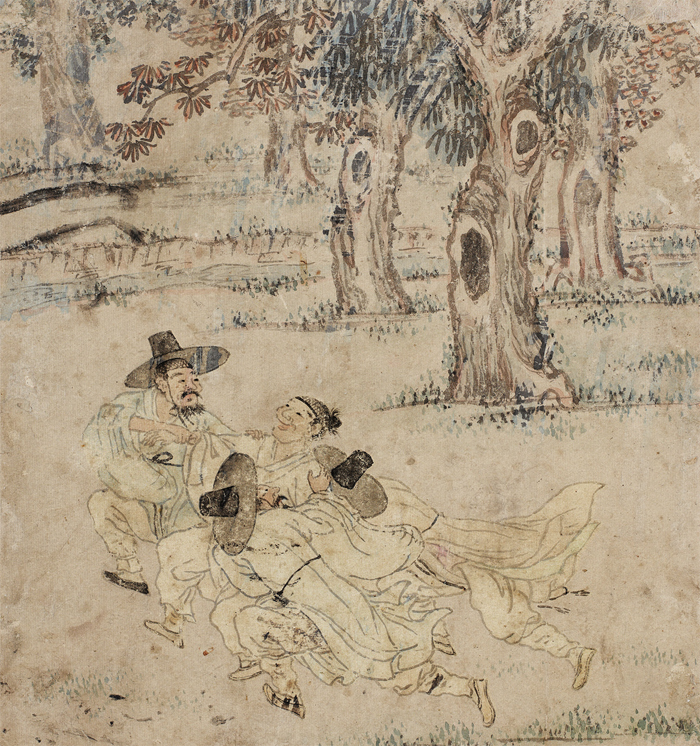 The "
Daekwaedo
," or "Picture of Great Pleasure," is also in the Gansong Art Museum. It was painted by Kim Hu-sin and describes drunken men in a humorous way. A group of drunks storm into a forest in broad daylight in autumn. The man in the middle is dead drunk, his hat knocked off his head, and the other men flank him to help him walk. It is interesting that the knots on the trees behind the men are reminiscent of eyes and mouths, wide-open in mock surprise.
Finally, the "
Manwoldaegyehoedo
," or "Picture of a Gathering at Manwoldae," is in a personal collection and was painted by Kim Hong-do. It shows a banquet held in honor of senior literary officials. The picture depicts the excitement of the banquet in detail: 64 invited seniors are treated to individual trays of food under the awning, and surrounding bystanders take on diverse postures and expressions. Some look on, laid back under pine trees, as matrons carry dishes, barmaids sell liquor at a street bar, some patrons stagger around for a drink, young boys hurry to watch the banquet and beggars ask for alms.
*This series of article has been made possible through the cooperation of the National Research Institute of Cultural Heritage. (Source:
Intangible Cultural Heritage of Korea
)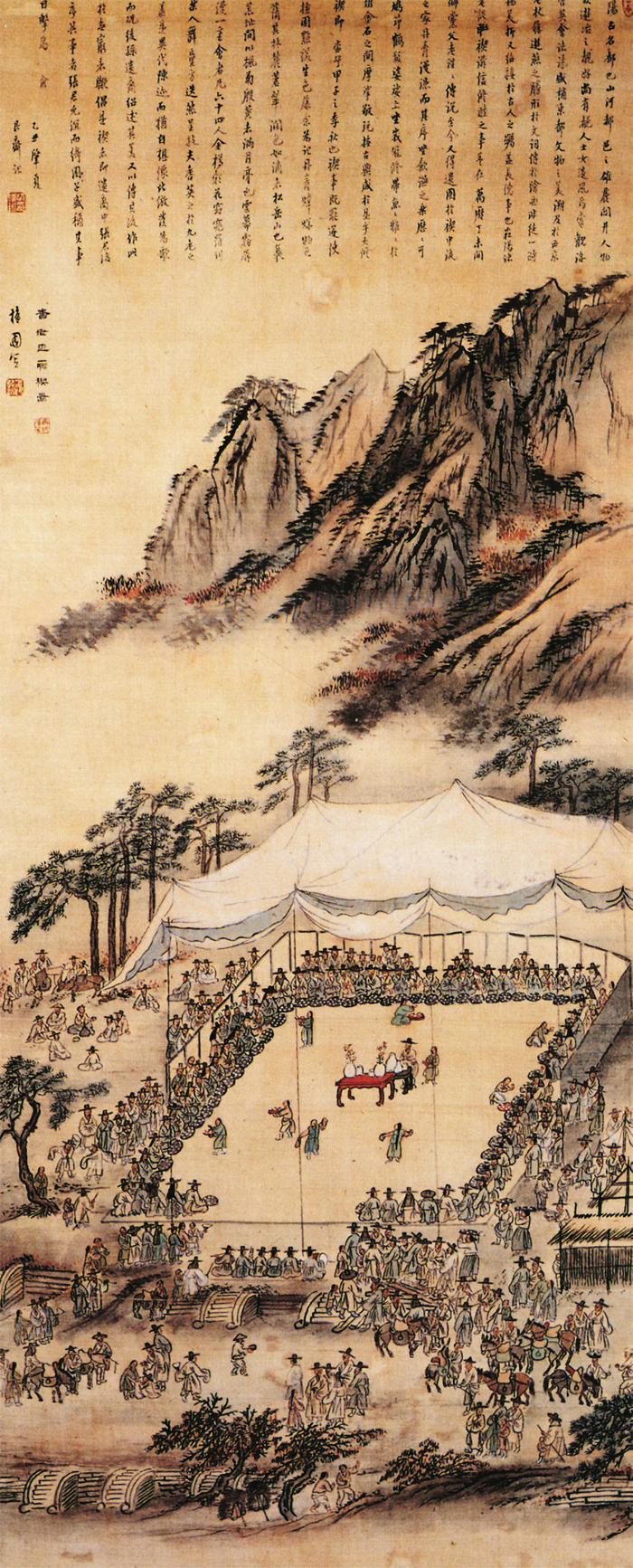 Department Global Communication and Contents Division, Contact Us