Forest service helps restore Aral Sea
Nov 29, 2016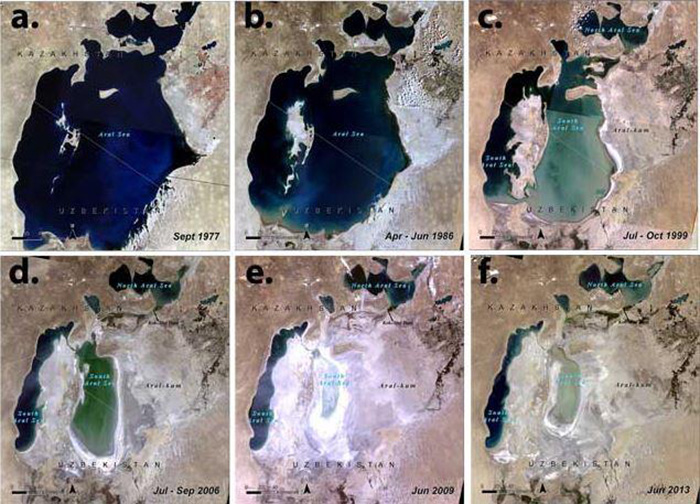 The National Institute of Forest Science (NIFoS), the national research institute under the Korea Forest Service (KFS), has selected "Prevention of Dust Wind and Restoration of Ecological Systems of the Aral Sea" as its regional cooperation strategy for Central Asia.
The Aral Sea, located on the border of Uzbekistan and Kazakhstan, was the fourth biggest lake in the world, but has shrunk to one tenth of its prior size after the building of dams in the 1960s in the hopes of boosting agricultural output. To increase cotton and grain harvests, the construction of large-scale irrigation works began on the Syr Darya and Amu Darya, the two rivers that fed the sea, and a huge amount of water was diverted, which has led to massive desertification. More than 100 million tons of salty dust generated from the enormous saline desert flies over 1,000 kilometers and greatly damages the farming business and health of nearby residents.
Five countries in Central Asia -- Kazakhstan, Kyrgyzstan, Tajikistan, Turkmenistan and Uzbekistan -- signed an agreement in 1992 to manage and protect water resources. They tried to solve the environmental problems and foster social and economic growth across the region by establishing the Interstate Commission for Water Coordination of Central Asia and the International Fund for Saving the Aral Sea. However, finding middle ground was not easy due to conflicting interests among the countries located upstream along the rivers and downstream toward the sea itself.
The NIFoS research team suggested restoring the ecological functions of the land near the Aral Sea, instead of reintegrating the lake. It recommended a fundamental solution to prevent salty dust by enhancing land coverage and building tree belts to protect local residences.
An official from the NIFoS said, "Restoring the desert around the Aral Sea, turning it green and creating new livelihoods can solve the problem of the salt dust and bring people who've left back to the region."
By Kim Young Shin
Korea.net Staff Writer
Photo: Korea Forest Service
ysk1111@korea.kr
Department Global Communication and Contents Division, Contact Us