President Moon stresses economic cooperation with Myanmar
Sep 05, 2019
By
Xu Aiying
and
Kim Minji
Photos = Cheong Wa Dae's Facebook page
President Moon Jae-in on Sept. 4 stressed the importance of economic cooperation with Myanmar at a groundbreaking ceremony for an industrial complex and a business forum held in Yangon.
At the event themed "Korea and Myanmar, companions of coexistence and prosperity," about 200 members of a Korean economic mission and 250 key ministers from Myanmar including Vice President Myint Swe and businessmen participated.
The industrial complex, a joint project between Korea Land and Housing Corp. and the Myanmar government, will be the first of its kind exclusively for Korean businesses in Myanmar. To cover 2.25 million square meters, the complex is expected to help Korean companies having difficulties advancing into Myanmar due to high land prices and weak infrastructure.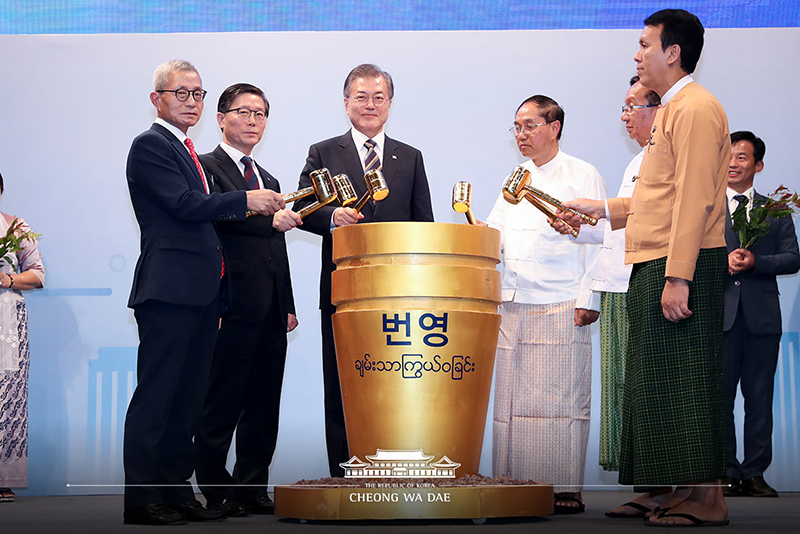 In a speech, President Moon asked for Myanmar's continuous support and called the complex a benchmark for bilateral government collaboration.
In a business forum held after the ceremony, the president suggested ways to connect the peoples of both nations through cooperation in consumer goods, joint production of cultural content, support and collaboration for helping Korean industries advance into Myanmar and develop infrastructure such as new Dala city projects and fostering the basis for industrial development in Myanmar by sharing Korea's experience in that regard.
"The three axes of Myanmar's Sustainable Development Plan completely coincide with my administration's New Southern Policy, which stresses the core values of people, peace and prosperity," he said, stressing the feasibility of a future community plan between Korea and the Association of Southeast Asian Nations.
President Moon on Sept. 5 will arrive in Laos, the final leg of his three-nation Southeast Asian tour.
xuaiy@korea.kr
Department Global Communication and Contents Division, Contact Us