Ceremony in Seoul marks 67th UN Forces Participation Day
Jul 27, 2020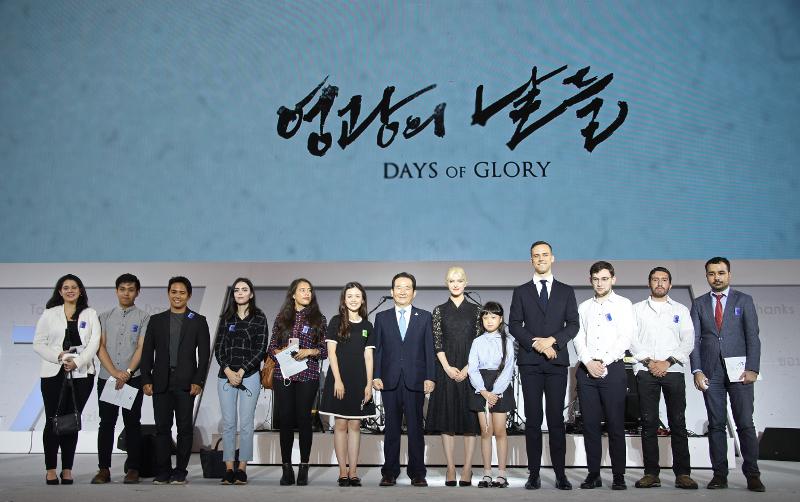 By
Lee Kyoung Mi
and
Kim Minji
A ceremony marking the 67th U.N. Forces Participation Day was held on July 27 at Seoul's Dongdaemun Design Plaza.
The event commemorated the sacrifices and contributions of the 1.95 million U.N. forces from 22 countries who fought for the Republic of Korea during the Korean War.
With this year marking the 70th anniversary of the war's outbreak, the event was held under the theme "Days of Glory." Around 200 people attended including Prime Minister Chung Sye-kyun, Minister of National Defense Chung Kyung-doo and diplomatic officials from the 22 countries.
"The sacrifice and dedication of the U.N. Korean War veterans have become the foundation for the freedom, peace and prosperity of today's Korea," the prime minster said in a speech. "Like you did 70 years ago, Korea is doing its best for peace in the global village and the safety of humankind."
"There are no borders for veterans just as there are no borders for the peace of humankind," he said, mentioning his government's rewards for such veterans given their sacrifices and contributions to the war effort.
Public programs for the descendants of Korean War veterans from abroad include the F-2 visa, which allows a talented bearer from one of the 22 nations to pursue employment and study in Korea over a longer-term stay.
Also, the Act on the Dignity and Honor of U.N. Korean War Veterans, to take effect on Sept. 1, will enhance cooperation and friendly relations with the 22 nations and stress respect for the 1.95 million veterans by the Korean government.
The act designates Nov. 11 as an international day commemorating the veterans under a pledge for Korea to show respect and support for their achievements and burial in the country.
km137426@korea.kr
Department Global Communication and Contents Division, Contact Us