Korea, Nigeria enjoy poetry fiesta
Apr 01, 2016
Korea and Nigeria have enjoyed a fiesta of poetry.
The Korean Cultural Centre Nigeria (KCCN) and the Arojah Theatre held the Korea-Nigeria Poetry Fiesta 2016 to mark World Poetry Day on March 21. The event was attended by approximately 100 people, including Wale Okediran, president of the Association of Nigerian Authors.
In a special event as part of the festival, Arojah Concepts CEO Jerry Adesewo passionately recited "Song of Peace," a well-known poem by Korean poet Ko Un, which won a big round of applause from the audience. The event also featured works by Nigerian poet Wole Soyinka who was awarded the Nobel Prize in literature in 1986, contributing to the shared cultural exchange of literature that is taking place between Korea and Nigeria.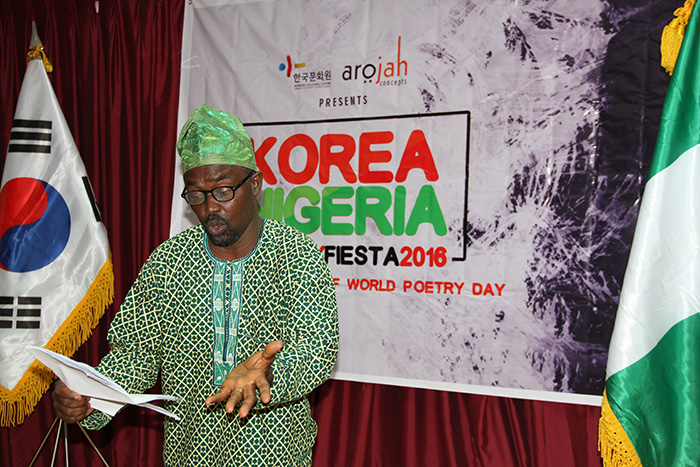 Poet Ko Un sent a congratulatory message to the even through the KCCN. In his remarks, he said, "The issue of peace is the foremost mission for not only the Korean Peninsula, but for Nigeria, too, and for everywhere in the world. I sincerely hope that regional and religious hostilities, a true pain for Nigeria, can be resolved as soon as possible so that the country can realize peace and the ethics of one united community."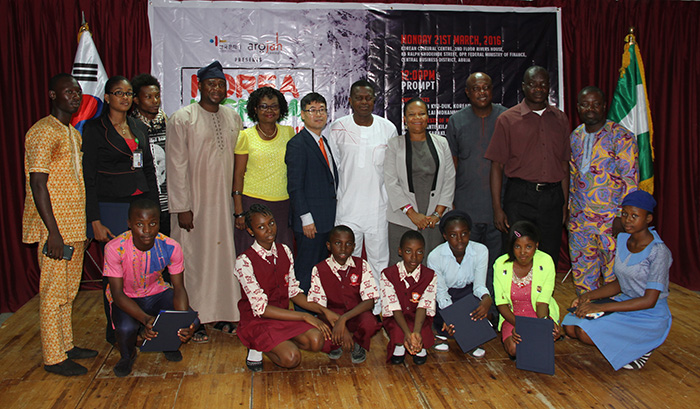 By Han Sungrae
KCCN Director

** Prize winners' works

Top prize in the adult category: Echezonachukwu Nduka

Listen

Listen.
That night I walked away from
Your queries and accusing eyes,
The flap-flap sound of my slippers
Played rhythms to the lone tone of
A toad in the dark;
I cried, paused, and cried some more.
Listen.
My luggage is heavy with clothes and complaints
My new accent is penance for my sin in London's winter.
It sits on my tongue in discomfort, like one sits
On a chair whose leg is broken and shaky.
And who knows, my forefather's gods might have
Shed tears the size of Agulu Lake; vowing to twist
My tongue back to shapes of riddles and proverbs.
Listen.
There're more tales in the eyes
Of a lady I met in Leytonstone;
In the voice of a baritone for whom operas
Are bittersweet politics;
In the playfulness of a lad at Robin Hood School;
In the bottles of beer that formed affections in Stratford;
In the laughter of Kim Cheng whose English is Chinese;
In the mind of my professor during a minute of critical thinking;
And in the underground stations where music boards every train:
Listen.
There're more truths
In the politics of dying and survival;
In the way death commands attention;
In the nod of a lad whose yes means no;
In the anguish of a writer whose ink is dry;
In the bulala of a soldier whose love is cruel;
In Fela's saxophone whose riffs are prophesies:
Listen.
Listen to the belly of that child
Whose meals are stolen;
His yawns and tears are testifying:
Listen.
Listen to the pains of a sister
Whose star cracked on the altar of rape;
Whose shame, names, blames are badges
For this terror that tears the soul;
Whose voice is shut when voices speak:
Listen.
Listen to the anguish of a Grandpa
Whose pensions are paid in heaven;
Whose fruits of labour are laid
On the tables of men whose motorcades
And sirens stir more dusts that blind
The eyes of a people:
Listen.
Listen to the breath of a brother
Whose shoes have walked a thousand miles
In search of a job that fetches a little or none,
His stories are no news in a land that lends no ear:
Listen.
Listen to the silence of an uncle
Whose life is taken by the potholes that rule the highway
Whose death is one more name in the register of those
Whose martyrdom is a dent on a flag that forgets its own:
Listen.
There's a poem in the sound of nothing:
Listen.

Top prize in the student category: Opeoluwa Neith, from the Sasa
Community High School in Sasa, Akowonjo, Lagos

My Pride

I can touch each beat of pain
That struck my heart with cane
My heart bleeds and turns lean
By my 'me' who pronounces mean
With trust I gave you my brunch
Tasteful, and I sold you my lunch
In your delicious meal I feast
Like flames of dirt in a yeast
Building castles in the air was my dream
With your speeches I bathed and cream
At the shore I forgot my principle
Only to know not you flock with all people
It hurts so that I cry
And wish I could fly
What a beautiful mistake?
How do I get up?


Winner of the Ambassador's Prize: Muyiwa Ayinla

Seoul Sings

Beautiful Seoul
Like a newly wedded bride
Smiles at Han in bursting pride
For gone are the days
Of tears of dismay.
I heard beautiful Seoul Sings
Even if her language I do not know
But the dancing steps of her mountains
And the rhythmic flow of her fountains
And the sonorous ringing of the bells
Hanging from the ancient towers
Tells me I can never be wrong
That she sings beautifully well.
You have lived in so many dreams
And to some a splendour behold
Like you have been an inspiration
For Kim to make a Sung
To raise comrades of esteem in your defence.
Seoul Sings
Right from the days of ancient past
Of Comrades rise and fall
Of beauty and buildings tall
And of bravery in the midst of fear.
Seoul Sings on a Floating Island
In castles and ancient palaces,
In loftiness and in splendour
Of which my eyes do yearn to see.

Department Global Communication and Contents Division, Contact Us