PyeongChang Winter Olympics 2018
2018 Winter Olympics awarded to Pyeongchang
Jul 07, 2011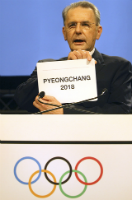 After twelve years of work to host the Winter Olympics, the city of Pyeongchang in Gangwon Province finally heard its name called by International Olympic Committee President Jacques Rogge. The city, which lost two past bids to Vancouver and Sochi, was chosen over Munich and Annecy in first round of voting on July 6 in Durban, South Africa. It received overwhelming support, with 63 of 95 IOC voters supporting its selection as host city. (left) IOC President Jacques Rogge announces Pyeongchang will host the 2018 Olympic Winter Games on July 6, in Durban, South Africa. (Photo: Yonhap News, AP Photo/Kim Ludbrook-pool)
Korea, which made its first Olympic appearance in 1948 at the St. Moritz games as one of the world's poorest countries, will be only the second host ever for Winter Games in Asia, following the Nagano Olympics in 1998. Korea previously hosted the 1988 Summer Olympic Games, which proved instrumental in the country's democratic transition and bringing a brighter future to the nation.
Pyeongchang presented a strong concept, and enjoyed substantial support from the government and the citizens. "There is a lesson in the achievements of Pyeongchang in that patience and perseverance were rewarded," said IOC President Jacques Rogge.
Pyeongchang will now turn its efforts to ensuring that the Olympic Games are held successfully and smoothly. In addition to its seven existing venues, Pyeongchang aims to complete six additional sites by 2012. Additionally, the city will soon break ground for a high-speed railway, connecting Pyeongchang with the capital city of Seoul in less than an hour.
By Hwang Dana
Korea.net Staff Writer
Department Global Communication and Contents Division, Contact Us