PM Chung says coronavirus outbreak is 'well under control'
Feb 14,2020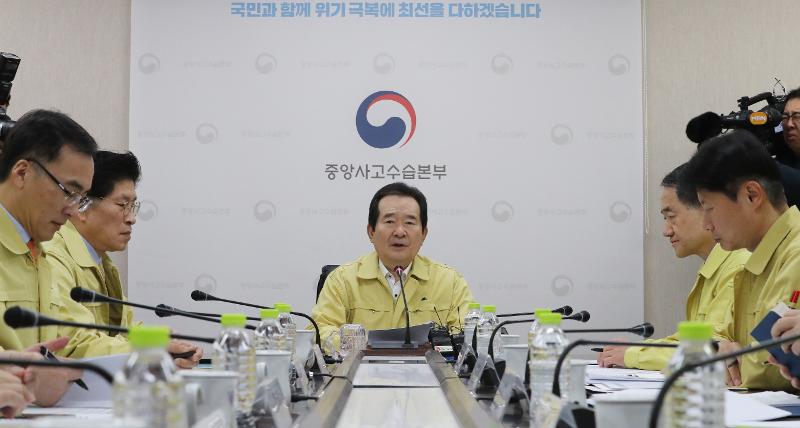 By Min Yea-Ji and Kim Hwaya

Prime Minister Chung Sye-kyun on Feb. 14 said, "The outbreak of corona 19 (the novel coronavirus) in the country was initially worrying but I now believe that Korea's advanced medical technology and the government's quarantine networks have brought the virus well under control."
Chairing a meeting of the Central Epidemic Control Countermeasure Headquarters under the Korean Centers for Disease Control (KCDC) at Government Complex-Sejong, he mentioned the growing number of people who had recovered from the virus as well as those still hospitalized as being stably managed.
"The nation's mission is to work toward public safety and stabilization of the people's livelihood," he said, adding, "The government is doing its best to protect the people from the effects of corona 19."
The prime minister asked the public to have faith in the government and maintain a daily routine while observing the KCDC's safety tips, and requested companies to actively carry out their scheduled economic activities.

Citing remaining risk factors such as the rise in the number of infections in China and the mass migration of Chinese studying abroad and laborers after Lunar New Year, he pledged that the government will prepare measures to tighten checks and inspect and guard against such factors.

In addition, the prime minister urged vigilance against the spread of discrimination or hatred in Korean society in the process of responding to the outbreak.
The headquarters, meanwhile, said in a daily briefing that the country saw no new cases of corona 19 and that the number in Korea remained at 28, with seven patients fully recovering and being discharged from the hospital.  

jesimin@korea.kr

Featured Topics
http://www.korea.net/Government/Current-Affairs/National-Affairs/view?affairId=2034&subId=5&articleId=182378
URL Copy
Department Global Communication and Contents Division, Contact Us