Joseon Buddhist painting returns after 100 years
Jan 10, 2014
A Buddhist painting produced in the late Joseon period (1392-1910) has finally returned to Korean soil after 100 years of wandering. The large painting, known as the "Korean Sakyamuni Triad Painting," portrays the Buddha delivering a sermon with a Bodhisattva on each side of him. The
Overseas Korean Cultural Heritage Foundation
revealed the painting, returned from the Hermitage Museum and Gardens in Norfolk, Virginia, the United States, at the
National Museum of Korea
in central Seoul on January 7.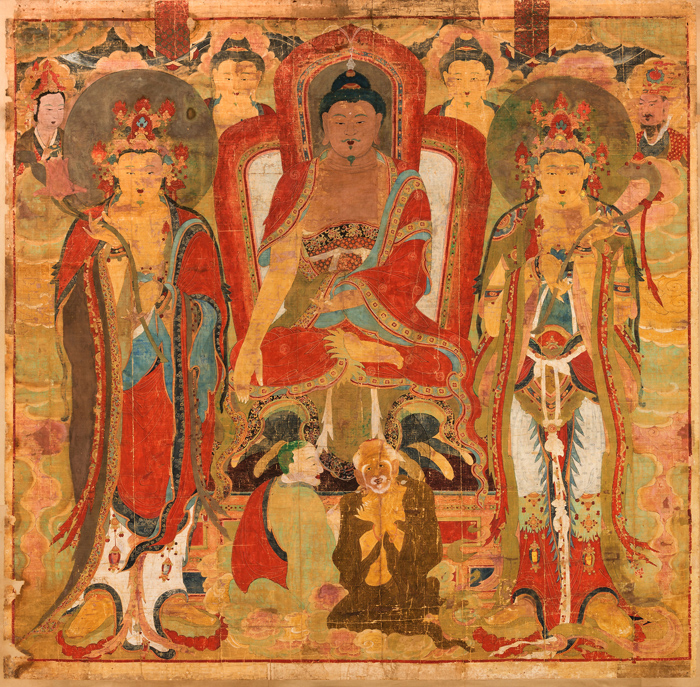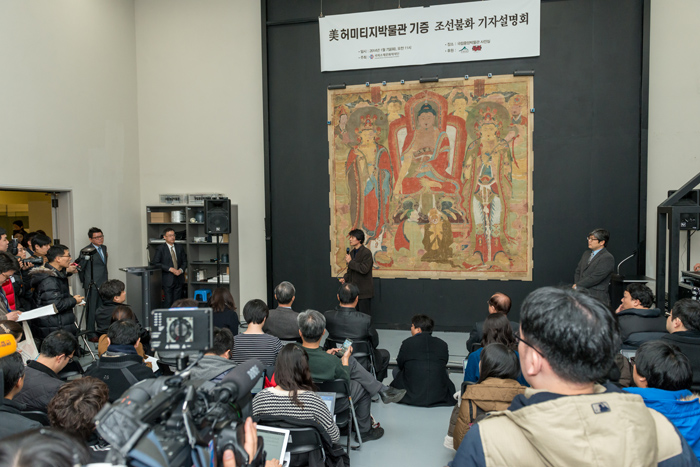 The painting is 318.5 centimeters long and 315 centimeters high and presumably used to hang behind Buddha statues in the main hall of a temple. It is believed to have been produced in the 1730s because the jewel-decorated crown and accessories worn by the Bodhisattvas in the painting are similar to those of a Buddhist painting produced in 1731, which is now owned by Songgwangsa Temple in Suncheon, Jeollanam-do (South Jeolla Province).
However, art critics say the returned piece is quite different in its style from other Buddhist triad paintings. This painting has Ananda and Kasyapa, two of the Buddha's ten students, positioned in front of the Buddha and at the bottom of the painting, unlike in other paintings where the two figures are depicted in miniature on each side of the top of the painting.
In May 2013, an employee of the Overseas Korean Cultural Heritage Foundation came across the painting featured in a "Virginia's Top 10 Endangered Artifacts" YouTube video produced by the Virginia Association of Museums. The foundation negotiated with the Hermitage Museum and Gardens on the return of the painting and it was finally donated by the museum with financial help given by an American game company.
The painting was cut out of a temple without notice when Korea was under occupation and was then transferred to Japan. There, it became the possession of Yamanaka & Co., a Japanese art dealer. Later it was sent to the United States and moved from one place to another. The painting was once exhibited at the Toledo Museum of Art. After the Japanese attack on Pearl Harbor in December 1941, the U.S. government confiscated all Japanese assets in the U.S. through the Office of Alien Property Custodian, including those held by Yamanaka. The U.S. government put up all the confiscated pieces of art for auction and the painting was sold for USD 450 at a New York auction house in 1944 to the Hermitage Museum and Gardens.
The painting was once on loan to the Norfolk Museum of Arts and Science, now the Chrysler Museum of Art, in Virginia for a 20-year exhibit starting in 1954. It was later transferred to the Hermitage Museum and Gardens in 1973 and was rolled up and stored in the museum for 40 years.
"The painting is rare in art history as it has a composition not yet found in other paintings," said Kim Seung-hee, a National Museum of Korea official specialized in Buddhist Joseon-period paintings. "It is an excellent piece amongst Buddhist paintings from the Joseon era as the expression of the figures is very refined."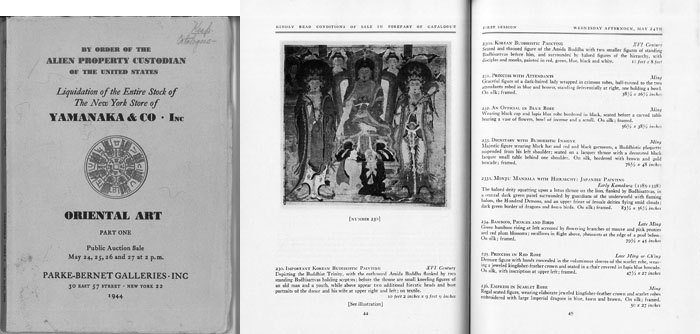 By Limb Jae-un
Korea.net Staff Writer
jun2@korea.kr
Department Global Communication and Contents Division, Contact Us