Fusion Cuisine In Seoul
Mar 06, 2015
Korean cuisine has already been getting a good rap in the international food scene. Having been to the Land of the Morning Calm for more than 10 times, I always look forward to authentic restaurants offering hansik (한식, Korean food), homemade meals prepared by the moms of my Korean friends, and street carts selling sumptuous delicacies. So during my last trip in Korea, I did a detour from my usual food "pilgrimage" by checking out the fusion food scene in Seoul. Here are the stuff that I discovered:
Thai + Korean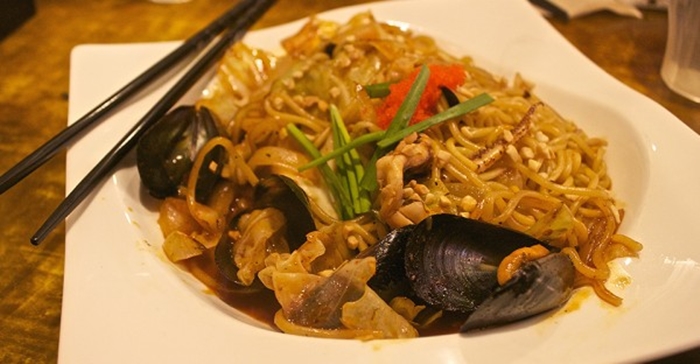 In Myeongdong, there is a noodle house named Nipong Naepong. They offer various fusion noodle dishes but the one that got me intrigued is their Thailand Pong, a mix of pad thai (stir-fried noodles in Thailand) and jjampong (짬퐁; spicy seafood noodle soup).
Normally, jjampong is prepared as a noodle soup dish. However, in this mix, Thailand Pong is served as a dry noodle dish but still "haunts" you with the spiciness of jjampong. I also love the hint of sweetness from the thick sauce (made of tamarind, palm sugar, & fish sauce) that is distinctively found in a pad thai serving. If you're a seafood lover, you'll be delighted to find bits and chunks of mussels, squid, shrimp, and caviar in your plate.
I'm definitely going back to try their other items like Italia Pong, Spanish Pong and Japanese Pong.
American + Korean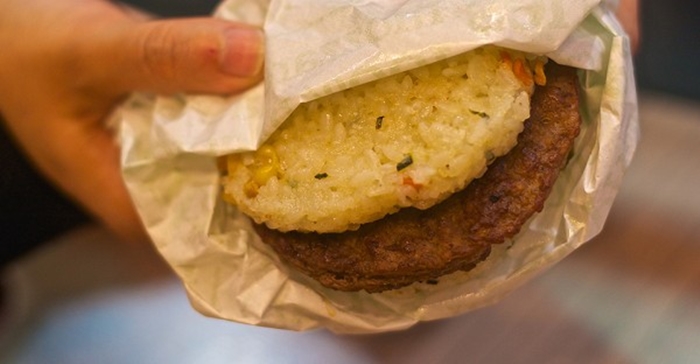 I first tried this peculiar burger during my first visit in Seoul about 3 or 4 years ago. Most fast food chains sell hamburgers with bread topped with sesame seeds. But in Korea's Lotteria menu, you will find a vegetable rice bulgogi burger. A patty, which reminds you of the flavor of bulgogi (불고기, grilled marinated beef), is placed between 2 vegetable rice buns. The burst of flavors is simply unforgettable.
Mexican + Korean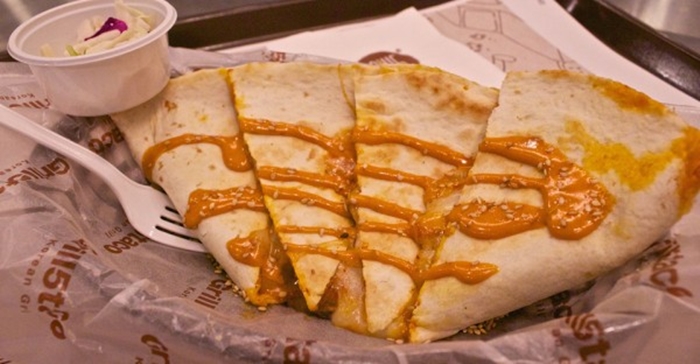 Some K-Pop aficionados, specifically fans of Super Junior, may have heard already of Grill5taco since Donghae owns a branch in Cheongdam-dong (south of Seoul). Whatever branch you may be visiting, make sure you try their kimchi quesadilla. The cheese on top somehow neutralizes the hot, spicy flavor of kimchi (김치, fermented cabbage). Sodas and beer are available in case you need to calm down those taste buds.
International + Korean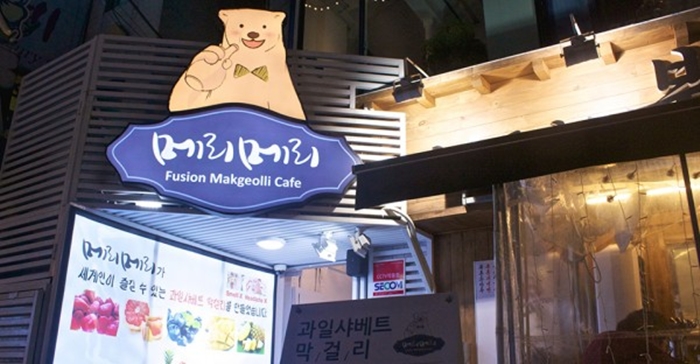 It's hard to single out a specific country for this kind of fusion because of the wide variety of fruits that they offer. Just imagine mangoes from the Philippines or pineapples from Brazil when you order these mixes from Merry Merry (메리메리) Fusion Makgeolli Cafe in Hongdae. Makgeolli (막걸리, Korean rice/wheat wine) alone is already perfect for me but the inclusion of fruits makes it even 100 times better. My personal favorite is the strawberry makgeolli. Other pubs in Hongdae or Sinchon (not Sincheon) also offer special makgeolli mixes.
Italian + Korean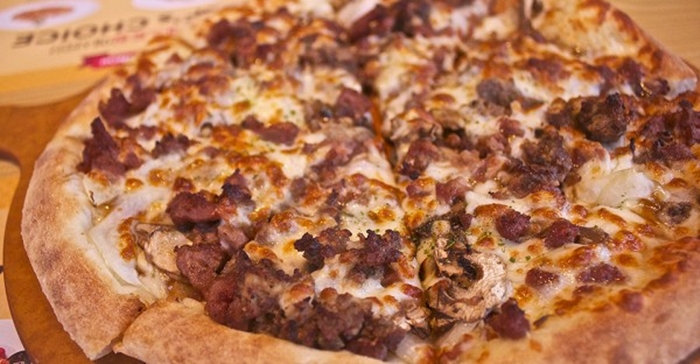 Korea's own pizza restaurant franchise, Mr. Pizza, offers bulgogi pizza. The moment I had my first slice, it did not disappoint. The softness of mozzarella cheese, together with the charcoal-grilled beef perfectly blended with the flavor of bulgogi-style meat. Pour some hot sauce if you want an extra kick. There is also a spicy pork bulgogi variant in their menu.
Have you discovered any fusion dish in Korea? Let's expand this list by commenting below.
By Marius Oczon for the Korea Blog
Department Global Communication and Contents Division, Contact Us