'Parasite' cast, crew receive hero's welcome in Korea
Feb 12, 2020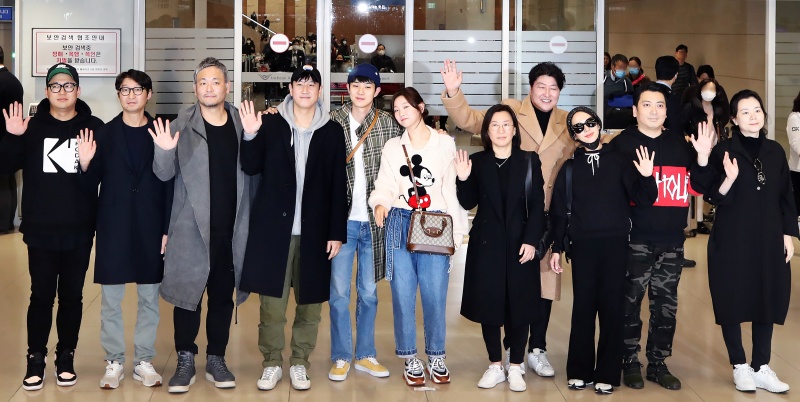 By
Song Baleun
and
Lee Jihae
The cast and crew of the blockbuster film "Parasite" have returned home to a hero's welcome after the movie won four Academy Awards.
Actors Song Kang-ho, Lee Sun-kyun, Cho Yeo-jeong, Choi Woo-shik, Park So-dam and Park Myung-hoon, co-producer Kwak Sin-ae, screenwriter Han Jin-won, production designer Lee Ha-jun and film editor Yang Jin-mo arrived on Feb. 12 in Incheon International Airport and walked through Terminal 2. About 90 reporters were waiting at the arrival hall in the wee hours of the morning.
Kwak said, "Thank you very much and sorry for making you come so early in the morning to greet us," adding that an official news conference will be held later to share more details.
Song, a veteran actor dubbed "Parasite" director Bong Joon-ho's "persona" due to their frequent collaborations, said, "I think we were able to get this great result because of your ceaseless support."
"Through making good Korean movies, we will continue to do our best to promote Korea's outstanding cultural arts to movie fans around the world."
Bong, meanwhile, stayed behind in the U.S. because of a busy schedule. At a news conference held after the Oscars ceremony on Feb. 9, he said, "It was wonderful to go on stage with the cast and crew of 'Parasite' to receive the Best Picture award."
"Our journey that began in Cannes last year has ended in the happiest way possible."
brightsong@korea.kr
Featured Topics
http://www.korea.net/NewsFocus/Culture/view?articleId=182298
URL Copy
Department Global Communication and Contents Division, Contact Us