Juno Hair: the beauty industry's leading salon
Apr 16, 2014
Beauty is one of the most pursued values of the human race, regardless of one's age or ethnicity. In modern times, there is an increased amount of hype around one's personal appearance. With wealth and urbanization, people's desire to look better has gotten more and more intense.
There is an ongoing debate about appearance, whether or not it is always a good thing to show oneself off, but it is true that a well-manicured look has often been regarded as one of the most effective ways to enhance one's self image. Everyone might have once dreamed about getting a haircut, a manicure and a pedicure, from the top of the head to the bottom of the feet, seeking the perfect balance between being relaxed and looking beautiful.
That dream exists in the real world at a beauty shop in Cheongdam-dong in Gangnam, one of the more expensive and fashionable neighborhoods of Seoul. Avenue Juno is the flagship store of Juno Hair. Being one of the largest high-end beauty complexes around, it provides a whole range of beauty services, from your hair to your toes.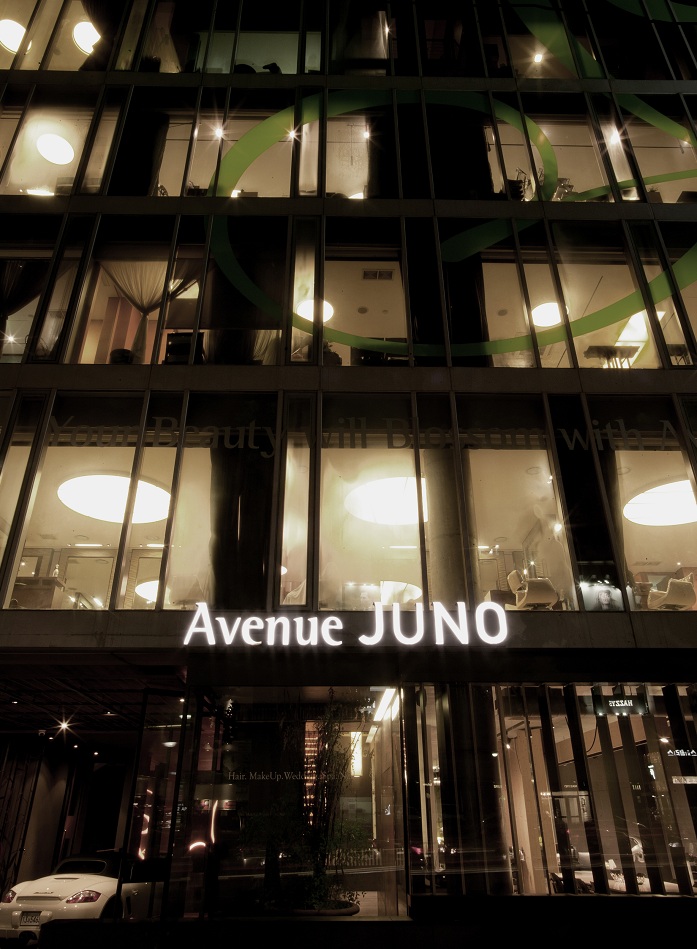 Opened in 2006, Avenue Juno provides hair treatment services, scalp care, makeup, nail care and even has an in-house spa. In addition to excellent and diversified service programs, the interior of the building reflects the devotion and passion of the Juno people. It is one of Juno's core concepts that Avenue Juno is not simply a place where customers visit to have their hair done, but should also be a place where they can relax and enjoy being there. On the first floor is a gigantic coffee maker and a table. Customers can enjoy a latte and read a book while waiting for their appointment. The outdoor rooftop on the fifth floor has a tiny garden where parties and performances take place.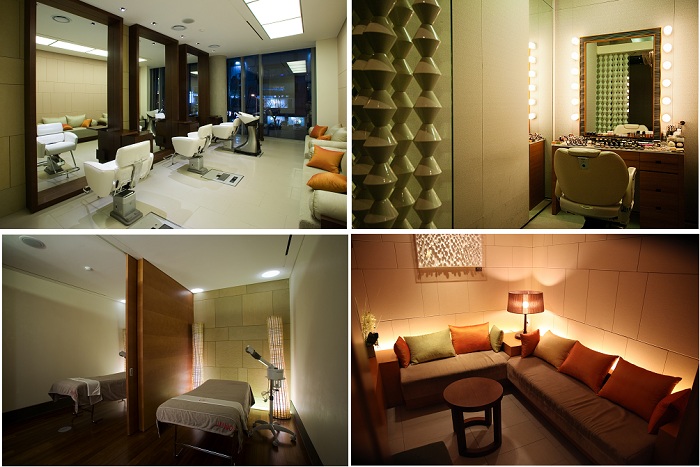 Juno is the Latin name for the goddess Hera. She is the wife of Jupiter, or Zeus in Greek mythology. Juno is the goddess of marriage and is associated with beauty. Juno Hair is determined to always seek the utmost in beauty, with the confidence and pride of a goddess.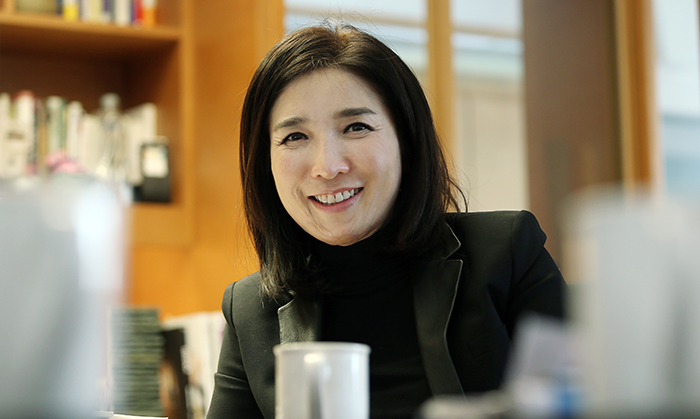 The whole idea and concept for the interior of Avenue Juno sprung from the imagination of CEO Kang Yun-seon. It is exactly what she dreamed of, ever since she began her own shop in 1982, the first branch of Juno Hair. It was located in Donam-dong, a district not as extravagant as Cheongdam-dong. It has been nearly 20 years now since Kang announced that she would only concentrate on the management of her hair shop, and leave the actual hair cutting to her staff. Today, she has around 2,700 employees across 92 stores nationwide, all under her direct management. Juno Hair is recognized for the loyalty and fidelity of its employees, who have a less-than 10 percent turnover rate.
Korea.net met with Kang to hear more about the secret behind the successful growth of Juno Hair.
- You have always been busy running the business, offering lectures at universities and involved with Mecenat, the private program where businesses help out with the arts. Where do you think your energy come from?
I believe it is because I do what I like and I enjoy it. It's not something that is forced, or needs to be done by the command of others. It is what I always find interesting and enjoyable.
- What made you choose the beauty industry?
I was quite young. One day, I was in a hair shop. A passer-by came in and asked the owner if she could leave her bags there for a couple of hours. The owner refused without a second thought. It was such a shame. I thought she could have become a regular customer. The owner seemed to have missed a great chance. Communication with customers is not a science or something really big. I thought it is simply the sharing of warmth and caring for each other.
I think it gave me a bit of motivation about running a business. Later, I decided to learn hair care skills, thinking that a special skill in a particular area would be important. In 1982, I started my own hair shop, the first Juno Hair, in Donam-dong, Seongbuk-gu District. Indeed, I didn't have enough money to run the business and had to pay back my loan on a daily basis. I enjoyed providing hair care services for the customers, talking to different people every day and helping them look more beautiful. During those days, I wanted to stop time. I thought the days passed too quickly. I always walked the last customers of the day to a nearby bus stop or subway station.
-There must have been a lot of difficulties and hardships that you had to overcome. What made you wake up every morning in the face of these difficulties?
I always set a goal in a very clear way. I must have had hardships in the past, but I forget them easily. I am rarely frustrated or discouraged. If you have a clear objective and firm determination, you will be more focused on the plan and the direction, getting you over the hump. Personally, when I find myself stressed, I talk a lot with my employees. Then I am reminded of the dreams that they are pursuing here, and I get my energy back and am revved up for the next challenge.
- You make your employees read. That has been considered as the most noticeable feature of working at Juno. Is there any special reason why you take care about their character and education?
I want to share the importance of reading together with my family. I was born to a not very well-to-do family. When my parents went to work, I read books at home alone. Reading, indeed, provides you the chance to think and to contemplate. It deepens your comprehension. It is the way that you can attain new ideas and energy with just a small investment. Reading is essential to understanding what the customers want.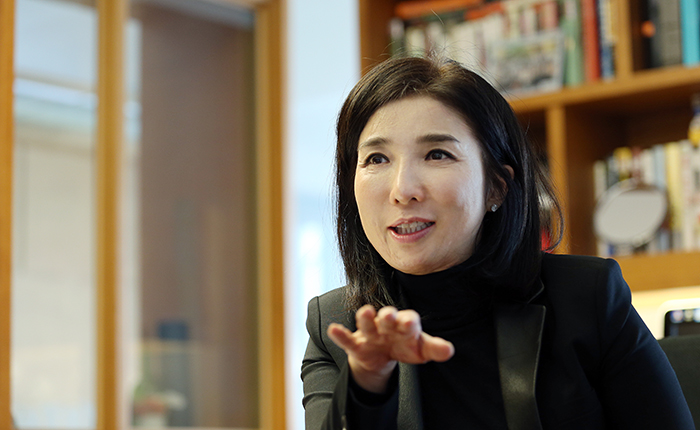 On the last Saturday of every month, the employees have book clubs where they talk about a same book that they've been reading during the month. They share various ideas that might have popped into their heads while they were reading, and discuss how the new ideas and concepts can possibly be transferred into the services we provide.
At first, I had to face a lot of complaints from them. Hair shops are places that gather people who are excellent at styling hair, not necessarily people who enjoy reading. However, one of my merits is that I am persistent. The reading and discussion program has now been around for 20 years. Today, there is a growing number of employees who are satisfied with the new reading habits, since they've become more confident in talking with people about any old topic. When they talk about the future direction of the company, they now take on a sense of ownership. Also, an overflow of new ideas coming from the employees enhances the quality of our service.
- The beauty industry is known for its high rate of employee turnover. However, a great number of long-term employees continue to work at Juno Hair. What is your secret?
We have around 300 staff who have worked here for more than 10 years, and more than 200 of them receive some hundred million won per year. They are educated and trained in leadership and service skills. They follow trends in the beauty industry and even study how to run a business at the Juno Academy, our in-house management company. The programs seemed to have planted dreams and motivations in them. I learned that when they find a vision here, their allegiance to the company is automatically strengthened. Personally, I feel very much rewarded when I see them grow. I don't get that feeling from anything else.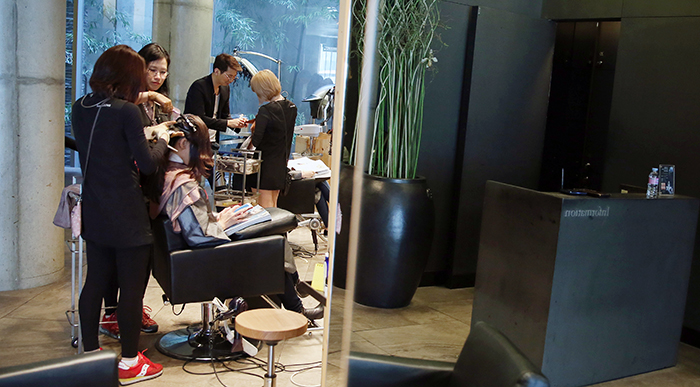 - Everybody pursues beauty, regardless of their age and ethnicity. What with the popularity of some soap operas or hip-hop and pop acts overseas, do you see any influence in the hair style requests from your international clients?
Indeed, the number of foreign customers is on the rise, particularly Chinese customers. We have Juno Hair branches in Myeongdong and it is more and more frequented by Chinese clients, more so than anywhere else. In the past, international clients would show up with a guide or a translator, but these days more people seem to know what they want and can ask for it in Korean.
- What is the future for Juno Hair?
First of all, a new Juno Academy building will soon be built near Avenue Juno. We'll run training programs there for professional hair designers. We also plan to expand the scope of our training school, to include programs targeted at people who have little knowledge of beauty, and also international students, too. In September, Juno Hair will open its first overseas salon as a Juno beauty complex is planned for Hanoi, Vietnam.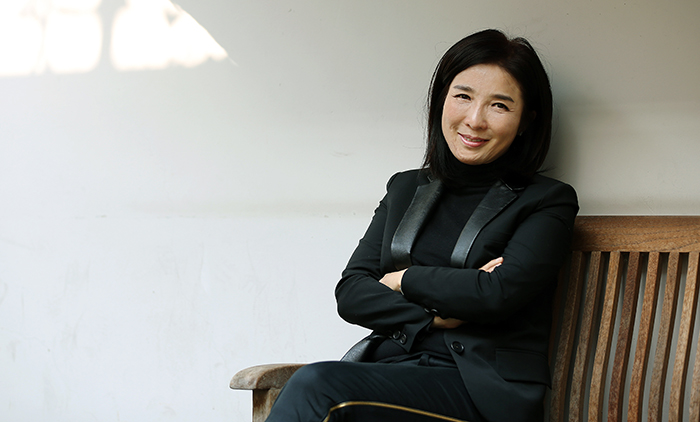 - You've built your career in the beauty industry for the past 37 years. What does beauty mean to you?
It is just my life, itself. If I had the chance to be born again, I would choose to work in the beauty industry, again.
* Click here to go to the Juno Hair website
http://www.junohair.com
By Lee Seung-ah
Korea.net Staff Writer
slee27@korea.kr
Featured Topics
http://www.korea.net/NewsFocus/People/view?articleId=118920
URL Copy
Department Global Communication and Contents Division, Contact Us