Curiosity leads math development: 2014 Seoul ICM
Aug 14, 2014
The International Congress of Mathematicians (ICM), often dubbed the Olympics of mathematics, opened in Seoul on August 13, where eight prize winners were announced. Researcher Artur Avila of the French National Center for Scientific Research, Professor Manjul Bhargava of Princeton University, Professor Martin Hairer of Warwick University and Professor Maryam Mirzakhani of Stanford University each won a Fields Medal, considered to be one of the most prestigious math awards in the world. Professor Subhash Khot of New York University received the Nevanlinna Prize in recognition of his outstanding contributions to mathematical aspects of information sciences. Professor Stanley Osher of the University of California was awarded the Gauss Prize for his influences on applied mathematics, while Phillip Griffiths, former director of the Institute for Advanced Study at Princeton, was given the Chern Medal in honor of geometry research that has had a great influence on the field of mathematics.
Following the award ceremony, medal recipients held a press conference. Below are the comments made by the math geniuses upon receiving their awards.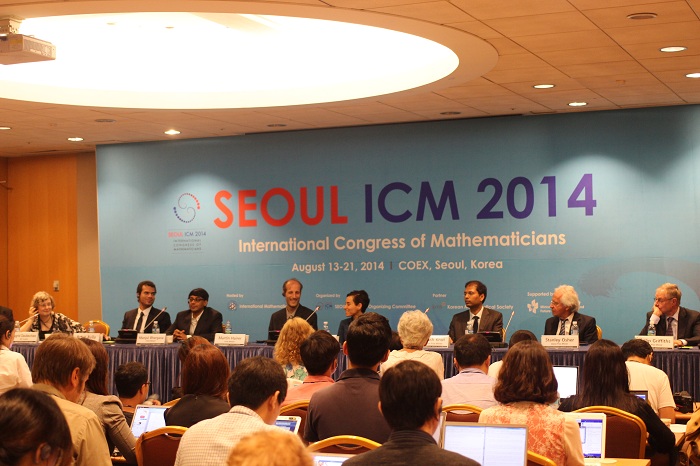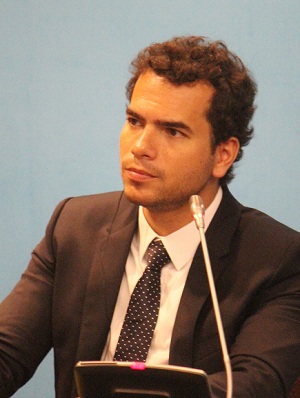 Researcher Artur Avila of the French National Center for Scientific Research
Avila
: I gained my doctoral degree in Brazil. For over two decades, there have been a number of outstanding mathematicians in the country. This Fields Medal will bring awareness to the idea that mathematics is a study full of life. Also, it can be an opportunity to globally recognize the higher levels of Brazilian mathematics. I was asked about the nation's mathematics ability compared to its football ability. I would not answer that question. Being a mathematician is as good as being a football player, and we will have a great role to play at the ICM in Brazil in four years.
Curiosity leads the development of mathematics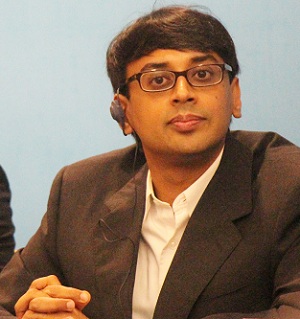 Professor Manjul Bhargava of Princeton University
Bhargava
: I have been very curios ever since I was young, perhaps influenced by my mother, who was also a mathematician. She was always very friendly when she answered my questions and she inspired me to keep pursuing mathematical explorations.
To give an example of my curiosity, I want to share a not-too-special story from my childhood. One day, when I was in the supermarket, I saw oranges stacked in a pyramid and I had a question. "Why?" I bought a bag of oranges, brought them home and arranged them in different ways, applying all the equations that I knew. To take an interest in the smaller parts of your life is the best way to become familiar with mathematics. Hypothetical reasoning can be an important staring point.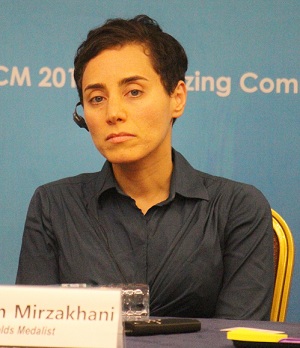 Professor Maryam Mirzakhani of Stanford University
Mirzakhani
: I got involved in the Mathematical Olympiad and that made me think about harder problems. I enjoyed challenging myself with a difficult problem and finally solving it. My answer may sound too clichéd, but it's true that the only way to be familiar with mathematics is to focus all your attention on the area in which you are interested. It is much easier to approach your studies when you ask endless questions and "whys," like a kid.
First female ever to win a Fields Medal
Mirzakhani
: It is a great honor for me. Mathematics is necessary for the development of science and technology. There are a lot of female students studying mathematics these days, but things were different even just a few years ago. The limited opportunities for women to learn math have probably made it hard to produce female winners. I am sure there will be many more women winning this kind of award in the coming years.
The most important part of a math education is raising self-confidence. Most people have creative talents and capabilities. It is important to raise their confidence and give them the chance to reveal their talents. You should have faith that you can do it.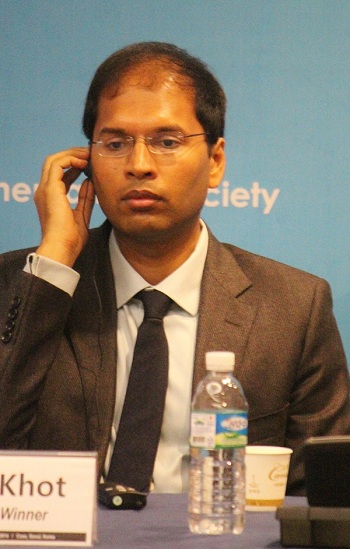 Professor Subhash Khot of New York University
Khot
: I have had many chances to be exposed to science. I have had many doctors in my family and interesting books about physics and chemistry piled up at home. The 1995 Toronto Olympiad was a great influence in my life. As I remember, I was sitting next to Maryam Mirzakhani, as I am now.
The charm of mathematics, as seen by geniuses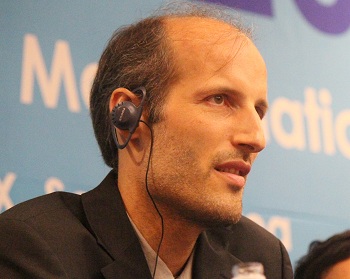 Professor Martin Hairer of Warwick University
Hairer
: I found it interesting that mathematics can prove things about which people are curious. Using a thesis, data and evidence for problem-solving will remain forever. This permanency is how it is different from other sciences, such as physics or biology. A mathematical theory revealed 2,000 years ago still exists today. Once proved, it never disappears. If you can be attracted to that part of mathematics, you can get more involved with your research.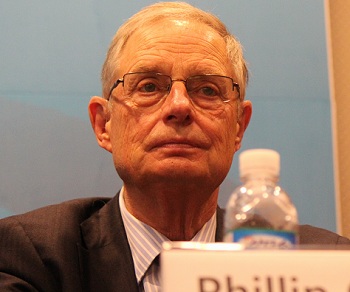 Phillip Griffiths, former director of the Institute for Advanced Study at Princeton
Griffiths
: I want to emphasize two things if you want to be familiar with mathematics. First, you should understand that mathematics has beauty in it. You should have an eye to see it as an art. Second, you should know how to use mathematics in our lives. It's invisible, but it exists, and it surrounds us. It is in our daily lives and it is found in the economy, technology and health care, as well as in modeling and designing commodities. Such thinking would make it easier for the general public to understand mathematics.
Hairer
: It's important to get rid of the stereotype that mathematics is difficult or complicated. You can think up various mathematical ideas and answers for any place at any time. For instance, you can come up with questions while listening to music or cooking and then find an answer in your daily life.
I always had an interest in surfaces and space. For instance, I kept my eyes following the direction of a ball that I kicked. I wondered which trajectory it would take and why. I developed an interest in seeing whether every surface of the ball can be touched. I found it amazing to see that a ball hit at different angles can create different scopes of mobility.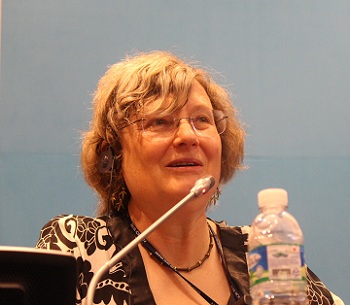 President Ingrid Daubechies of IMU
Daubechies
: Mathematicians can be compared to Olympic athletes. Athletes apply an enormous amount of effort that is just beyond most of our imagination. However, even if you are not an Olympic athlete, you can still enjoy sports. It is the same for mathematics, too. You are neither a genius nor involved in professional research, but you can still enjoy mathematics.
The Seoul ICM has become an opportunity to think about challenges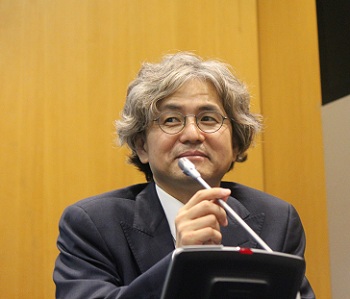 Park Hyung-ju, chair of the Seoul IMC organizing committee
Park
: One of the reasons behind the event taking place in Seoul is that Korea delivers an important message to the world that, "You can do it." When Korea joined the International Mathematical Union (IMU) in 1981, it published merely three academic dissertations per year. Today, the number has soared to more than 1,000, ranking 11th in the world. However, we are still doubtful if we have grown that much in terms of quality. To develop even further, researchers and scholars are required to have the courage to dedicate themselves to more challenging tasks, even if it might take a longer time to generate an outcome. Their mistakes and delays need to be generously accepted and understood. On the occasion of the ICM, I hope to see more brave and courageous scholars challenging themselves at higher academic levels.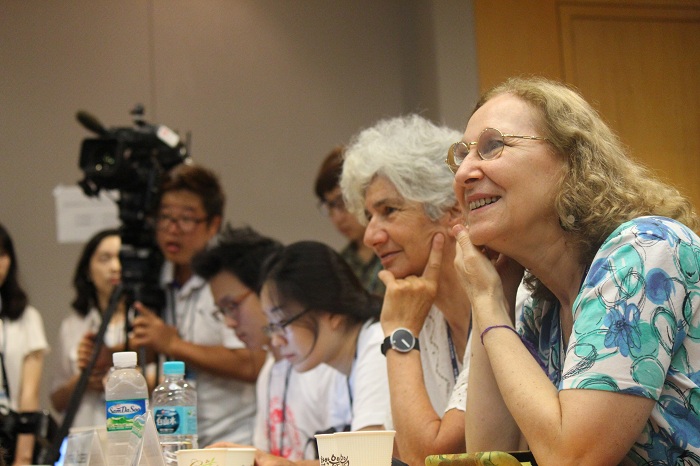 By Wi Tack-whan, Lee Seung-ah
Korea.net Staff Writers
whan23@korea.kr
Department Global Communication and Contents Division, Contact Us