Stanford Univ. scholars ask Japanese prime minister to apologize
May 18, 2015
"Feelings of deep remorse," for its colonial rule and aggression, and asking for, "forgiveness," from the women, in particular, who suffered under colonial rule were the phrases contained in the statements posted on the Walter H. Shorenstein
Asia-Pacific Research Center (APARC) homepage
by eight Stanford University scholars.
The scholars asked themselves what they would say in the statement to mark the 70th anniversary of the end of World War II on August 15, 2015, if they were the prime minister of Japan. They each wrote their own version of a statement. The eight statements by these scholars were published in both English and Japanese.
Takeo Hoshi, a Stanford economist and senior fellow at the Freeman Spogli Institute for International Studies, and Daniel Sneider, the associate director for research at the APARC, explained that there has been much speculation as to what Japanese Prime Minister Shinzo Abe is going to say in his 70th anniversary statement. They said that they felt it important to envision what a full statement might be in their minds.
The eight statements commonly contain the phrase, "remorse for Japan's actions before and during the war," and indicate that, "Japan needs to face the historical facts in order to be able to play a leadership role going forward." All the statements also discuss how in the future Japan will be able to contribute to the peace and prosperity of the world.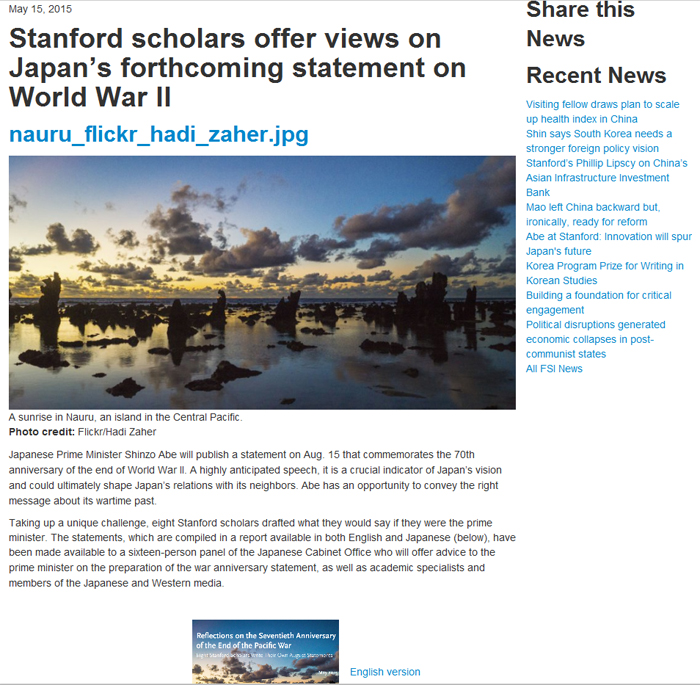 Political science professor David Holloway quoted former Japanese Prime Minister Tomiichi Murayama's historic statement announced 20 years ago, which said, "I... express here once again my feelings of deep remorse and state my heartfelt apology." Holloway then wrote, "I reaffirm what he said. It is the right and the honorable thing to do."
"We should not forget that pre-war Japan caused enormous suffering to its neighbors and its own people through colonial rule and aggression. We express once again our deepest apologies," said Alberto Diaz-Cayeros, a senior fellow at the Freeman Spogli Institute (FSI) for International Studies and professor of political science.
Lee Yong-suk, a member of the APARC, specifically discussed women's suffering. "I would like to especially ask forgiveness from the women from many nations who suffered under colonial rule," said Lee. "I provide my sincere apologies to the women who suffered indignity under the Japanese military and assure you that Japan will work to restore the dignity of these women."
Sneider, the APARC's associate director, stressed apology, but he also stated that forgiveness needs to be accepted by Japan's neighboring countries. "Reconciliation, however, must be, by its nature, a mutual process. For all of us, there can be no reconciliation without remembrance, not only today, but by the generations that follow us," he said.
The original statements can be downloaded from Stanford University's APARC homepage.
(
http://aparc.fsi.stanford.edu/news/stanford-scholars-offer-views-japans-forthcoming-statement-world-war-ii
)
By Limb Jae-un
Korea.net Staff Writer
jun2@korea.kr
Department Global Communication and Contents Division, Contact Us