Ryu becomes 1st Korean pitcher to start MLB All-Star Game
Jul 10, 2019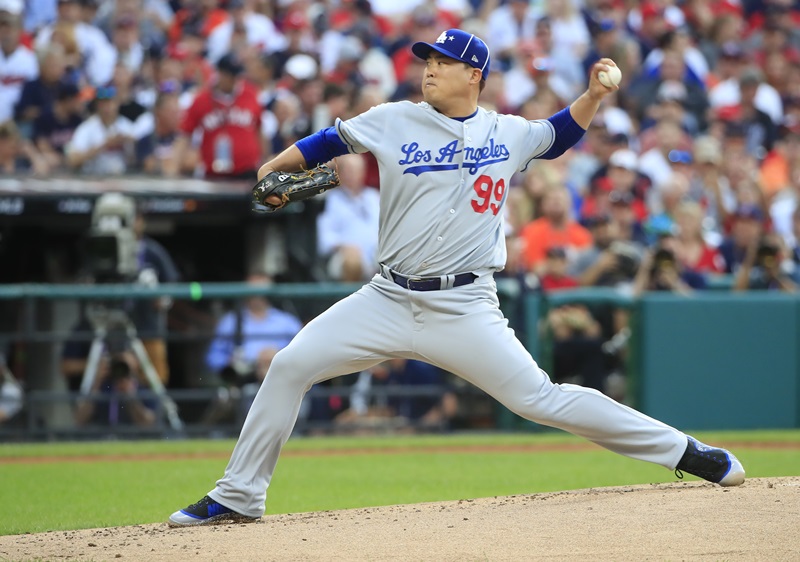 By
Jung Joori
and
Lee Hana
Ryu Hyun-jin of the Los Angeles Dodgers on July 9 became the first Korean pitcher to start the Major League Baseball (MLB) All-Star Game, throwing one scoreless inning in his historic appearance.
At Progressive Field in Cleveland, Ryu, 32, took the mound for the National League in the first inning and faced George Springer of the Houston Astros first. Springer hit a single up the middle but Ryu retired the next three batters on soft grounders.
Ryu is also the second Asian to throw the first pitch in an All-Star Game after Japan's Nomo Hideo in 1995. In a news conference the day before the game, the Korean pitcher said, "It's a great honor for me to start the All-Star Game not only for myself but for my family."
Dodgers manager Dave Roberts, who coached the National League in the game, said starting Ryu was a "no-brainer" and called him "the epitome of consistency."
In 17 games during the season's first half, Ryu had a won-loss record of 10-2 with a 1.73 ERA.
etoilejr@korea.kr
Department Global Communication and Contents Division, Contact Us