Eurasia Friendship Express, connecting Korea and Europe
May 22, 2015
This July 14, the "Eurasia Friendship Express 2015" will embark on a grand transcontinental train journey, passing through China, Mongolia, Russia and Poland, to reach its final destination in Berlin.
Traveling 14,400 kilometers over 20 days and 19 nights, the voyage will end on August 2.
As part of President Park Geun-hye's "Eurasia Initiative" and aspiring to build peace and cooperation between Europe and Asia, the "Eurasia Friendship Express 2015" entourage will include some 250 people from all walks of life.
The expedition team will hold a launch ceremony at Seoul Station and will then depart in two groups from Incheon International Airport: one toward Beijing and one toward Vladivostok, Russia. From there, each will continue by train and meet in Irkutsk, Russia. After Russia, they will visit Warsaw on the way to the final destination, Berlin.
This route connects the Trans-Siberian Railway, which lies between Asia and Europe, with the Chinese rail network and the Trans-Mongolian Railway. In the future, when a trans-Korean railway runs between North and South Korea, trains will be able to travel from the Korean cities of Busan and Mokpo straight through to Berlin without disruption.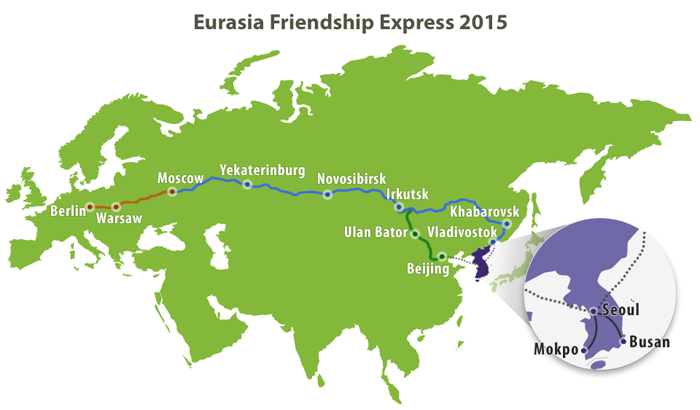 In each city where the entourage stops, there will be festivities where the travelers and locals can mingle. There will be a Eurasia festival, town hall meetings, expeditions to historical sites related to the Korean independence movement, Korean film festivals, Korean pop concerts, photo exhibits and more. Especially this year, Korea is honoring the 25th anniversary of its diplomatic relationship with Mongolia and Russia, adding deeper meaning to the events.
At the final destination in Berlin, events to wish for a peaceful unification of Korea will be held, including a walk alongside the remains of the Berlin Wall, a "cultural concert" wishing for Korean unification and an indaba on unification. All of these events mark the 70th year of Korea's division and the 25th year of Germany's unification.
Travelers wishing to join in on this expedition can apply online at the official website until May 29, 2015. Detailed information on the preconditions and cost are available at www.eurasiaexpress.kr.
Opportunities are also open to non-Korean nationals from mainland China, Mongolia, Russia, Poland and Germany who can speak Korean and who reside in Korea, making this event even more special.
By Paik Hyun
Korea.net Staff Writer
cathy@korea.kr
Featured Topics
http://www.korea.net/NewsFocus/policies/view?articleId=127627
URL Copy
Department Global Communication and Contents Division, Contact Us