Gov't 3.0 offers information on taxes, health, finance
Jan 09, 2017
In Korea, many people can issue their civil affairs documents, such as resident registrations, through the internet without having to visit a government office directly. They can also receive various useful pieces of information, ranging from taxes and year-end tax returns through to welfare policy and health benefits.
These are all thanks to "government 3.0" services that are centered on the citizens. In order to better use such government 3.0 services, which intimately involve people's daily routines, the Ministry of the Interior introduced on Jan. 3 a list of 10 selected services at which people should take a closer look in the new year.
Among the 10 services is the Hometax website (홈택스) of the National Tax Service (https://www.hometax.go.kr). This is a must-see website this January for anyone who's doing economic activities here in Korea. At this website, users can use a simplified service for year-end tax settlements. They can also receive information about the four major insurance payments, and medical treatment payments. Smartphone users can also use the Hometax app to receive tax tips and to use an online tax calculator.
If you're on a set of wheels, make sure to apply for the auto tax annual payment this January. Car taxes are usually paid twice a year, in June and December. If you apply for an annual payment in January, however, you can get a 10 percent discount. Visit the Wetax website (위택스) (https://www.wetax.go.kr) and click the "Additional Services" menu to apply for an annual payment.
To issue civil affairs documents, such as resident registrations without having to visit government offices, visit the Minwon 24 government civil affairs portal (민원24). You can also check 41 kinds of customized information there, such as pensions, fines, vaccines, car inspection schedules and dormant deposits, if you register your personalized information in the "My Lifestyle Information" section.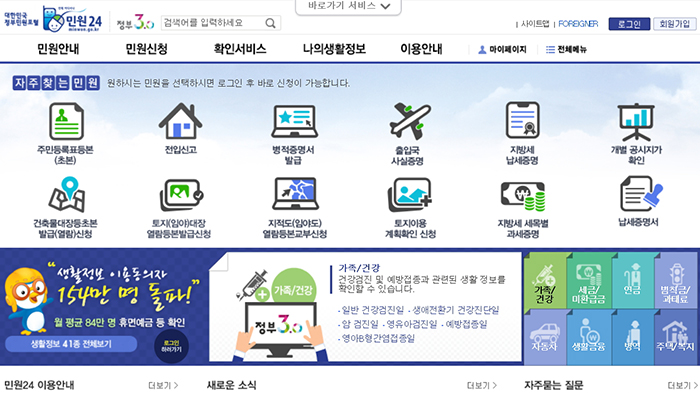 If you want to learn more about welfare policies scheduled to be introduced this year and other related information, please visit the Bokjiro website (복지로) (www.bokjiro.go.kr). Visitors to the website can learn more about the changes in welfare policies that start this year. On this website, users can learn more about the increased support voucher of KRW 900,000 for pregnant women with twins or triplets, which used to be only KRW 700,000, the child rearing support voucher of KRW 120,000 for single-parent households or low-income households, which used to be only KRW 100,000. They can also learn more about government's support for families with infants and toddlers, such as extended support for child care services, and the extended number of hospitals that will operate late at night this year.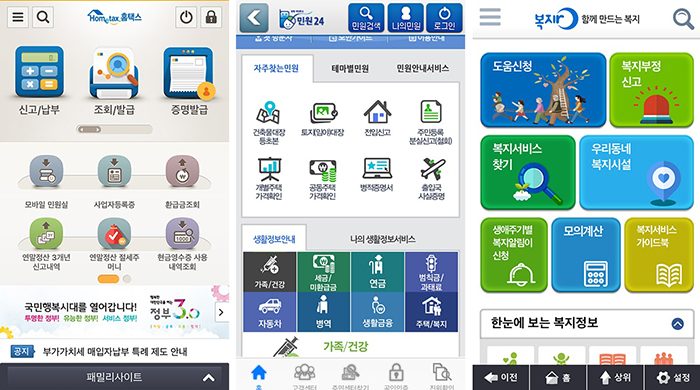 For people who are interested in health, please visit the Food Safety Information Portal (http://www.foodsafetykorea.go.kr) (식품안전정보포털) and the
Geongang IN
(건강인) (http://hi.nhis.or.kr) site.
Geongang
means "health" in Korean, and
in
means "people." The Food Safety Information Portal provides information about food and related health information, information about restaurants and schools near the user's location, and information about unsanitary food.
The
Geongang IN
site offers information about weight control, information about health examination schedules customized for the individual, and information about infant health and growth.
For those who are interested in real estate, please visit the
Onnara
real estate information portal (온나라) (http://www.onnara.go.kr). This website informs users about the latest information about the actual purchase price of property, and the latest trends and news in the industry. Visitors to this website can also learn more about the new real estate policies.
If you want to know more about financial information and financial products, please visit the Financial Products at one Glance website of the Financial Supervisory Service. This website allows users to look at all the financial products newly launched this year so that they can compare and select the best products for their lifestyle.
For families interested in education, please visit the Edunet website (http://www.edunet.net) and the EBS website (www.ebsi.co.kr). Edunet allows teachers, students and parents to use study material in a convenient manner. EBS offers educational broadcasting programs in order to help students prepare for the College Scholastic Ability Test and to manage their school records.
"Government 3.0 services will greatly help people save time and money if they fully make use of it," said Yoon Jong-in, deputy minister for government innovation and organization management.
"We will actively provide information for citizens so that more people can be aware of new policies and use the benefits as much as possible," Yoon said.
By Yoon Sojung
Korea.net Staff Writer
arete@korea.kr
Department Global Communication and Contents Division, Contact Us