Korea, US to cooperate on nuclear fuel
Jan 13, 2017
Korea and the U.S. have agreed to push for a variety of joint projects covering the safe use of nuclear energy.
The agreement came during the High-Level Bilateral Commission on Nuclear Energy held on Jan. 9 in Washington between the governments of Seoul and Washington.
Under the agreement, the two parties vowed to jointly carry out research on the safe transport, storage and disposal of used nuclear fuel. The joint research will cover the safety of high-burn-up spent nuclear fuel, the development of storage containers for used nuclear fuel, and facilitation of deep borehole technology.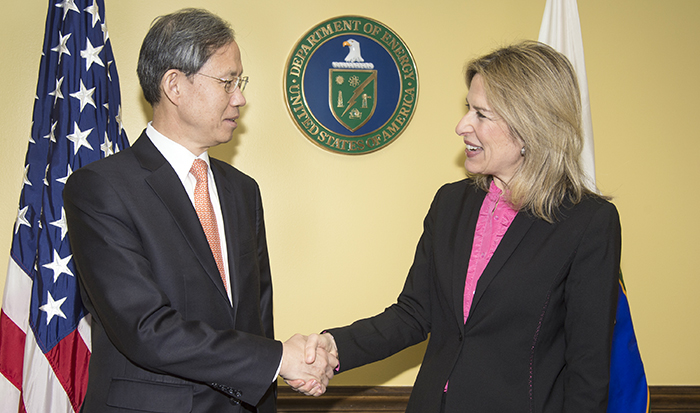 The governments will also share information on disposal technologies for nuclear waste, as well as information on the decommissioning of nuclear facilities and on nuclear fuel cycle options. They will conduct research on global nuclear fuel markets, and based on the results, will come up with ways to guarantee a safe supply of fuel to nuclear power plants under any circumstances. The two sides agreed to lay a foundation for both jointly tapping into nuclear power markets in third countries by expanding the sharing of information on global nuclear power markets and for developing import and export systems for nuclear energy.
On top of that, Seoul and Washington will continue to strengthen nuclear security and cooperate on the establishment of a long-lasting nuclear security system. In particular, the U.S. government will help Korea beef up its own defense posture and deterrence against any nuclear threat by holding joint talks on policies against nuclear weapons smuggling, participating in workshops on response to radioactivity and nuclear terrorism and, also, by having the Korean military observe its U.S. counterparts as they take part in anti-radioactivity and nuclear terrorism drills.

"The Washington talks allowed our nations to reach a concrete agreement. We believe that Korea-U.S. cooperation in the nuclear energy sector has now gone beyond just institutionalizing a strategic cooperation and has brought out practical results," said an official from the Korean foreign ministry.
"This time, we have both secured a bridgehead to maintain momentum in our bilateral nuclear energy cooperation under the incoming U.S. administration. Also, we will continue to realize the future-oriented vision that we've long shared for the Seoul-Washington partnership on nuclear energy."
By Sohn JiAe
Korea.net Staff Writer
Photos: Ministry of Foreign Affairs
jiae5853@korea.kr
Department Global Communication and Contents Division, Contact Us