Korea, Indonesia establish special strategic partnership
Nov 10, 2017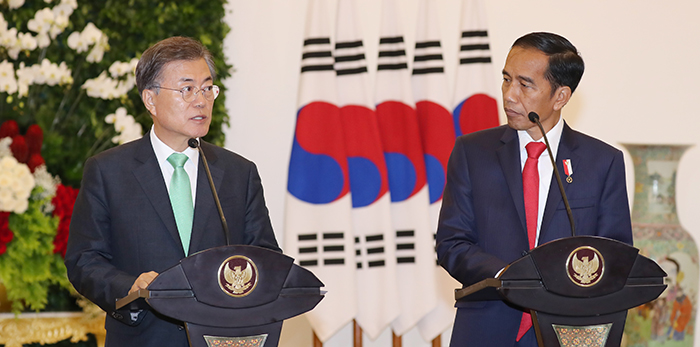 By
Lee Hana
Photos = Yonhap News
President Moon Jae-in, on a state visit to Indonesia, attended the Korea-Indonesia summit with Indonesian President Joko Widodo on Nov. 9 where the two heads of state agreed to elevate their bilateral relations to a special strategic partnership.
"With our common aspiration to maintain peace, stability and prosperity across Asia, we have agreed to elevate our strategic partnership, placing greater emphasis on cooperation for the benefit of both countries. We have decided to expand cooperation on four major areas, to push forward our strategic partnership," said President Moon during a press conference that followed the summit.
The four areas of cooperation outlined in the "Korea-Indonesia Joint Vision Statement for Co-Prosperity and Peace" include: defense and foreign affairs, bilateral trade and infrastructure development, people-to-people exchanges, and regional & global cooperation.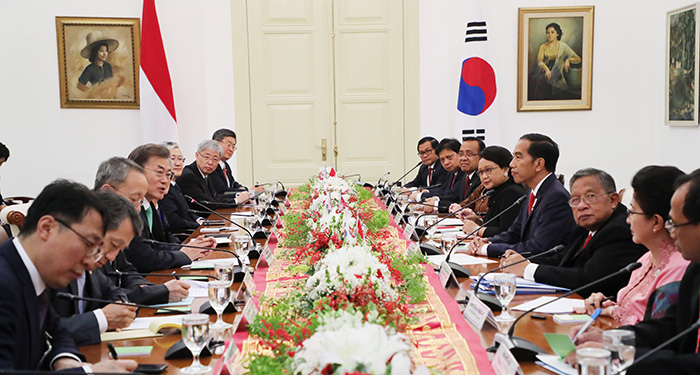 Concerning defense and foreign affairs, the two countries agreed to explore new consultation mechanisms, such setting up a "2+2 meeting" to address issues of common interest. In terms of cooperation on the defense industry, Seoul and Jakarta agreed to continue their joint development of next-generation fighter planes, while tapping into capacity building, research & development, and joint production.
Next, the two nations agreed to increase in a balanced and sustainable manner their trade volume to USD 30 billion per year by 2022. Noting that the economic policies of their governments are designed to promote people-centered economies with inclusive growth, the two presidents agreed to strengthen cooperation on infrastructure, including water management, transportation, affordable housing, and electricity generation, all of which could help to improve the quality of life for citizens in both countries.
Reiterating the importance of people-to-people exchanges, the two leaders expressed their hopes that both the PyeongChang 2018 Olympic and Paralympic Winter Games and the 2018 Asian Games in Jakarta and Palembang will be successfully held, agreeing to explore ways to utilize these two sporting events to facilitate personnel exchanges between the two countries.
Finally, the two leaders expressed their concern over North Korea's continued nuclear weapons and ballistic missile tests, which pose a serious threat to international peace and security. In addition to reaffirming the need to support the complete denuclearization of North Korea, the leaders underscored the importance of resuming a meaningful dialogue to denuclearize the Korean Peninsula as soon as possible.
hlee10@korea.kr
Department Global Communication and Contents Division, Contact Us