President Moon holds summit with Singaporean leader
Nov 15, 2017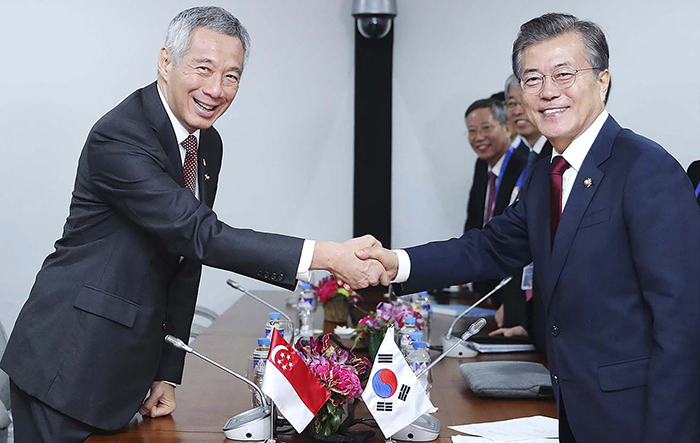 By
Yoon Sojung
Photos = Cheong Wa Dae
President Moon Jae-in attended a meeting with Singaporean Prime Minister Lee Hsien Loong in Manila on Nov. 14.
The two leaders exchanged opinions on how to substantively boost bilateral cooperation and the Korea-ASEAN relationship.
President Moon said, "Singapore is one of the most important economies for Korea, and it's Korea's second largest trade partner within ASEAN."
"I hope both countries can expand cooperation on many areas, including developing small- and medium-sized enterprises, innovative growth, and infrastructure construction, and bolster the foundation for bilateral exchanges," he said.
"About 800,000 people from Korea and Singapore visit each other's countries each year, and I hope that trend can continue to grow so that it can deepen the friendships between people in both countries," said the president.
"I especially hope that more Singaporeans can visit Korea in February to enjoy the winter and to attend the PyeongChang 2018 Olympic Winter Games," he added.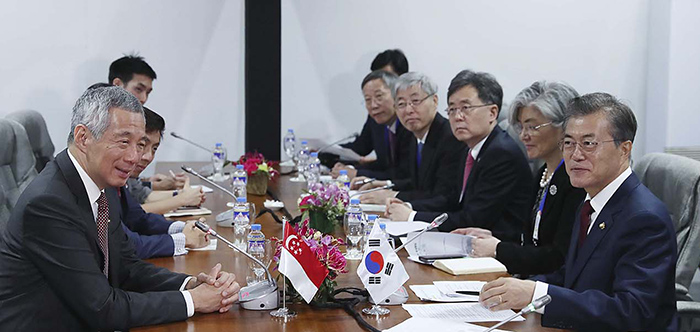 Prime Minister Lee Hsien Loong told President Moon that, "Korea and Singapore share a very good trade partnership."
Prime Minister Lee said that both countries can further bolster business potential if improvements were to be made in the Korea-Singapore free trade agreement.
Mentioning the number of Korean construction companies that operate in Singapore and the growing popularity there of Korean TV shows and pop music, the Singaporean leader said that he hopes that bilateral exchanges and cooperation between the two countries could continue into the future.
arete@korea.kr
Department Global Communication and Contents Division, Contact Us