Anti-'rising sun' flag petition earns over 50,000 signatures
Jan 21, 2020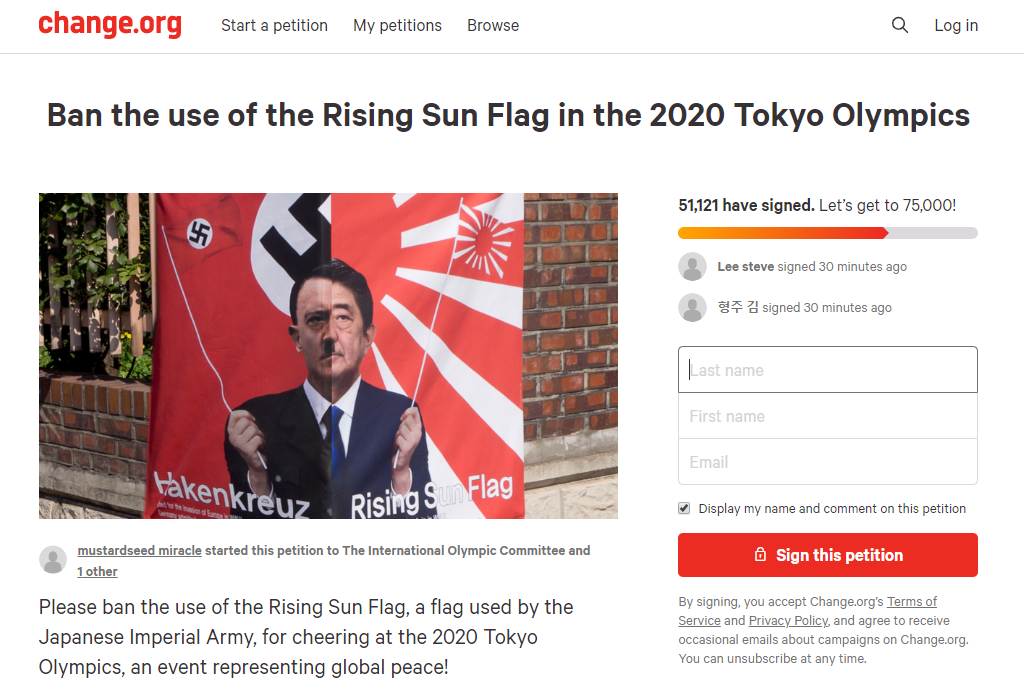 By Lee Hana
A petition on Change.org to "Ban the use of the Rising Sun Flag in the 2020 Tokyo Olympics" has surpassed 50,000 signatures in a little less than four months.
As of 11 a.m. on Jan. 21, the petition (http://chng.it/vSXKkPyQ) had 51,121 signatures and counting.
The petition was uploaded on Sept. 24 by the Voluntary Agency Network of Korea (VANK), an online diplomatic organization.
The petition's opening line reads, "Please ban the use of the Rising Sun Flag, a flag used by the Japanese Imperial Army, for cheering at the 202 Tokyo Olympics, an event representing global peace!"


The petition said that during the 1936 Berlin Summer Olympics, Germany used the Hakenkreuz, the Nazi flag that represented militarism, as a means of political propaganda. It added that the use of the rising sun flag, a symbol of Japanese imperialism and war, in the upcoming Tokyo Summer Olympics would be just as problematic.
VANK announced the same day that it sent a list of the names of 50,000 petitioners and the opinions of some 2,000 people to International Olympic Committee (IOC) President Thomas Bach and IOC headquarters.
"More than 50,000 petitioners around the world who signed are seriously concerned (over) the wartime crime flag being used in the Olympics, the festival of international friendship and peace," the letter said.
"Just as the Nazi's Hakenkreuz reminds Westerners of the terrible sufferings of World War II, the IOC must know that the Rising Sun Flag is also a flag of war criminals and a political symbol reminding Asians of the wounds and pains of history."
The letter requested that the IOC "officially ban the use of the Rising Sun Flag for cheering at the 2020 Tokyo Olympics" and "not accept any action by the Japanese government to use the upcoming Olympics (for) political propaganda."
hlee10@korea.kr

Featured Topics
http://www.korea.net/NewsFocus/policies/view?articleId=181796
URL Copy
Department Global Communication and Contents Division, Contact Us