Executive, Legislature and the Judiciary
Executive, Legislature and the Judiciary
The National Assembly is an institution that represents the people's opinions. All the laws of the country are made by the National Assembly. At present, the National Assembly has 300 fixed members, each of whom is elected for a term of four years. The National Assembly is composed of 246 members elected in local constituencies and 54 members elected by political parties for the purpose of proportional representation. The latter are meant for vocational representation. At present, the ruling party is the Saenuri Party, as it has the largest number of seats at the National Assembly. The leading opposition party is the New Politics Alliance for Democracy. The first National Assembly was launched in May 1948. The members of the current 19th National Assembly (May 2012 – May 2016) were elected in the election held in April 2012. The National Assembly building is located in Yeouido near the Hangang River that flows through Seoul.
The executive right of the government is exercised by the Executive Branch headed by the President. At present, the President is elected through a direct election for a term of five years. Under the Constitution, the President cannot be reelected for a second term. The current President Park Geun-hye was elected as the country's first female president in December 2012 and was inaugurated in February 2013.
The Cabinet Meeting, in which the President and the Prime Minister serve as the Chair and the Vice Chair, respectively, deliberates on important policies under the rights accorded to the Executive Branch of the government. In the absence of the President, the Prime Minister controls the ministries of the government on his/her behalf. At present, the Executive Branch of the government operates two boards, five offices, twenty two ministries, sixteen administrations, and six committees.
The Judiciary Branch of the government is composed of the Supreme Court, appellate courts, district courts, family courts, administrative courts, and the patent court among others. The Supreme Court Chief Justice is appointed by the President with the consent of the National Assembly, and other Supreme Court justices are appointed by the President upon the recommendation of the Chief Justice. The term for the Chief Justice and justices is six years.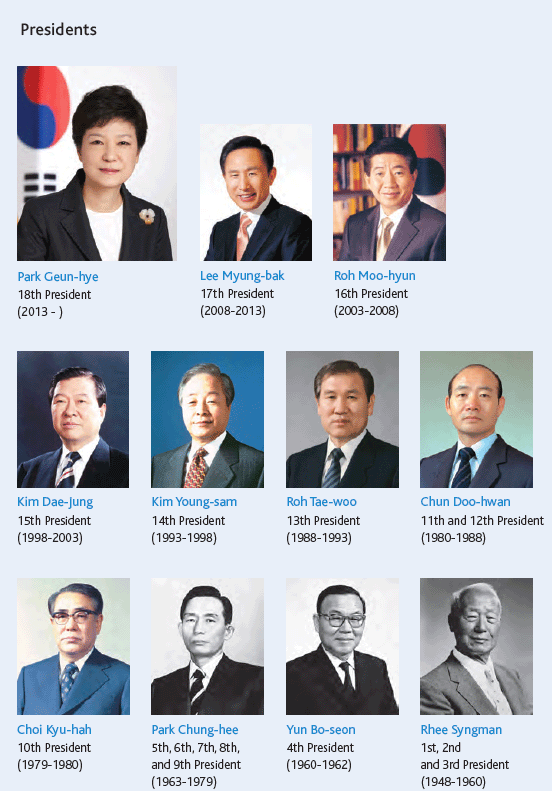 Featured Topics
http://www.korea.net/Government/Constitution-and-Government/Executive-Legislature-Judiciary
URL Copy
Department Global Communication and Contents Division, Contact Us