Love of taekwondo spreading worldwide
Love of taekwondo spreading worldwide
[Introduction]
Taekwondo is Korea's representative martial art and an officially acknowledged international sport that originated in Korea and is today practiced worldwide.
Taekwondo uses the whole body, particularly the hands and feet. It not only strengthens one's physique, but also cultivates character via physical and mental training coupled with discipline. This self-defense martial art has become a popular international sport in the last quarter century. Currently people in over 200 countries are practicing taekwondo and about eight million people have hold poom-dan certificates, according to the World Taekwondo Headquarters, also known as Kukkiwon in Korean.
[Taekwondo as an international sport]
Founded by the World Taekwondo Headquarters, the World Taekwondo Federation (WTF) headquartered in Seoul was officially approved as the governing body of the sport by the International Olympic Committee in 1980 and has a membership of 204 countries as of 2012.
Taekwondo was a demonstration sport in the 1988 Seoul Olympics. The International Olympic Committee decided to add taekwondo as an Olympic sport at its 103rd meeting in Paris on September 4, 1994. Taekwondo became an official Olympic medal event since the 2000 Sydney Olympics.
In July 2012, the WTF announced that it made changes in international taekwondo regulations and competition rules to make the sport more exciting for the London Olympics 2012. The new rules include changes to the competition area and award points. To find out more about taekwondo competition rules and related general information, click here
http://www.wtf.org/wtf_eng/site/rules/competition.html
What's New
more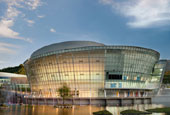 Sep 11, 2014
The Taekwondowon recently opened as a sacred place for Taekwondo, the martial art of 80 million adherents worldwide. The opening ceremony was held in Muju, Jeollabuk-do (...
Aug 13, 2014
K-pop dance covers on YouTube are a dime a dozen. With the popularity of K-pop all across the globe, fans who can bust a move are coming up with numerous dance covers and...
Photo Gallery
more