Korea.net's list of must-see films: Secret Sunshine
Apr 30, 2014
Secret Sunshine (2007)
("
Milyang
")
Directed by Lee Chang-dong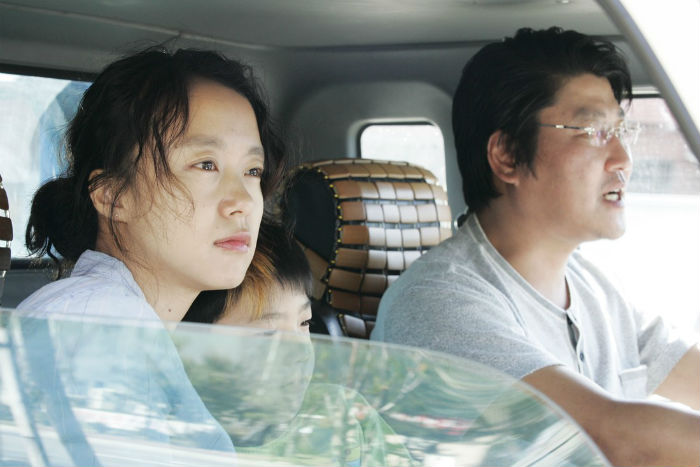 The protagonist Shinae, played by Jeon Do-yeon, and her son are on their way to the town of Milyang in Gyeongsangnam-do (South Gyeongsang Province), the hometown of her deceased husband. During the journey, her car breaks down and she gets a lift from Jongchan, played by Song Gang-ho.

Jongchan helps her find a little room in Milyang where she and her son can both live and where she can give piano lessons to the children of the neighborhood. Thus, she begins her new life in a new city. Jongchan lends a hand in many other ways, too, helping Shinae get settled in the new town. One day, Shinae has dinner with her neighbors, staying late into the night. When she returns home, she cannot find her son, Jun. Soon after, she gets a phone call asking for ransom money.

It turns out that the kidnapper had long had his eye on Shinae. He had seen her checking out real estate to buy and he thought that she was a rich woman. In truth, however, Shinae only has about KRW 87 million in savings. Then, Jun is found dead. The kidnapper turns out to be the head of a public speaking academy that Jun was attending.

Seeing Shinae plunged into deep agony, an evangelical Christian neighbor begins to invite her to church, where she comes to believe that her mind has been cured. Shinae decides to forgive the criminal, and visits the jail where he is incarcerated.

However, she is shocked at what he says, as he has already repented and believes he has been forgiven by God. After that, Shinae visits the church, interrupting the meeting, and turns on the song "This is a Lie" very, very loudly. She begins to flirt with the husband of the evangelical neighbor. She tries to kill herself. She wants to scoff at the hypocrisy of God. She herself is then incarcerated in a mental hospital.

Upon her discharge from the hospital, she visits a hair salon to have her hair cut, where she accidently runs into the daughter of the kidnapper and murderer. The final scene shows her fleeing the salon in mid-haircut.

Comment by film critic and professor Yoo Ji-na of Dongguk University
"Secret Sunshine" in Korean is "
Milyang
," the name of a small city to where the protagonist Shinae moves, and which lays the scene for the whole story. Director Lee Chang-dong adapted author Lee Cheong-jun's short story "Stories of Insects" (unofficial translation) which traced a wide variety of human troubles. In the film, director Lee unveils the secrets and desires of Shinae and develops the story to show that what she suffers is just her destiny.
Milyang is the hometown of Shinae's deceased husband. She moves to Milyang from Seoul to live with her son. The ins and outs of Shinae's life are very different in the small town. When her husband passed away, she chose to follow his lifelong wish that their child be raised in the countryside, close to nature. She looks like a kind, wise, mild-tempered wife who looks up to her husband. At the same time, she is always cheerful and friendly to her son. She is firmly determined to follow her deceased husband's wishes and devote her entire life to her son's success. To describe it using patriarchal terms, she is the ideal type of wife that society seeks. Even during the crisis when she lost her husband, she continued to be the, "wise mother and mild wife," as society told her to be.
In the first half of the movie, there is a long scene that shows a clear, blue sky. It has one bright ray of sunlight shining through a car window. True to the English name of the movie, the scene foreshadows what's to come: the secret aspects of sunshine are the shadows it casts. At the same time, the film also foreshadows the world of Christianity, a religion with strong light and dark imagery and one where God is associated with the sky. The movie, however, soon resists the religion and turns its back on formal belief systems. These images of the sky foreshadow both the aspects of the camera and the duplicity of Shinae herself.
When he was helping her fix the car, Shinae asks a question to Jongchan, who has spent his entire life in Milyang. "What's Milyang like?" He replies. "It's just plain. Nothing special."
In Milyang, she sets up a little classroom in her house where she can teach piano and starts giving lessons. She has her son attend a public speaking class. The duo, mother and son, slowly get accustomed to the unfamiliar city. Sometimes, they help redecorate a neighboring boutique, helping to brighten it up a little bit, as if they are showing off that they came from the capital. They also look around the town and collect information about real estate prices, as if they would soon purchase some property.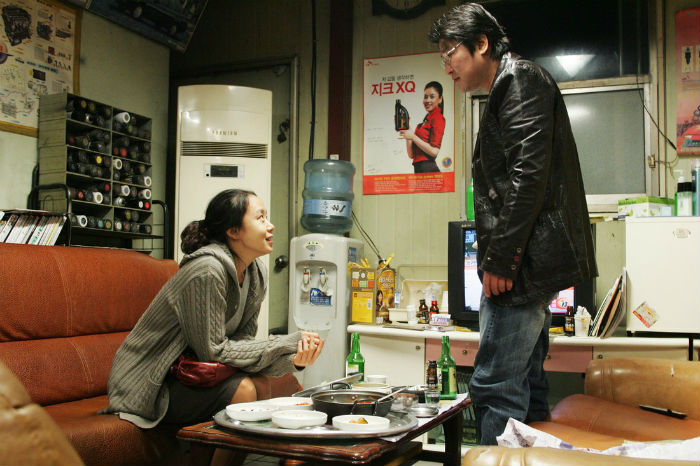 However, the truth lies elsewhere. Her younger brother reveals that her deceased husband had betrayed her and had an affair with another woman. Shinae seems different from that moment on. She looks doubtful and not quite satisfied with life. As the movie progresses, she is portrayed as being two-faced, pretending to have been loved by her husband but then suddenly becoming a widow and adhering to the wishes of the deceased.
Equipped with such "duplicity," she keeps pretending to be a modern, educated, wise and smart woman, both as a wife and as a mother. However, it is not too easy to deceive the people of Milyang. She keeps trying to show that, "I'm a widow but I'm totally fine." The evangelical next-door neighbors, however, both husband and wife working as pharmacists, persuade her to come to church, saying that what she needs is God. The owner of the neighborhood boutique to whom she gave some tips talks behind her back with some other neighbors, describing Shinae as a real nut. Only Jongchan, who owns a mechanic's shop, is friendly to her, wandering around with her, giving her a hand and trying to make a positive impression.
In this atmosphere, in which something seems to be concealed, hidden and ambiguous, all of a sudden disaster strikes. Shinae's son was kidnapped and is then found dead. She has to even let go of her son, who guaranteed her identity. Her grief, or resentment, reaches to the extreme. The kidnapper is the head director of the speech academy the son attended. He planned the crime after she said she would go look at some land to purchase, talking with the director at an earlier school event. Shinae went all out to pretend she was rich, fearing that she might otherwise be looked down upon by the others. The cost of that behavior, however, has been harsh.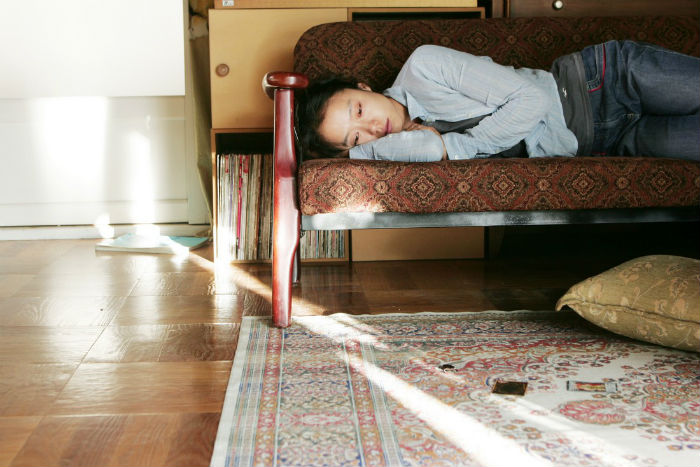 Now Shinae becomes the most pathetic and pitiful woman in the world. Milyang is such a small town where people know everything about each other, even the number of spoons in your neighbor's kitchen drawers. She is left alone in the small town. Having tried to disguise her deceased husband's betrayal as a patriarchic fantasy, and having been obsessed over showing love for her son, Shinae slowly falls into the church, as guided by the evangelical pharmacist couple. She becomes a religious fanatic and starts calling out Jesus' name and looking for converts on the street. She finally confesses at a church meeting the bitter trials she experienced in her life. "I might have had these hardships because God arranged this encounter between Him and myself," she mumbles. This supports her claim that, "everything is destined by God." With faith, she finds courage and rises to the challenge of forgiving the criminal, using the love of God. When she meets him in jail, however, he has already become Christian and greets her with a bright smile saying that he has already been forgiven by God. This comes as another great shock to her.
Shinae looks up to the blue sky with a grimace on her face. She refuses religion, refuses the scars she was given by her oppressive father and refuses the existence of God, who forgave the kidnapper before she was able to. She begins flirting with the pharmacist husband and spoils the calm mood of the church by playing the song "This is a Lie." Shinae has nobody to whom she can complain about her delusion of pain, insomnia and resentment. She desperately walks toward self-destruction.
As irony would have it, the hairstylist she meets at the hair salon on her way back from the psychiatric hospital happens to be the daughter of the kidnapper. She flees the hair salon. A clump of hair falls on a drain in the roughly painted concrete floor. It contrasts clearly with the white clouds floating in the clear blue sky.
There is the bright sky and then reality, thrown away onto the floor. It is a matter of facing up to reality and accepting the existence of herself. This shows a gap between the forgiveness of God and that of humans, which cannot be equal. What is truth and forgiveness? What is inner heart and outer appearance? The movie leaves the question open. Is it possible to trick life and to escape from it?
-Viewed by Yoo Ji-na, film critic and professor of Dongguk University
*This series of article has been made possible through the cooperation of the Korean Film Archive.
* Click
here
to see the first part of our series Korea.net's list of must-see films
Department Global Communication and Contents Division, Contact Us