Summit Diplomacy

RSS
Summit Diplomacy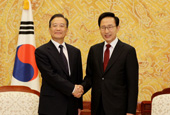 Korea-China Summit (May 2010)

President Lee Myung-bak explained the outcome of the investigation to Chinese Premier Wen Jiabao and asked for the Chinese cooperation on the issue. Premier Wen said that the sinking of the Cheonan was unfortunate expressed the condolence to the families of the victims. Also during the summit meeting the two leaders agreed on other details like concluding the joint study on Korea-China FTA, reopening a Korea-China employment permit system and expanding youth exchanges among others.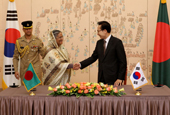 Korea-Bangladesh Summit (May 2010)

Prime Minister of Bangladesh Sheikh Hasina visited Seoul at the invitation of Korean President Lee Myung-bak from May 16 to 18. On the last day of her trip, the two leaders held a bilateral summit at the presidential office Cheong Wa Dae and exchanged their thoughts on a variety of agenda items including bilateral, regional and international concerns.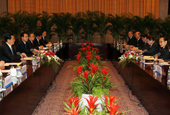 Korea-China Summit (April 2010)

Korean President Lee Myung-bak met with his Chinese counterpart Hu Jintao in Shanghai on Apr. 30 and exchanged opinions on the latest issues concerning the two countries. The leaders held talks over the recent sinking of South Korean warship and agreed on a closer coordination between government and businesses sectors in order to grow their bilateral trade volume. As for the Korea-China FTA, Lee and Hu agreed to pursue the best way possible as soon as the experts wrap up the joint study on that field.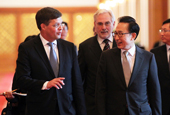 Korea-Netherlands Summit (April 2010)

President Lee Myung-bak and visiting Dutch Prime Minister Jan Peter Balkenende held a bilateral summit at Lee's office on Wednesday (Apr. 28). They held a broad discussion about growing bilateral economic and industrial ties and ways to cooperate in combating the global financial crisis, climate change and implementing green growth policies. The two leaders expressed their satisfaction about the continuously developing ties between Korea and the Netherlands since their diplomatic relationship began in 1961 and pledged to further strengthen such ties.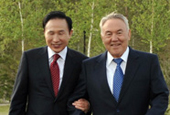 Korea-Kazakhstan Summit (April 2010)

On April 22, 2010, Presidents Lee Myung-bak and Nursultan A. Nazarbayev of the Republic of Kazakhstan held a summit at Cheong Wa Dae. President Nazarbayev is visiting Korea April 21-23. The two presidents had in-depth discussions on issues of mutual interest, including cooperation in the regional and international arena and ways to enhance substantive bilateral collaboration in such areas as energy, resources, construction, infrastructure, agriculture and information technology.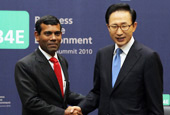 Korea-Maldives Summit (April 2010)

President Lee Myung-bak and Maldives President Mohamed Nasheed had a meeting on the sidelines of the B4E summit held in Seoul on Apr. 22. President Lee expressed appreciation for his counterpart's efforts in dealing with climate change, while explaining Korea's low carbon and green growth policies. The two leaders agreed to cooperate in combatting climate change, based upon the world leaders' agreement reached at the Copenhagen meeting in December 2009.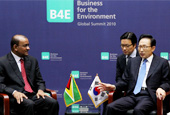 Korea-Guyana Summit (April 2010)

President Lee Myung-bak and Guyanese President Bharrat Jagdeo met for a summit in Seoul on Apr. 22. The meeting took place on the sidelines of the 4th Business for Economy (B4E) Summit. The leaders exchanged ideas on fostering international collaboration for green growth and growing economic ties between the two countries.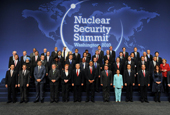 The 1st Nuclear Security Summit (April 2010)

Korea was named the next country to host the Nuclear Security Summit in 2012. The decision was made at the inaugural Nuclear Security Summit in Washington, D.C. on Tuesday, Apr. 13 (D.C. time). The leaders of all 47 nations participating in the talks to discuss nuclear non-proliferation agreed to Korea's hosting the world's largest security meeting.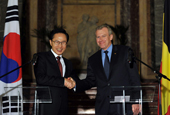 Korea-Belgium Summit (April 2010)

President Lee Myung-bak and the Belgian Prime Minister Yves Leterme talked head to head on Apr. 5 at Cheong Wa Dae for a summit meeting. They shared thoughts on such issues as the Korea-EU FTA, worldwide collaboration for economic recovery, global climate change and relevant countermeasures and other political agenda items.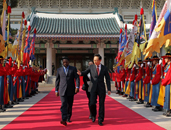 Korea-Congo Summit (March 2010)

President Lee Myung-bak and visiting President of the Democratic Republic of Congo Joseph Kabila met on Mar. 29 for a summit at Cheong Wa Dae. They discussed their collaboration plans in particular in the fields of energy resources and social infrastructure development. President Lee promised to share Korea's knowhow on planning and implementing national economic development plans.