Summit Diplomacy

RSS
Summit Diplomacy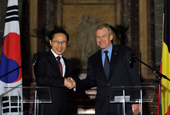 Korea-Belgium Summit (October 2010)

President Lee Myung-bak and Belgian Prime Minister Yves Leterme held talks on October 5 in Brussels, Belgium. The two leaders agreed to enhance trade and investment, since foreign trade plays an important role in the economy of both countries. They their expressed satisfaction at the signing of the Korea-EU free trade agreement, which will come into effect in July of next year.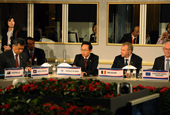 ASEM-Brussels 2010 (October 2010)

Leaders of 48 countries, including 27 EU member countries and 16 Asian countries, attended ASEM, which took place on Oct. 4-5 in Brussels, Belgium. At the 8th ASEM Summit, President Lee Myung-bak participated in in-depth discussions with other leaders on key issues addressing the theme of "Quality of Life: Achieving Greater Well-being and More Dignity for All Citizens." Issues that attendees discussed include world economic governance, sustainable development, global issues, regional security conditions, international exchanges, and the future of ASEM.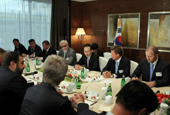 Korea-Russia Summit (September 2010)

President Lee Myung-bak held summit talks with Russian President Dmitry Anatolyevich Medvedev and Prime Minister Vladimir Vladimirovich Putin in Moscow and attended the Global Policy Forum in Yaroslavl during his three-day visit to Russia from Sep. 9-11. Lee and Medvedev agreed to upgrade bilateral ties and discussed matters of mutual interest. In Yaroslavl, Lee delivered a keynote speech about Korea's model of democratization, through which the country achieved both economic growth and democratic advancement.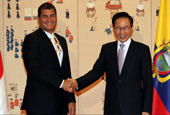 Korea-Ecuador Summit (September 2010)

President Lee Myung-bak held a summit meeting with Ecuadorian leader Rafael Correa Delgado and discussed substantial measures to boost bilateral cooperation on Sep. 8. President Delgado showed strong interest in Korea's expertise and know-how in economic development. Delgado said he expects Korean companies to enter into Ecuador's energy, resources and infrastructure industries, the core sectors of the country's national development project.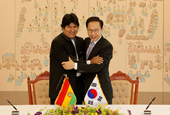 Korea-Bolivia Summit (August 2010)

President Lee Myung-bak and visiting President Juan Evo Morales Ayma of the Plurinational State of Bolivia held a summit on August 26. The Bolivian President is making an official visit to Korea August 25-27. At the summit, the two Presidents had an in-depth discussion about how to enhance substantive cooperation between the two countries in various fields, including trade and investment, cooperation in resources and development as well as in the international arena.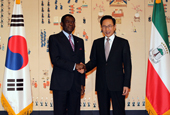 Korea-Equatorial Guinea Summit (August 2010)

President Teodoro Obiang Nguema Mbasogo of Republic of Equatorial Guinea and President Lee held a summit on Aug. 12. They discussed energy resources, such as gas and oil and cooperation in the field of infrastructure. They also exchanged opinions about Agenda 2020, a long-term economic development plan drawn up by the Equatorial Guinea government.
Korea-New Zealand Summit (July 2010)

Korea and New Zealand agreed to speed up talks for a bilateral free trade agreement during a summit meeting held on Monday (Jul. 5). President Lee Myung-bak and the visiting Prime Minister of New Zealand John Key released an 18-point joint statement that included the above contents. Moreover, Lee and Key also decided to designate the year as "Korea-New Zealand Year of Friendship" and widen cultural and personnel exchanges.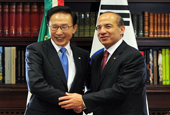 Korea-Mexico Summit (July 2010)

President Lee Myung-bak met with his Mexican counterpart Felipe Calderon and agreed on this new detail in summit talks on Thursday (Jul. 1). Mexico agreed to allow Korean companies' participation in international bidding for public projects even before concluding a free trade agreement (FTA). The two leaders agreed that once the FTA is concluded, it would help increase the trade volume and investment between the two nations.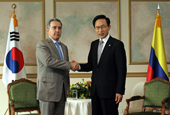 Korea-Colombia Summit (June 2010)

President Lee Myung-bak met with President of Colombia Alvaro Uribe on the sidelines of the third Korea-SICA summit meeting in Panama to discuss pending issues between the two countries and other matters of mutual concerns on Wednesday (Jun. 30). The two heads agreed to accelerate talks for a free trade agreement and to continue to take systemic measures to enhance cooperation in bilateral trade and economy.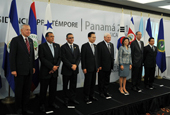 Korea-SICA Meeting (June 2010)

Korea and the eight member nations of the Central American Integration System (SICA) agreed to boost economic cooperation by implementing measures that allow more business opportunities for both regions. A 13-point joint declaration was adopted at the third Korea-SICA summit meeting held in Panama on Tuesday (Jun. 29). SICA is a governmental body in Central America established in 1993 for regional cooperation among nations there.