Summit Diplomacy

RSS
Summit Diplomacy
Korea-Japan Summit (April 2008)

President Lee Myung-bak and Japanese Prime Minister Yasuo Fukuda agreed in Tokyo on Apr. 21 to build future-oriented Korea-Japan relations and a mature partnership based on his pragmatic diplomacy. They agreed to enhance cooperation in dealing with the North Korean nuclear issue and the North's abduction of Japanese citizens in the 1970s and 80s as well as expand bilateral exchanges of youth and others.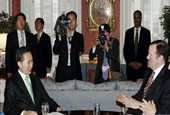 Korea-U.S. Summit (April 2008)

Korean President Lee Myung-bak and U.S. President George W. Bush met at the U.S. presidential retreat Camp David on Apr. 19 and agreed to bolster their countries' half-century security alliance by making joint efforts for peace and denuclearization on the Korean Peninsula and gaining legislative approval for the long-delayed Korea-U.S. Free Trade Agreement (KORUS FTA).