Summit Diplomacy

RSS
Summit Diplomacy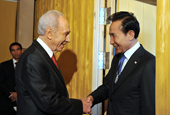 Korea-Israel Summit (January 2010)

On the last day of his visit to Switzerland (Jan. 29), President Lee had a bilateral summit with Israel's President Shimon Peres. Korea and Israel first launched diplomatic relationship in 1962 and exchanges in political, economic and cultural area have been continousoly strengthened ever since. The leaders confirmed that the two countries have a lot to gain from mutual cooperation in the fields of renewable energy development, and agreed to expedite such joint efforts.
Current Affairs Presidential visit to India, Switzerland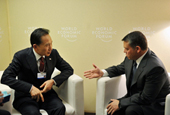 Korea-Jordan Summit (January 2010)

President Lee met Jordan's King Abdullah in Davos, Switzerland, on Jan 28. The meeting took place on the sidelines of the 40th World Economic Forum. President Lee thanked the Jordanian King for selecting, as the result of a bidding process, a Korean consortium to build a nuclear reactor, and discussed the Jordanian government's grand waterway project. King Abdullah highly appreciated Korean expertise in construction and promised to strengthen his country's ties with Korea.
Current Affairs Presidential visit to India, Switzerland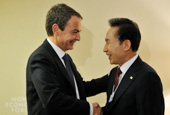 Korea-Spain Summit (January 2010)

President Lee held a bilateral meeting with Spain's Prime Minister Jose Luis Rodriguez Zapatero on the sidelines of the Davos Forum in Switzerland on Jan 28. Noting the 60th anniversary of diplomatic relations between their countries in 2010, they pledged to elevate bilateral ties. They also promised to work together for an early ratification of the Korea-EU FTA and successful G20 summits this year.
Current Affairs Presidential visit to India, Switzerland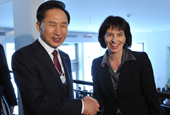 Korea-Switzerland Summit (January 2010)

Korean President Lee and President of the Swiss Confederation Doris Leuthard met each other in Davos on Jan 28 for bilateral talks. The leaders agreed to strengthen efforts to bring peace to the Korean Peninsula and to work together for a successful G20 summit this year. Lee thanked Leuthard for Switzerland's sending representatives to the Neutral Nations Supervisory Commission at Korea's truce village of Panmunjom since the armistice agreement called a halt to the Korean War in 1953.
Current Affairs Presidential visit to India, Switzerland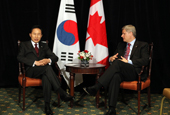 Korea-Canada Summit (January 2010)

President Lee Myung-bak met Canadian Prime Minister Stephen Harper in the Swiss city of Davos on Jan 28 for a bilateral meeting. The two leaders positively evaluated the continuously developing ties between the two countries following the latest three rounds of summits between the leaders themselves. In particular, they pledged to do their utmost in preparing for the G20 summits this year, which will take place in Toronto in June and in Seoul in November, respectively.
Current Affairs Presidential visit to India, Switzerland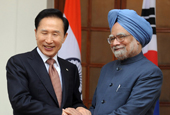 Korea-India Summit (January 2010)

Korean President Lee Myung-bak and Indian Prime Minister Manmohan Singh held a bilateral summit in New Delhi on Jan. 25 and agreed to boost the bilateral ties between the two countries to a "strategic partnership." The leaders also agreed to open a vice ministerial-level dialogue on foreign affairs and security, and pledged to reinforce their defense collaboration. Also, the bilateral trade is expected to reach US$30 billion by 2014 according to the leaders' agreement.
Current Affairs Presidential visit to India, Switzerland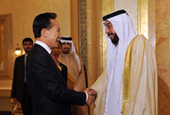 Korea-UAE Summit (December 2009)

Korean President Lee Myung-bak and UAE President Khalifa bin Zayed Al Nahyan held a summit in Abu Dhabi on Dec. 27. President Lee thanked Khalifa for the UAE's selection of a Korean consortium to build four nuclear power plants. Both leaders also agreed to strengthen ties in commerce, energy, construction and plants, while raising the level of their bilateral relationship to a strategic cooperative partnership.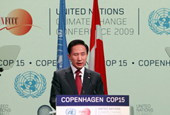 15th UN Climate Change Conference (December 2009)

President Lee Myung-bak made a keynote speech at the 15th United Nations Climate Change Conference in Copenhagen Denmark on Dec. 17. The meeting was attended by leaders of over 100 countries. During the speech, President Lee said that Korea would establish a Global Green Growth Institute (GGGI), a global think tank to fight climate change, within the first half of 2010. He also announced Korea's official bid to host the 18th UN Climate Change Conference (COP18) in 2012 at the meeting.
Current Affairs President attends Copenhagen Climate Change Conference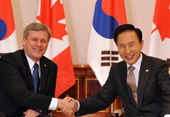 Korea-Canada Summit (December 2009)

Korean President Lee Myung-bak met with visiting Canadian Prime Minister Stephen Harper on Dec. 7, and discussed the achievements made during the international meetings the two leaders had participated in this year, including the G20 and APEC meetings. The leaders also dealt with other critical issues, such as civilian and industrial exchanges between the two countries, a Korea-Canada FTA, North Korean nuclear issues and the Copenhagen climate change summit.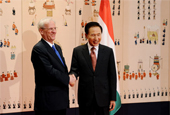 Korea-Hungary Summit (December 2009)

President Lee Myung-bak and visiting Hungarian President Laszlo Solyom held a summit at Cheong Wa Dae on Dec. 1, and celebrated the 20th anniversary of diplomatic ties between Korea and Hungary. The two leaders agreed to expand exchanges in the areas of personnel, trade, investment, culture, and academia. President Lee called for Hungary's support for early ratification of the Korea-EU Free Trade Agreement that was tentatively signed in 2009 while President Solyom proposed further cooperation in the science and technology sector and called for Korea's establishment of a Korean Cultural Center in Hungary.