Summit Diplomacy

RSS
Summit Diplomacy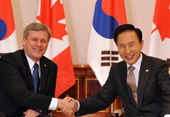 Korea-Canada Summit (December 2009)

Korean President Lee Myung-bak met with visiting Canadian Prime Minister Stephen Harper on Dec. 7, and discussed the achievements made during the international meetings the two leaders had participated in this year, including the G20 and APEC meetings. The leaders also dealt with other critical issues, such as civilian and industrial exchanges between the two countries, a Korea-Canada FTA, North Korean nuclear issues and the Copenhagen climate change summit.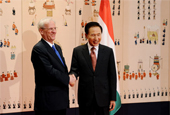 Korea-Hungary Summit (December 2009)

President Lee Myung-bak and visiting Hungarian President Laszlo Solyom held a summit at Cheong Wa Dae on Dec. 1, and celebrated the 20th anniversary of diplomatic ties between Korea and Hungary. The two leaders agreed to expand exchanges in the areas of personnel, trade, investment, culture, and academia. President Lee called for Hungary's support for early ratification of the Korea-EU Free Trade Agreement that was tentatively signed in 2009 while President Solyom proposed further cooperation in the science and technology sector and called for Korea's establishment of a Korean Cultural Center in Hungary.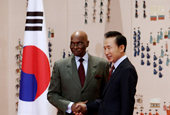 Korea-Senegal Summit (November 2009)

Korean President Lee Myung-bak met President Abdoulaye Wade of the Republic of Senegal at Cheong Wa Dae on Nov. 23 and discussed mutual concerns including Korea-Africa relations. President Lee gave a positive evaluation on increasing trade between Korea and Senegal, and asked President Wave to lend his support for Korean companies' participation in Senegal's infrastructure building projects. President Wade expressed his appreciation for the Korean government's continuous developmental support for his country and hoped that Korean private investment into Senegal would expand.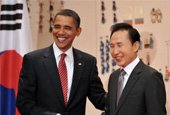 Korea-U.S. Summit (November 2009)

President Lee Myung-bak and U.S. President Barack Obama met for a summit at Cheong Wa Dae on Nov. 19. They agreed to pursue the 'grand bargain' North Korea strategy initiated by President Lee in New York in September. The leaders also reaffirmed the solid Korea-U.S. security readiness and concurred on the further development of their security alliance. Lee and Obama gave high marks to the September G20 Summit in Pittsburgh and promised to work together to make the fifth G20 Summit a success. That summit is slated to be held in Seoul in 2010. They also agreed to work together to expedite ratification of the Korea-U.S. FTA.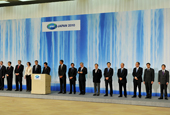 APEC Economic Leaders Meeting (November 2009)

President Lee Myung-bak at the 17th APEC Economic Leaders Meeting held in Singapore from Nov. 14 to 15 engaged in in-depth exchanges of opinions with world leaders on global economy and the reforms that should come after overcoming the crisis. The leaders agreed on the importance of keeping up global coordination to overcome the economic crisis and pursue stable and sustainable growth for the future. They also concurred to strengthen free trade through supporting open markets and a speedy conclusion of the Doha Development Agenda.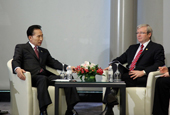 Korea-Australia Summit (November 2009)

President Lee and his Australian counterpart Kevin Rudd met in Singapore on Nov. 14 at the sidelines of the APEC summit there. They agreed on implementing the outcomes of the Pittsburgh meeting of the G20, and were very satisfied that their joint framework and exit strategies had been well reflected in the September summit. They also agreed to cooperate more closely for more balanced growth and governance transformation in international economic organizations at the next G20 meetings.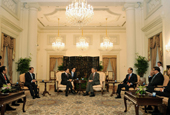 Korea-Singapore Summit (November 2009)

At the bilateral summit held in Singapore on November 13, Korean President Lee Myung-bak and Singapore's Prime Minister Lee Hsien Loong agreed to work closely to promote the achievements made at the September G20 summit more widely at the 17th APEC summit in Singapore. They also expressed satisfaction at the progress made in the establishment of a Korea Cultural Center in Singapore and agreed to cooperate in the areas of clean energy, low carbon, and green energy.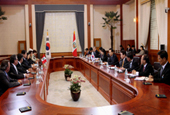 Korea-Peru Summit (November 2009)

President Lee Myung-bak and visiting Peruvian President Alan Gabriel Garcia Perez had a summit meeting at the presidential office in Seoul on Nov. 12. They concurred that the "Comprehensive Cooperative Relations" between Korea and Peru should be further advanced in ways to develop both sides. The partnership was launched when President Lee visited Peru in November 2008. The two Presidents also agreed to join forces in the fields of trade and investment, energy and infrastructure, science and technology, and culture and sports.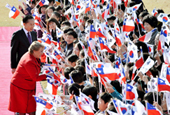 Korea-Chile Summit (November 2009)

Korean President Lee Myung-bak and visiting Chilean President Michelle Bachelet Jeria held a summit meeting at Lee's office on Nov. 11. The two Presidents expressed satisfaction about the developing bilateral relationship between Korea and Chile since the launch of official diplomatic ties in 1962. They also said that the Korea-Chile FTA had played an important role in advancing bilateral ties since 2004, when the deal took effect, and pledged to share thoughts on developing the free trade deal in ways to benefit both sides.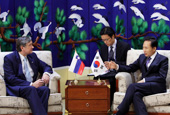 Korea-Slovenia Summit (October 2009)

President Lee Myung-bak on Oct. 27 met with Slovenian President Danilo Turk, who visited the City of Busan for the 3rd OECD World Forum, and discussed with him ways to enhance practical cooperation between the his country and Korea. The leaders gave high marks to increasing bilateral relations between Korea and Slovenia since they first established diplomatic ties in 1992, and hoped such relations would further develop by the early effectuation of the Korea-EU FTA. They also agreed to cooperate through such international channels as the OECD.