Summit Diplomacy

RSS
Summit Diplomacy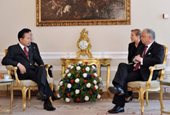 Korea-Poland Summit (October 2008)

President Lee met with Polish Prime Minister Donald Tusk on the sidelines of the seventh Asia-Europe Meeting (ASEM) in Beijing on Oct. 24. President Lee asked his counterpart to assist Korean businesses to actively participate in the development of Poland's infrastructure. The two leaders agreed that the plan to establish a Korean cultural center in Warsaw in celebration of the 20th anniversary of diplomatic ties would boost cultural exchanges and cooperation. They anticipated that mutual understanding would be enhanced through the center.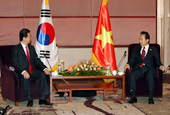 Korea-Vietnam Summit (October 2008)

President Lee met with the Prime Minister Nguyen Tan Dung of Vietnam on the sidelines of the seventh Asia-Europe Meeting (ASEM) in Beijing on Oct. 24. President Lee and his counterpart concurred on the need to strengthen substantive bilateral collaboration in various areas, including politics and economy. The leaders took the occasion to reassess ties between the two countries since the formation of diplomatic relations in 1992 and agreed to further develop close cooperative ties in the fields of labor exchanges, security, trade, civic society and culture.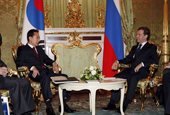 Korea-Russia Summit (September 2008)

President Lee Myung-bak and his Russian counterpart Dmitry A. Medvedev met in Russia on Sep. 29 and reviewed the advances made in Korea-Russia relations since the two countries established diplomatic relations in 1990. The two Presidents expressed their satisfaction on the dynamic and multi-dimensional development of the Korea-Russia relations in recent years.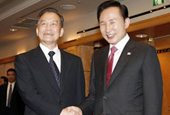 Korea-China Summit (May 2008)

Korea and China agreed on May 28 to elevate their bilateral relations from the existing comprehensive and cooperative partnership to a "strategic and cooperative partnership," under which the two countries will widen bilateral cooperation beyond two-way diplomacy, politics, economy, culture and environment to cover global diplomatic and future-oriented issues.
Korea-Japan Summit (April 2008)

President Lee Myung-bak and Japanese Prime Minister Yasuo Fukuda agreed in Tokyo on Apr. 21 to build future-oriented Korea-Japan relations and a mature partnership based on his pragmatic diplomacy. They agreed to enhance cooperation in dealing with the North Korean nuclear issue and the North's abduction of Japanese citizens in the 1970s and 80s as well as expand bilateral exchanges of youth and others.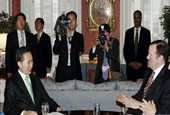 Korea-U.S. Summit (April 2008)

Korean President Lee Myung-bak and U.S. President George W. Bush met at the U.S. presidential retreat Camp David on Apr. 19 and agreed to bolster their countries' half-century security alliance by making joint efforts for peace and denuclearization on the Korean Peninsula and gaining legislative approval for the long-delayed Korea-U.S. Free Trade Agreement (KORUS FTA).