Summit Diplomacy

RSS
Summit Diplomacy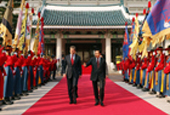 Korea-Bulgaria Summit (October 2009)

President Lee Myung-bak and visiting Bulgarian President Georgi Parvanov held a bilateral summit at Cheong Wa Dae on Oct. 26. President Parvanov visited Korea in recognition of the 20th year of diplomatic relations between Korea and Bulgaria, which will be in 2010. At the summit, the leaders discussed ways to enhance pragmatic cooperation between the two countries in the fields of economy, commerce, tourism and education. President Lee emphasized in particular that the Korea-EU FTA, when taking effect, will greatly advance economic cooperation between Korea and eastern European countries.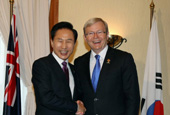 Korea-Australia Summit (October 2009)

President Lee and Australia's Prime Minister Kevin Rudd in Thailand on Oct. 25 had a summit for a fourth time this year (following meetings in March, April and July), and continued their discussions on the strengthening of the G20 meeting, tackling climate change and pursuing a "grand bargain," a North Korea strategy initiated by Lee during his September visit to New York.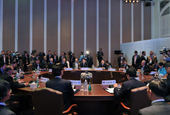 12th ASEAN Plus Three Summit (October 2009)

The leaders attending the 12th ASEAN Plus Three Summit in Thailand on Oct. 24 discussed ways to jointly deal with the international financial crisis, global climate change and food/energy security issues. Korean President Lee Myung-bak at the venue introduced Korea's vision of "low carbon, green growth" strategies and its efforts to extend investment and create jobs through the development of environment-friendly, renewable energy.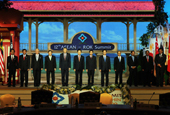 12th ASEAN-ROK Summit (October 2009)

President Lee Myung-bak, at the 12th bilateral summit between Korea and ASEAN held in Thailand, Oct. 24, highly praised the establishment of the Korea-ASEAN Center in March and the signing of the Korea-ASEAN investment treaty and the ASEAN-Korea Commemorative Summit both in June. The leaders at the summit agreed to elevate the bilateral relationship to "Strategic Cooperative Partnership," and adopted the third report for further implementation of Korea-ASEAN activities.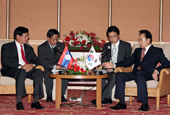 Korea-Laos Summit (October 2009)

President Lee Myung-bak and Laos' Prime Minister Bouasone Bouphavanh held a bilateral summit meeting on the sidelines of the ASEAN Plus Three Summit in Hua Hin, Thailand, on Oct. 24. Hoping expanded exchanges in energy and resources sectors between the two countries, President Lee asked the Prime Minister for active support for overall operations of Laos-based Korean companies. The Prime Minister expressed appreciation for Korea's continuous developmental support for Laos.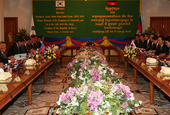 Korea-Cambodia Summit (October 2009)

President Lee Myung-bak and Cambodian Prime Minister Hun Sen held bilateral summit in Phnom Penh on Oct. 22. The leaders praised the six-fold increase in bilateral trade between Korea and Cambodia since the re-establishment of their diplomatic ties in 1997, and agreed to enhance their joint efforts for reforestation, research on mineral resources and broadcasting contents development. Also at the meeting, Korea promised to expand its official development aid to Cambodia and to assist the country's green growth industry development.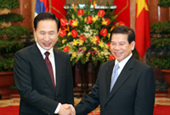 Korea-Vietnam Summit (October 2009)

Korean President Lee Myung-bak and Vietnamese President Nguyen Minh Triet in Hanoi held a bilateral summit on Oct. 21. They agreed to elevate their bilateral relationship to a "strategic cooperative partnership," and concurred to open new inter-ministerial dialogues to deal with diplomatic and security issues. They also pledged to work hard to enhance the Korea-ASEAN relations and to crank up the bilateral trade volume to US$20 billion by 2015.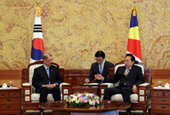 Korea-Seychelles Summit (October 2009)

President Lee Myung-bak and the President of the Republic of Seychelles James Alix Michel met each other at Cheong Wa Dae on Oct. 14. They agreed to boost bilateral economic cooperation and to increase civilian exchanges. They also decided to collaborate to fight piracy off the coast of Somalia and to deal with global climate change issues together.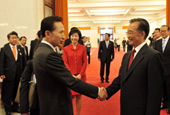 Korea-China Summit (October 2009)

President Lee Myung-bak and Chinese Premier Wen Jiabao had a bilateral summit meeting in Beijing, China, on Oct. 10. The two leaders intensively dealt with their future cooperation plans for North Korea's nuclear issues and global economic recovery, among others. They also welcomed the signing of a joint economic cooperation report by the two countries' trade ministers, and pledged to strengthen their bilateral ties through international events, such as the Yeosu Expo, the Shanghai Expo and the G20 summits.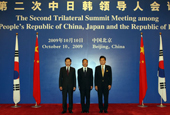 Korea-China-Japan Summit (October 2009)

President Lee Myung-bak met with Chinese Premier Wen Jiabao and Japanese Prime Minister Yukio Hatoyama in Beijing, China, for a trilateral meeting on Oct. 10, and exchanged ideas on joint cooperation, the crisis in global finance and economy, the nuclear crisis in North Korea, climate change and other issues of mutual concerns. The leaders agreed that cooperation among the three nations is critical for the good of all three nations and also for stability and prosperity in the Northeast Asian region and the world.