Presidential visit to Germany, Denmark, France
President Lee arrives home after successful European trip
May 16, 2011
President Lee Myung-bak and First Lady Kim Yoon-ok flew back to Seoul on May 15 after visiting Germany, Denmark and France from May 8-14.

During the presidential trip, Korea and Denmark agreed to forge an unprecedented Green Growth Alliance. Korea also agreed to strengthen strategic cooperation in the economy and trade sectors with France and Germany.

One of the most noticeable outcomes of President Lee's visit is the Green Growth Alliance with Denmark. This is the first time that Korea has launched an alliance in any sector except security.

The alliance is expected to help Korea secure a leadership role in the development of green industry, one of the key sectors for future growth. President Lee expressed his hope that the green growth alliance between Korea and Denmark will combine Denmark's advanced green technology and Korea's growth momentum.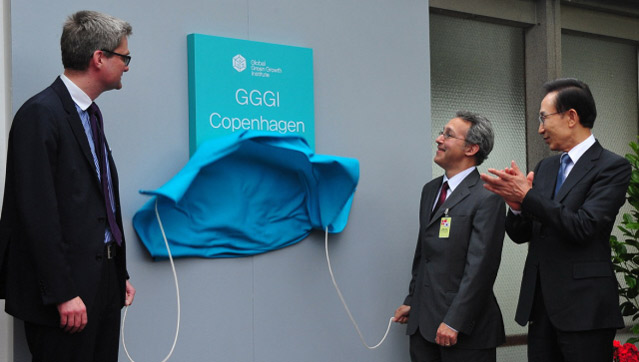 President Lee (right) at the opening ceremony for the first overseas office of the Global Green Growth Institute (GGGI) in Copenhagen, Denmark

Before visiting Denmark, President Lee visited Berlin, where he held summit talks with German President Christian Wulff and Chancellor Angela Merkel.

At the summit with Chancellor Merkel, President Lee offered to invite North Korean leader Kim Jong-il to Seoul for an international nuclear security meeting slated to take place on March 26, 2013, if Pyongyang commits to give up its nuclear weapons and apologizes for its aggressions, including the sinking of South Korean warship Cheonan and the attack on Yeonpyeong Island. In addition, Lee and Merkel agreed to enhance cooperation so that Germany could share more of its reunification expertise.

In Copenhagen, President Lee and Danish Prime Minister Lars Lokke Rasmussen held a summit and gave a joint statement on the alliance for green growth. The two leaders also agreed to establish a new strategic partnership.

President Lee said in his congratulatory speech that the alliance will help the two countries become "smart movers," leading the world economy toward the green growth. President Lee's visit to Denmark laid a foundation for the public and private sectors to bolster green cooperation with Denmark, the global leader in green growth and renewable energy.

On May 13, President Lee Myung-bak held summit talks with French President Nicolas Sarkozy in Paris. Presidents Lee and Sarkozy discussed ways to enhance bilateral cooperation in trade and investment and advance the G20 Summit.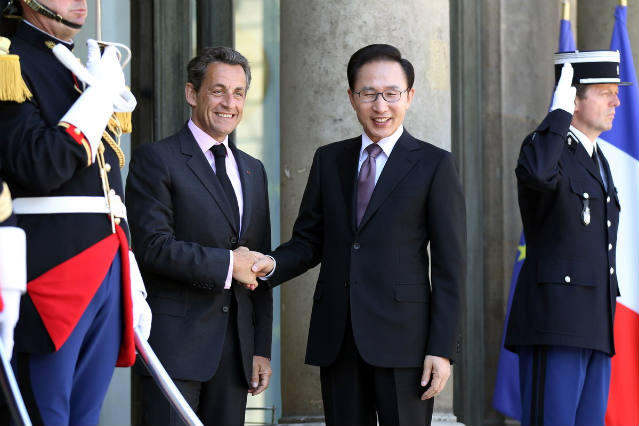 President Lee (second from right) with French President Nicolas Sarkozy in Paris

After the summit, the two leaders gave a joint statement on the upcoming G20 meeting, slated to take place in Cannes this November. (To read the full script, click here) Both leaders agreed to work on concrete and operational solutions to increase food security and strengthen the regulation and supervision of the commodity market, ease global economic imbalances, enhance policy cooperation on employment and growth and improve the international monetary system by expanding the financial security net.

Both leaders also discussed ways to expand bilateral cooperation in trade and investment when the Korea-EU free trade agreement (FTA) takes effect in July.

President Lee's itinerary in France also included a luncheon hosted by former Prime Minister François Fillon, a meeting with world-renowned French scholars and a visit to Paris Diderot University, where he received an honorary doctorate.

President Lee also met Jose Angel Gurria, Secretary General of the Organization for Economic Co-operation and Development (OECD) and UNESCO Director-General Irina Georgieva Bokova.


(From left to right)] President Lee (right) meets with OECD Secretary-General Jose Angel Gurria // President Lee (right) meets with UNESCO Director-General Irina Georgieva Bokova in Paris

President Lee said he appreciated the OECD's plan to adopt Korea's proposals on green growth strategy.

At the meeting with Director-General Bokova, President Lee praised UNESCO's contributions to Korea's recovery after the Korean War, especially in the education sector, mentioning his experience using UNESCO-provided textbooks as a young student.

By Yoon Sojung
Korea.net Staff Writer


Department Global Communication and Contents Division , Contact Us