Presidential visit to Mexico, Brazil, Chile, Colombia
Presidential visit to Mexico, Brazil, Chile, Colombia
President Lee Myung-bak embarked on a four-nation whistle-stop trip to Latin America on June 17. Arriving in Los Cabos, Mexico, the Korean leader took part in the seventh session of the G20 Summit slated from June 18 to 19, followed by a visit to Rio De Janeiro, Brazil, to attend the UN Conference on Sustainable Development (Rio+20) from June 20 to 21.
Accompanied by First Lady Kim Yoon-ok throughout the journey, President Lee Myung-bak then makes an official visit to Chile from June 21 to 23. Next, the presidential state visit to Colombia set from June 23 to 25 will mark the first visit by a Korean head of state to the South American nation.
President Lee delivered a keynote speech at the B20 Business Summit taking place on June 17 to 18 ahead of the G20 gathering, where he engaged in a multilateral dialogue aimed at the continued promotion of economic growth and sustainable development.
Moving to Rio, the president demonstrated the Korean government's unwavering commitment to green growth policies, pitching his vision of pursuing "ecosystemic development" globally. On the margins of the Rio+20 Summit, President Lee attended the signing ceremony for a treaty among Korea and the 14 other nations that will acknowledge the Global Green Growth Institute (GGGI) as an official international organization. The president also participated in the Danish government-initiated Global Green Growth Forum as a keynote speaker.
After Mexico and Brazil, President Lee paid visits to Chile and Colombia on the invitation of his respective counterparts and converse on matters of common interest and enhanced cooperation, marking the 50th anniversary of diplomatic ties with both South American nations.
What's New
more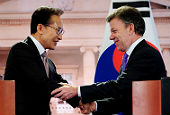 Jun 26, 2012
President Lee Myung-bak held a summit with President Juan Manuel Santos Calderón on June 25, on the occasion of his state visit to Colombia, and exchanged opinions on top...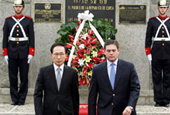 Jun 26, 2012
President Lee Myung-bak's arrival in Colombia on June 23 marked a historic moment, as both the first visit by a Korean president to the Latin American country and also th...
Photo Gallery
more