2012 Seoul Nuclear Security Summit
2012 Seoul Nuclear Security Summit
As agreed at the end of the inaugural Nuclear Security Summit in April 2010, Korea was designated the host of the Second Nuclear Security Summit. The second high-level conference, convened to delve into global nuclear security and nuclear non-proliferation, is set to take place in Seoul from March 26 to 27, 2012.
The first Nuclear Security Summit in Washington, D.C. was organized as a follow-up to a proposal made by U.S. President Barack Obama in Prague in April 2009. President Obama singled out nuclear terrorism as one of the most challenging threats to international security and stressed the need for joint efforts to secure nuclear materials and strengthen cooperation in nuclear security.
Committed to the Washington spirit, the 2012 Seoul Nuclear Security Summit is expected to mark the single largest global summit to date outside of the General Assembly of the UN. The meeting will bring together over 50 national leaders in the Korean capital alongside the heads of the UN, IAEA, EU, and newly joined INTERPOL.
Participants are expected to contribute to the deliberations and consolidated cooperation on measures to combat the threat of nuclear terrorism, protection of nuclear materials and related facilities, and prevention of illicit trafficking of nuclear materials.
The 2012 Seoul NSS will provide a forum for a dialogue not only devoted to the issue of nuclear security, but also of its interface with nuclear safety, which emerged as a focus of renewed attention following the Fukushima nuclear accident.
While calling for the strengthened cooperation of all states in the attainment of the objective identified in Washington, the high level forum in Korea is set to delineate more concrete action plans to put into practice by adopting the Seoul Communiqué.
* Website
:
http://www.seoulnss.go.kr
What's New
more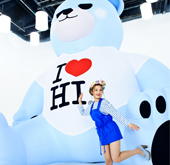 Mar 06, 2013
The music video of new title track "It's Over" from Lee Hi's full-length album is made public, in which the 16-year-old sensation gives off cute and innocent vibes (photo...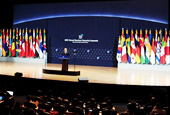 Apr 02, 2012
Last week saw over 57 world leaders gather in Seoul for the 2012 Nuclear Security Summit, the largest international meeting on nuclear issues and the largest internationa...
Photo Gallery
more