Hanok
Aug 20, 2012
Hanok is the name for traditional Korean architecture that remained relatively unchanged from the Three Kingdoms Period (57 B.C. – 668 A.D.) through the late Joseon Dynasty (1392-1910).

Living in a Hanok house means spending time on the floor, rather than on chairs and beds. People can lie down or sit on the heated floor without shoes or other extra covers. Though space is limited, the usage of each space can easily be changed by moving the furniture in each respective room.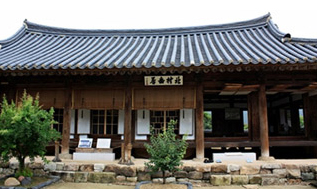 An old Hanok house in Hahoe Village in Andong, North Gyeongsang Province
The major materials for building a Hanok were historically clay and wood. They were built without using any nails but rather with wooden pegs, and they are covered with giwa (tiled roofs). Upper-class houses consisted of a number of separate structures, largely divided into anchae, the inner main building for women and children, the sarangchae for the men of the family and their guests, and the haengrangchae for servants' quarters, all enclosed within a single wall. A family ancestral shrine was built behind the house. A lotus pond was sometimes installed in front of the house outside the enclosing wall.

Houses of commoners, meanwhile, were divided into straw-roofed houses, shingle-roofed houses, reed-roofed houses, and mud-walled huts. The yellow earth commonly found in fields was used as a material to make walls, and pillars were made of wood. The mud walls of a straw-roofed house serve as an effective regulator of temperature and humidity in the room, absorbing moisture when it is humid and emitting moisture when it is dry. The wooden door which also serves as a semi-window in a Hanok house is partially covered with Hanji (Korean traditional paper). Once the bright sunlight passes through Hanji, it turns into a much softer, warmer light adding to the snug, cozy atmosphere of the room.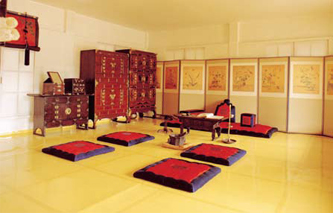 Ondol
Ondol, sometimes called gudeul, is Korea's unique under-the-floor heating system. It was first used in the north of the peninsula. Smoke and heat generated from the low-lying kitchen stoves were channeled through flues built under floors. In the warmer south, ondol was used together with wooden floors, which served as an excellent ventilator for air circulation within the house. Elsewhere, the floors were stone and stayed warm for longer periods of time.

Houses differed from the colder north to the warmer south. In the south, people built simple, L-shaped houses with a rectangular floor, a kitchen, and a room on each side. It was an open-style house to allow wind to pass through during the hot, humid days. In contrast, houses in the north were built in either a U-shape or rectangular shape with a courtyard in the center of the house in order to block the wind. In coastal regions with high winds like Jeju Island, people also formed a windbreak forest or stone wall as high as the house for similar purposes.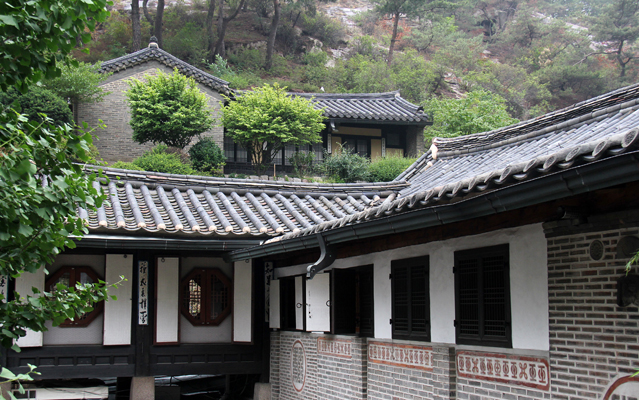 Seokpajeong, currently a high-end Korean restaurant, used to be a vacation house of Heungseon Daewongun during the late Joseon Dynasty (Photo: KOCIS)


Under the philosophy of harmony with nature, an ideal Hanok would have a mountain behind it, a river in front of it, a wide front porch, and rooms well equipped with ondol.


In the late 1960s, Korea's housing pattern began to change rapidly with the construction of Western-style apartment buildings. High-rise apartments have mushroomed all over the country since the 1970s, but the ondol system has remained popular, with heated water or oil pipes taking the place of smoke flues under the floor. Also, with the newly emerging "well-being and healthiness" trend, the environment-friendly construction of Hanok is gaining more popularity as an alternative to bricks and cement.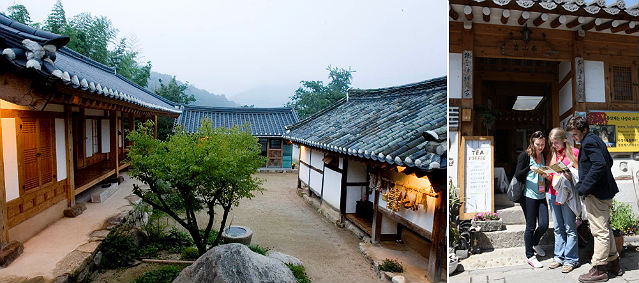 You can experience the traditional Korean lifestyle in traditional Korean houses called Hanok (photo courtesy of KTO).


In 2007 a new neighborhood government office in Hyehwa-dong, Seoul, re-modeled its office to become the first Hanok-style public office in the country. Other notable examples of Hanok modernization include the establishment of Hanok dentists, Hanok kindergartens, and Ragung, a Hanok hotel at Shilla Millennium Park at Gyeongju.


For a more close-up view of Hanok, visitors may also try visiting Namsangol Hanok Village at the foot of Mt. Namsan or Bukchon between Gyeongbokgung (Gyeongbok Palace) and Changdeokgung (Changdeok Palace), all located in downtown Seoul. There is also the Jeonju Hanok Village, equipped with cultural displays and hands-on activities for overseas travelers in Jeonju, Jeollabuk-do (North Jeolla Province). One should not miss Korean Folk Village in Yongin City of Gyeonggi-do (Gyeonggi Province) filled with nearly 300 traditional buildings differing according to region and status, among other collections of cultural artifacts.


For more information, click here: http://www.korea.net/AboutKorea/Korean-Life/Housing


For more information on Hanok stay, click here: http://www.korea.net/NewsFocus/Culture/view?articleId=99716
http://www.korea.net/Government/Current-Affairs/Korean-Wave/view?affairId=260&subId=342&articleId=5281
URL Copy
Department Global Communication and Contents Division , Contact Us