What is the Dongui Bogam?
What is the Dongui Bogam?
Korean Medicine has a long history of several thousand years, forming an East Asian Traditional Medicine axis along with Traditional Chinese Medicine, Kampo Medicine in Japan, and Traditional Vietnamese Medicine. It is compatible with biomedicine in Korean society in both organizational and cultural aspects, taking a primary responsibility for national health care. The Dongui Bogam (Treasured Mirror of Eastern Medicine, 1613, 동의보감 東醫寶鑑) is a representative text of Korean Medicine. It was written in 1610 by Heo Jun (1539–1615), a royal physician of Joseon, Korea, and printed in 1613 by the Joseon government. It is not only a chief representative work of Korean Medicine, but was also published dozens of times in various East Asian nations, such as China, Japan, and Vietnam. After the liberation in 1945, the Dongui Bogam has provided the basis of modern Korean medicine education. Moreover, in 2009, UNESCO recognized its first edition, published in 1613 by the government, as a Memory of the World (Invaluable Documental Heritage). In 2013, a complete set of the Dongui Bogam was translated into English with governmental support. Currently, various studies are being conducted based on the Dongui Bogam for efforts toward the globalization of knowledge within and about the Dongui Bogam.


What's New
more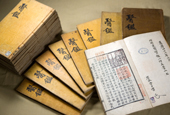 Jul 04, 2014
The section on herbs contains all subjects on medications. In the first section, collection, preparation, decoction, pharmacology, dosage and contraindications are explai...
Jun 30, 2014
In the volumes of the third major section, on Miscellaneous Disorders, various aspects of the disorders are approached in a systematic fashion. Early on, the book covers ...