Korea-EU FTA expands investments into Korea
Jul 02, 2012
The Korea-EU Free Trade Agreement (FTA), which marked its one-year anniversary on July 1, has expanded Korea's exports to the EU and contributed to increasing foreign direct investment (FDI) in Korea. The Institute for International Trade under the Korea International Trade Association recently published a report on the results of the Korea-EU FTA. Despite the downturn of Korea's overall exports to the EU, the volume of some exports under the jurisdiction of the FTA have increased by 16.5%, the report said.

According to the EU's official data on imports, for nine months from July 2011 to March 2012, Korea's overall exports to the EU decreased by 3.6% while its exports of items listed under the FTA increased by 16.5%. Considering the EU's growth rate of imports during the same period was 5.8%, it is concluded that the effects of tariff reduction thanks to the Korea-EU FTA have been tangible.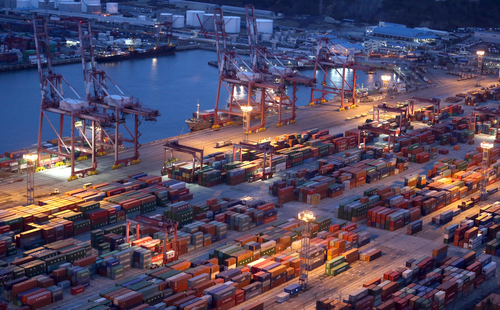 In more detail, Korea's jet fuel exports saw a growth rate of 1,163.0%, and export of small diesel cars saw a growth rate of 66.8% after the implementation of the FTA. Korean gear box exports saw a growth rate of 1,528.6% while exports of synthetic resin based on polystyrene increased by 344.9%.


Korean-produced polyester, which has high-price elasticity, has taken the largest market share in the Italian market and taken 80% of the imported polyester market of Belgium. Among nine types of items imported from the EU to Korea, the prices of six items including electric irons, shavers, and frying pans have dropped since the implementation of the FTA.

The Korea-EU FTA has also contributed to the expansion of investments in Korea. From July 2011 to March 2012, the EU's investments into Korea increased to USD 3.57 billion, an increase rate of 60% from the same period in the previous year. Merger and acquisition investments increased by 8%, and investments that are expected to create employment have increased by 42%.


The Korea International Trade Association (KITA) and BUSINESSEUROPE, a federation composed of 41 national business organizations in 35 European countries, held the first EU business roundtable to mark one year since the implementation of the Korea-EU FTA on June 27 in Brussels, Belgium. Attended by government officials, researchers, and businessmen, the outcome of the last year was discussed at the meeting.


Attendees agreed that despite the worsening of trade conditions due to revived protectionism worldwide and the downturn of the global economy, the Korea-EU FTA has helped both Korea and European countries to expand investment and dropped retail prices of items.


The report analyzed that more items will benefit under the FTA as their tariffs will be removed and the political and economical relationships between Korea and the EU will also be reinforced.


"Although it is true that Korea's export growth rate to the EU was lower than expected due to the European financial crisis, there have been certain and tangible effects of the FTA," an official from KITA said. "We need to support small and medium-sized enterprises to use the FTA and focus on attracting FDI into Korea through the FTA so we can maximize the effects of the Korea-EU FTA."

By Jessica Seoyoung Choi
Korea.net Staff Writer

Featured Topics
http://www.korea.net/NewsFocus/Business/view?articleId=101040
URL Copy
Department Global Communication and Contents Division , Contact Us