Korea FTA Updates: Turkey and Peru
Aug 08, 2012
The beginning of August saw significant developments in Korea's
expanding international trade network
.
Korea-Turkey FTA: A new chapter
Negotiations for a
free trade agreement (FTA) between Korea and Turkey
were finalized in Ankara, Turkey on August 1.
Trade Minister Bark Tae-ho
and Turkey's Minister of Economy Zafer Çağlayan signed a Framework Agreement and an Agreement on Trade in Goods, which together outline the establishment of a free trade area and the future elimination of customs duties on set goods.
"The Korea-Turkey FTA will be a significant stepping stone for the systematic expansion of bilateral economic relations," said Bark. "We expect trade volume between our countries to reach USD 10 billion, and even USD 20 billion, in the next two to three years." With regards to the remaining steps in implementing the newly signed FTA, Bark explained that efforts will be made to have the agreement ratified by parliament and in effect by January 1, 2013.
Çağlayan also described the FTA as an especially meaningful development in
Korea-Turkey relations
, one that will build on the existing historical ties to promote a stronger economic partnership. The minister highlighted education, medical care, and other service sectors as areas that can be expected to benefit from increased economic exchanges.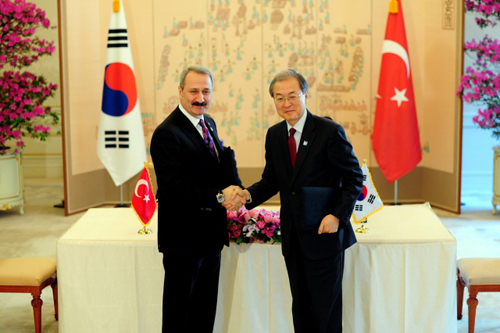 The FTA with Turkey is Korea's ninth, having been preceded by agreements with Chile, Singapore, the European Free Trade Association (EFTA), the Association of Southeast Asian Nations (ASEAN), India, the
United States
, the European Union (EU), and Peru. Negotiations for Korea's tenth FTA, with
Colombia
, reached a settlement on June 25.
In accordance with the agreement, Koreans working in Turkey will be exempt from paying Turkish social security premiums for up to five years, which will amount to a decrease of approximately 3 billion won in yearly living expenses.
Korea-Peru FTA: One year on

August 1 also marked one year since the
Korea-Peru FTA
went into effect in August 2011.
In an analysis of the effects of the FTA, the Institute for International Trade (IIT) of the
Korea International Trade Association (KITA)
reported that the growth rate in Korean exports to Peru from August 2011 to June 2012 was 28.9%, compared to the overall national export growth rate of 6.2%. Overall trade volume between the two countries during this time reached USD 2.78 billion.
Korea's market shares in Peru's automobile and color TV markets were also reported to have increased during 2011 in the months after the FTA went into effect, with
Korean carmakers
posting a market share of 32.06% (versus 24.96% in 2010) and Korean television makers, 28.16% (compared to 3.68% in 2010).
Increases in market shares for Korean-made products were also observed in other sectors such as paper products, batteries, plastics, refrigerators, VCRS, and monitors.
"As Peru also has FTA agreements with both Japan and China, the competition among exporters to Peru can be expected to grow," said Myung Jin-ho, an IIT analyst. "It will be important to continue supporting Korean companies to fully utilize FTA preferences."
On the occasion of the first anniversary of the FTA, a Korea-Peru Business Council was launched in Lima, Peru to expand business and networking opportunities and facilitate information exchanges between Korean and Peruvian companies. Members include 15 Korean companies, including
Samsung and LG
, as well as 26 Peruvian companies.
With 2013 marking the 50-year anniversary of bilateral diplomatic relations, a slate of upcoming cultural exchange programs can also be expected to contribute to the growing partnership between Korea and Peru.
By Kwon Jungyun
Korea.net Staff Writer
Department Global Communication and Contents Division, Contact Us