Moody's raises Korea's rating by one notch
Aug 28, 2012
Moody's Investors Service raised South Korea's sovereign debt rating on Monday by one notch from "A1" to "Aa3," mentioning the country's strong fiscal fundamentals, economic resilience, and reduced geopolitical risks from North Korea. The new rating is the appraiser's fourth-highest investment grade.
"Korea's strong fiscal fundamentals enable a relatively large degree of policy space to cope with contingent domestic risks and external shocks," said the ratings agency in an emailed statement. "Its government finance metrics are very well placed among all Aa-rated peers. "The Korean economy has demonstrated resilience to external shocks. It avoided a recession during the global financial crisis of 2009 and rebounded strongly in 2010."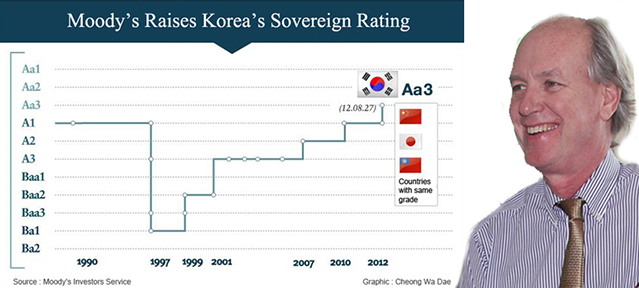 The latest change comes after the rating agency lifted its outlook for the country's sovereign debt to "positive" in April this year. The agency had maintained the A1 rating for Korea since 2010. The Moody's delegates visited Seoul in June and met policymakers for their annual meeting to measure the latest economic and financial conditions of the country.
"The country's continued effort to improve economic fundamentals paid off," Minister of Strategy and Finance Bahk Jae-wan told reporters on August 27. "We will keep on striving to grow our capacity enough to absorb external shock.
"Korea obtained its highest rating ever from Moody's amid tough times. Korea is now in the same ranks as Saudi Arabia, China, Belgium and Japan."
Bahk added that the government will make further effort so that Fitch Ratings and Standard & Poor's would follow suit with Korea's sovereign debt ratings. S&P's has kept an A rating, the sixth-highest grade, for Korea's sovereign debt while Fitch gave an A+, the fifth-highest level. Fitch upgraded its outlook on the nation's sovereign debt from stable to positive in November 2011. Bloomberg reported that the upgrade is "a vote of confidence in President Lee Myung-bak's efforts to strengthen the nation's ability to cope with financial turbulence."
The upgrade by one of the world's three major credit ratings agencies comes despite depressing economic data caused by the eurozone financial crisis, which caused a significant slowdown in China's growth and exports and a subsequent decline in South Korea's exports to China. Moody's predicted 2.5 percent annual economic growth for South Korea this year although the Korean government has maintained 3.3 percent growth for the year since late June.
The country's gloomy economic outlook is echoed by both local and foreign institutions. Korea Development Institute recently cut its expectations for the country's annual growth to between 3 percent and 2 percent. In July, the Bank of Korea lowered the country's annual economic growth forecast from 3.5 percent to 3.0 percent, which was set in April. According to the Ministry of Knowledge Economy, the country's exports and imports fell sharply in July compared to 2011. South Korea's exports plunged 8.8 percent year-on-year to USD 44.6 billion while its imports dropped 5.5 percent to USD 41.9 billion. Its exports to China, Korea's biggest export market, also shrank 0.5 percent in the same period while shipments to the European Union declined 4.9 percent. The ministry lowered its expectation on the country's annual export growth from 6.7 percent set early this year to 3.5 percent in July.
In terms of uncertainty surrounding the Korean peninsula, Moody's downplayed the North Korea risk, saying that "the geopolitical status quo will not be adversely disrupted by the ongoing leadership transition in Pyongyang."
The ratings agency also said that concerns over increased non-financial sector debt have been dispelled by government efforts to tackle the problem. Instead, it noted public corporation liabilities still remain a concern, which it worried could affect the country's future ratings trajectory.
In regard to rising household debt, the agency said that the concerns remain important but added, "We do not consider that such debt poses near-term risks to the banking sector, or to the government's balance sheet, if it is contained."
By Limb Jae-un
Korea.net Staff Writer
Featured Topics
http://www.korea.net/NewsFocus/Business/view?articleId=102093
URL Copy
Department Global Communication and Contents Division, Contact Us