Korea, Colombia officially sign FTA
Feb 27, 2013
Korea and Colombia signed a bilateral free trade agreement, opening a new era of trade for both countries on February 21.
The resource-rich Colombia is the tenth nation Korea has signed an FTA with and the third in South America, while Korea is the first Asian country to ink such an agreement with the South American nation.
Under the agreement, both countries will abolish tariffs on over 96 percent of the other country's products within ten years after the bilateral accord takes off.
Korea hopes to increase its exports of automobiles, automotive components, textiles, plastics, and steel, while Colombia expects a growth of exports of agricultural products such as coffee, bananas, and natural resources including crude oil.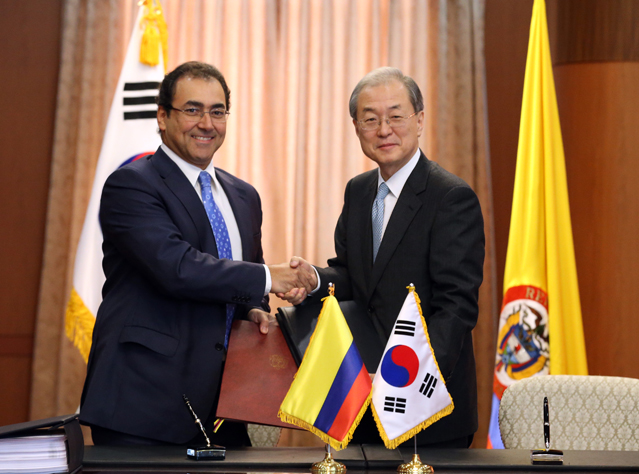 Colombia will gradually lift the tariff of 35 percent on automobiles in three steps within ten years and for midsize diesel-powered vehicles within nine years. The import tax for key automotive components including tires will be eliminated immediately or within five years.
To protect farmers from potential damage from the FTA, 153 sensitive items such as rice, powdered milk, pepper, garlic, ginseng, onions, pollock, and croaker will be excluded from tariff cuts, or import duty on these products will be reduced over a longer period, or 19 years. However, according to
the Ministry of Foreign Affairs and Trade
, Colombia's exports to Korea don't include many sensitive items such as beef, pork, and dairy products and there is expected to be little negative effect from the FTA on Korean farmers.
For Colombia's exports to Korea, the import tax on coffee (two to eight percent) will be reduced within three years while that for cut flowers (25 percent) will be eliminated from three to seven years and that for bananas (30 percent) will be eliminated within five years.
Korean companies own ten oil fields in the Latin American country as of 2011: SK Innovation (five), Korea National Oil Corp. (three), and Golden Oil (two).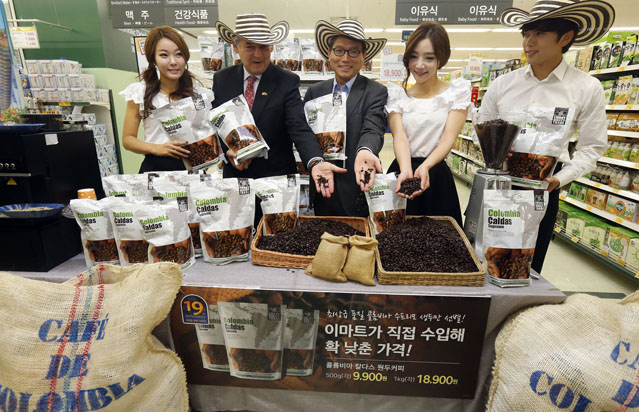 According to the BP Statistical Review of Energy published in June 2011, Colombia's crude oil reserves are estimated at 1.9 billion barrels, which ranks the country sixth in Latin America in terms of oil reserves and 38th in the world. The country also has coal reserves of 1.6 million tons, which ranks it third in Latin America and eleventh in the world.
The degree of the Korea-Colombia FTA is similar to that of the Korea-U.S. FTA and the Korea-European Union FTA. The agreement also includes most-favored-nation treatment, guarantee of remittance, and an investor-state dispute settlement clause.
The trade volume between the two countries amounted to USD 1.89 billion in 2012. Korea's main exports to Colombia were automobiles and automotive components, while the South American nation's main exports to Korea included coal, coffee, and ferroalloy.
Right now, Korea has FTAs with Chile, Singapore, the European Free Trade Association, ASEAN, India, the EU, Peru, and the United States. The Korea-Colombia FTA will go into effect soon, as well as one with Turkey that has already been signed.
Korea is also in FTA negotiations with Canada, Mexico, Australia, New Zealand, Indonesia, China, and the Gulf Cooperation Council.
By Limb Jae-un
jun2@korea.kr
Featured Topics
http://www.korea.net/NewsFocus/Business/view?articleId=105874
URL Copy
Department Global Communication and Contents Division, Contact Us