Korea transfers agricultural technology to six nations
May 14, 2010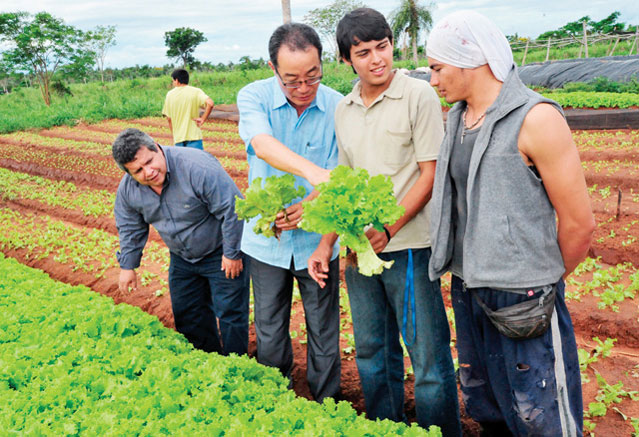 Korea's agricultural technology has reached the world class level. Many developing nations in Asia, Africa and Central America are seeking technological assistance in this field.

In mid-November last year a kimchi tasting fair took place at Big-C Discount Mart in Hanoi, Vietnam for three days. The seeds for the vegetables used in making the kimchi came from Korea, but were grown in Vietnam. During the event locals had the chance to try making various kinds of kimchi on the spot and take it home to eat later, after a period of fermentation. This event was known as "Korea Food 2009" and was jointly sponsored by Korea's Rural Development Administration (RDA) and Korea's agricultural and seafood association. It ended a great success with all the kimchi ingredients sold out in 30 minutes.

The RDA's Korean Project for International Agriculture Center (KOPIA) based in Vietnam grew all the necessary vegetables for kimchi – Chinese cabbage, radish and so on -- for this occasion. KOPIA was established in Vietnam in May 2009. Right now the center is testing ways to raise some 10 Korean vegetables and another 50 crops in the hotter climate of Vietnam.

In fact there are a total of six KOPIA Centers established in the state-run agricultural institutes of five countries: Myanmar, Uzbekistan, Kenya, Paraguay and Brazil. Agricultural experts from Korea were dispatched to those respective countries in the process. Results are looking good so far.

The RDA is especially counting on Vietnam and other countries in Southeast Asia to raise crops like corn, wheat, beans and a bio-energy crop named jatropha.

The task of KOPIA Centers varies according to the needs of each nation. For Vietnam it was vegetable cultivation; in the Philippines the technology to eliminate fruit insects to protect the crops better; in Myanmar the cultivation of beans; in Kenya artificial insemination of livestock and in Brazil mushroom growing.

The RDA plans to establish four more KOPIA Centers by the end of this year. Last April a KOPIA Center celebrated its establishment in Cambodia with an opening ceremony participated in by Dr. Chan Sarun, Minister of Agriculture Forestry and Fisheries (MAFF) in that nation, RDA Administrator Kim Jae-soo and other high officials from both countries. Another KOPIA Center is likely to open in the Democratic Republic of Congo in Africa.

Korea's agricultural assistance to other countries dates back to the 1970s. When Korea developed its own strain of rice named "Tong-il" (meaning "Unification") and came to self-produce its staple crop by 1977, other developing nations requested to have that technology. Since 1972 a total of 3,500 trainees from abroad have come to Korea for the technology transfer. Many of those former trainees are now serving as government officials, researchers and professors in their own countries.

Meanwhile, Korea launched a multilateral agro-technology cooperation body called Asian Food and Agriculture Cooperation Initiative (AFACI) in Tagaytay City in the Philippines in mid-April this year. The representatives from 12 member countries – Korea, the Philippines, Bangladesh, Cambodia, Indonesia, Laos, Mongolia, Nepal, Sri Lanka, Thailand, Uzbekistan and Vietnam – participated in a conference co-chaired by Kim Jae-soo.

The RDA is planning to go on to create a Korea-Africa Food & Agriculture Cooperation Initiative this coming July, in which Kenya and some 10 African nations will participate. By 2014, the number of member countries is expected to increase to 25 nations. To enhance exchange with African nations RDA also held a symposium late last month on strategies to extend agro-technology in Seoul.

Adapted from Weekly Gonggam Magazine

By Kim Hee-sung
Korea.net Staff Writer
Department Global Communication and Contents Division, Contact Us